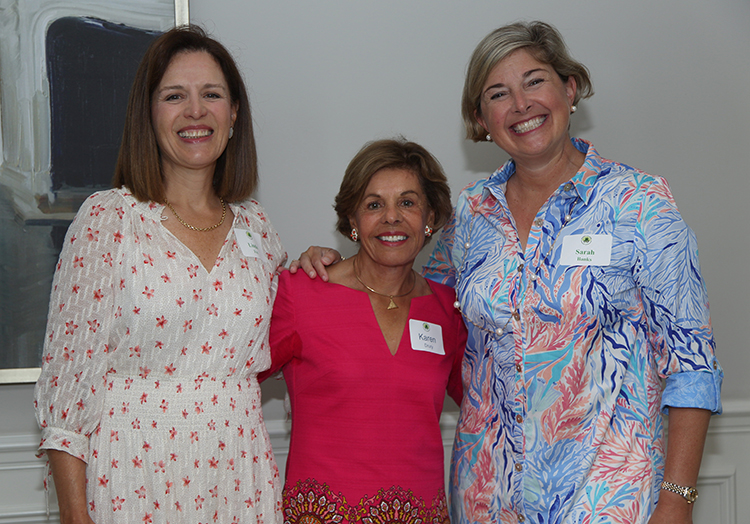 Members of the John's Island Community Service League gathered at the golf club for their annual Closing Luncheon to approve a new slate of officers and celebrate another outstanding year of fundraising to provide operational and program grants to local nonprofits and scholarships to John's Island employees and their children.
A video montage of past recipients ended with Peggy Cunningham, executive director of the Alzheimer & Parkinson Association of Indian River County, saying: "The John's Island Community Service League gets it. We're so grateful."
"Your generosity, along with the hard work of a lot of volunteers, allows us to get it," said Betsy Fox, outgoing JICSL president. Thanking the nonprofit representatives in attendance for all they do, she added: "We're happy to be able to support you."
This year's guest speaker was Andrea Berry, CEO of the Indian River Healthy Start Coalition, which provides a system of care to local mothers, babies and families.
Healthy Start was established here 30 years ago, when local infant mortality rates were among the highest in Florida, which itself had one of the highest rates in the country.
Berry highlighted their Doula Program, launched six years ago with seed money from the Service League's Marlynn Scully Strategic Fund. The program is now being distributed throughout Florida.
She explained that doulas are non-medical professionals who assist mothers and families before, during and after birth. Data indicates that their doula-assisted mothers have fewer preterm births, caesarian rates and low birthweights than the county averages.
"This tiny program in Indian River County has already saved the taxpayers over $2 million," said Berry. "The return on investment in just 5,000 births statewide will be over $45 million. It will improve culture, birth outcomes and give families an empowered way to begin their parenthood journey, and it's paving the way for the acceptance of this work in major hospitals. Thank you for helping us make this happen."
"Each of you in this room has contributed to the bottom line," said Lynn Whipple, outgoing grants co-chair. "We can all be proud that we played a significant role serving those in need in our county."
"I have just one slide, with some very, very impressive numbers," said Ellen Kendall, who will now be joined by Michelle Julian as grant co-chairs.
She announced that the Service League had awarded $1,186,000 in normal cycle grants to 38 agencies, $55,000 in scholarships to John's Island employees and their children, and $222,000 in strategic grants, for a total amount of $1,463,000.
Funding was raised through an appeal letter, multiple fundraising events, and the highly lucrative Tambourine Shop.
Hope Woodhouse noted that the Marlynn Scully Strategic Fund was established when Marlynn and Bill Scully gifted $500,000 as seed money toward one-time or multiyear strategic investments and off-cycle grants.
This year, the Strategic Fund allocated $220,000: $50,000 toward a 3-year grant for an Intensive Outpatient Mental Health program for teens ages 13 to 17; $50,000 for a new education program at United Against Poverty; $37,500 as final payment for the HEART program, to assist with pandemic-related evictions and foreclosures; $65,00 to fund the research and establishment of quality free legal services in Indian River County; $13,500 to help the school district implement and train teachers on a new algebra curriculum; and $6,000 to Miss B's Learning Bees.
"I continue to thank Marlynn and Bill Scully as well as all of you, whose generosity enables us to be as philanthropic as we are and make real change in Indian River County," said Woodhouse.
Woodhouse commented that Fox became JICSL president at the worst possible time, the start of the pandemic, but that under her leadership, donations increased, and grants were provided where they were most needed.
"I would just like to leave you with one message," said Karen Drury, the new JICSL president.
"You, everyone in this room, are the real reasons for all our success. It is you, our volunteers, who are our most valuable resource. I like to think of us as one team who, working together with dedication, unfailing enthusiasm and spirit, have made the John's Island Community Service League a philanthropic force to be reckoned with. And, as Betsy Fox has said in the past, yes, we raise lots of money and yes, we give it all away where it matters most. But the best part is we have lots of fun doing it."
Photos by Kaila Jones