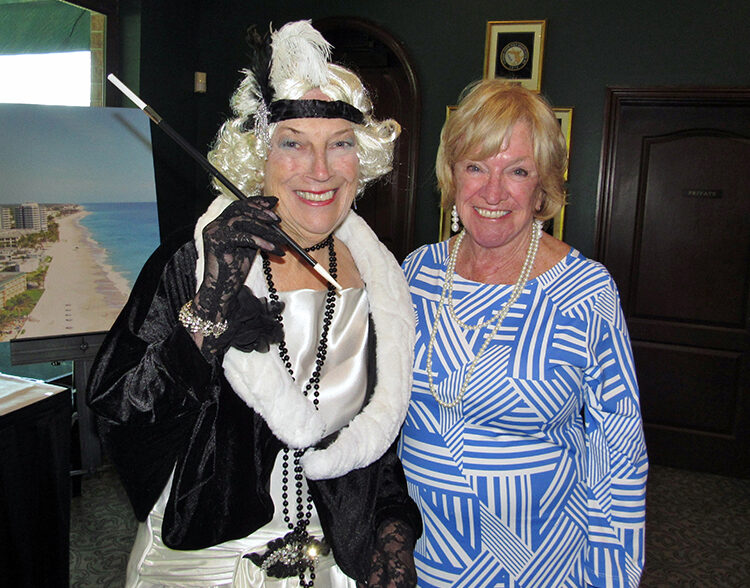 Ladies and gents harkened back to the Roaring '20s at the 17th annual Bingo Luncheon to benefit the Senior Resource Association, where many of the guests got into the spirit of the era with wigs, feathers, fringes and pizazz.
As they arrived at the Vero Beach Country Club, transformed into an elegant speakeasy, guests passed by glossy automobiles of yesteryear and were presented with long, glass pearl necklaces, compliments of Treasure Lane Boutique, which also provided prizes for the 'Purse Game.'
The jazzy sounds of the Vero Beach High School Jazz Band provided the entertainment as guests posed – candy cigs in long cigarette holders in hand – for photos, perused the silent-auction items, and purchased corks for a 'prohibition wine pull.'
"It is so wonderful to see this full house and so many of you rocking your fun flapper attire," said Karen Deigl, SRA CEO, as everyone settled down for lunch.
"This event has such great significance and impact on our ability to help those in our community, and our lead sponsors truly set the tone for giving," said Deigl, thanking presenting sponsor New Vision Eye Center, John Michael Matthews Fine Jewelry for the stunning Roarin' Raffle necklace, and others for their generous support.
"The number of individuals and businesses who joined early to sponsor this event simply amazes me," said Deigl.
"SRA is committed to improving quality of life for seniors and their families in Indian River County by creating meaningful social connections, actively providing hands on support for everyday needs, engaging the community, advocating for seniors, and empowering through independence. Our programs include well known services such as Meals on Wheels and the Go Line public transportation service," said Deigl.
She added that among its many other programs and services are adult enrichment facilities, in home services, emergency alert services, help with energy bills, door to door transportation through the Community Coach, and durable medical equipment. Additionally, its Public Guardianship Program protects vulnerable seniors deemed by the courts as being unable to make decisions on their own.
"Suffice it to say, the list of the ways in which Senior Resource Association helps older adults is long. And none would be possible without your help," said Deigl.
She showed a brief video highlighting their Meals on Wheels program, which serves as a lifeline for many of the recipients. In it, she noted that the pandemic brought even greater attention to the vulnerability of seniors, to whom they were serving 16,000 meals a month, adding that the SRA relies on volunteers to do so.
After the moving video, it was time for play, beginning with the ever-vivacious Anna Valencia Tillery engaging the crowd in the popular Purse Game.
"I am so impressed with those of you who stepped up to embrace the theme and accessorize accordingly," said Tillery, before having guests rooting around in their purses for items that tied into the Roaring '20s, such as gin, bright red blush, and anything related to the Charleston.
And then, daubers at the ready, the crowd got down to business, as Tillery pulled the balls and Jeff Petersen, a Merrill Lynch Wealth Management Advisor, bravely and ably took on the role of Bingo caller, the hushed silence in the room only broken as winners called out "BINGO!" with groans of disappointment ensuing, hoping for better luck next year.
For more information visit SeniorResourceAssociation.org.
Photos by Mary Schenkel