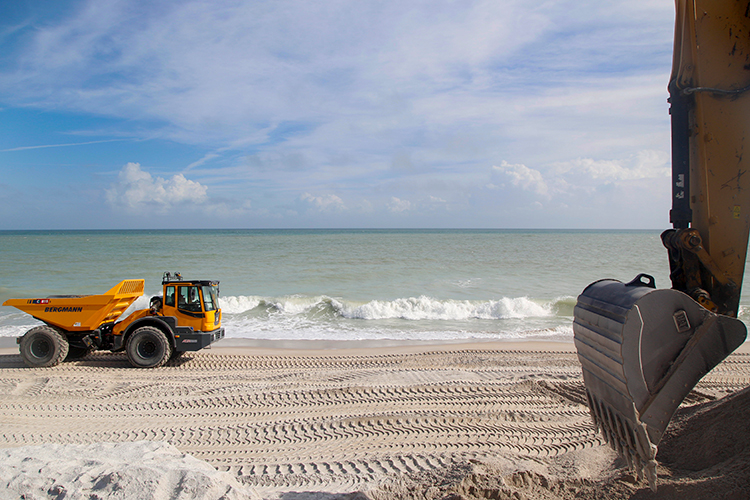 Treasure Shores Beach Park just north of Windsor re-opened last week, marking the completion of the first phase of the north barrier island sand replenishment effort, but the second phase is scheduled to impact public beach access in Indian River Shores until at least Easter.
The finishing touches at Treasure Shores included dune plantings to stabilize the shoreline and a post-construction restoration of the park after nearly 30,000 cubic yards of sand were placed to shore up the dunes this fall, after high tides delayed construction. The total project, started the previous year, added 326,000 cubic yards to 3.7 miles of north county beaches.
The next phase from Sea Oaks to John's Island will boost beach sand on that 2.9-mile stretch by 280,000 cubic yards in the coming months, followed by the planting of more than 302,000 dune plants.
The county's total fiscal year 2021-22 budget for beach restoration is $16.3 million, of which $14.1 million is provided by or reimbursable through state grants. That's down from last year's beach restoration budget of $26.2 million, of which $20.9 million was derived from state grants, according to county financial reports.
Construction work on trucked-in sand projects can only take place outside the height of sea turtle nesting season so nests aren't disturbed, relegating crews to be on the beach the same time the barrier island population swells with snowbirds and tourists – roughly between Halloween and Easter. All heavy equipment and vehicles generally must be removed by May 1, unless special permission to complete a project is given by environmental permitting agencies.
End-of-season sea turtle nesting reports show turtle nesting not as great as hoped, but still showing "upward momentum," according to the county's Sea Turtle Coordinator Quintin Bergman. More than 7,100 turtle nests were laid in 2021 – slightly lower than the past two years, but higher than 2018. Of the nests laid, 5,629 were Loggerheads, 1,514 were Green Sea Turtles and 24 were Leatherbacks. Bergman said Indian River County has 5 percent of Florida's sandy beaches but hosts about 20 percent of the state's sea turtle nesting activity.
Outside of turtle season, county parks and public beach access areas are used for staging so trucks drive onto the beach at designated spots and then cart truckloads of mined sand up and down the beach to the spot where it's needed.
The county's Beach Environmental Specialist Kylie Ariotti said at a recent Beach and Shore Preservation Advisory Committee meeting that the county staff is trying to minimize the disturbance of oceanfront residents. "We have been working with trucking to make sure we are as quiet as possible."
The county's latest Beach and Dune Restoration Update on Friday said, "Active sand placement occurring out of Seagrape Trail Beach Access continues with construction moving north to south between Sea Oaks Condominiums and Grand Harbor. Please be aware starting as early as Tuesday (Dec. 21) active sand placement will move south of Seagrape Trail building beach in front of Marbrisa Condominiums. As of now truck movement will continue between Seagrape Trail and Sea Oaks Condominiums."
Seagrape Trail Beach Access between Baytree and Marbrisa is scheduled to be closed until April 30, while closure dates for Turtle Trail Beach Access between John's Island and The Carlton have not yet been determined. Work will stop from Thursday to Sunday for the Christmas weekend and Friday to Sunday for the New Year's holiday.
The City of Vero Beach's shoreline, which is dubbed Sector 5 on the county's plan, had its beaches and dunes shored up in early 2020, but more work will soon be done to upgrade the dune plantings. On Dec. 7 the Board of County Commissioners approved a $148,000 contract to plant 135,000 salt-tolerant dune plants on the city's beaches, to supplement the 120,000 sea oat, dune sunflower, railroad vine and grass plants installed in 2020.
The south barrier island engineered sand project is being held up by the refusal of property owners to sign easements to allow the county access to the beach from the mean high-water line westward to carry out beach replenishment work.
The county needs signed easements from 90 percent of the 87 property owners to proceed.
With about a dozen holdouts short of that 90 percent, county Natural Resources Manager Eric Charest reported in November to the Beach and Shore Preservation Committee that the county has obtained an extension from the Florida Department of Environmental Protection to compete the project and spend state grant money by 2023.
At a recent Beach and Shore Preservation Advisory Committee meeting, the County Commission's liaison to the committee, Commissioner Joe Earman, said beach restoration is one of the most important tasks the county accomplishes, and he expressed frustration over the easement holdouts delaying a crucial project.
"We're going to look at some options. I really don't know what those options are but it's getting to the point where it's getting very serious and we want to see what we can do, if anything," Earman said. "It's a legal matter, it's a personal matter, it runs the whole gamut so we're going to start looking at some things to possibly help these guys get these easements done."
As tropical storms and nor'easters wash sand from our beaches, and as sand drifts downward and gathers from replenishment projects at the Sebastian Inlet and on the north barrier island, county officials must constantly monitor the shoreline to see how the engineered beach and dune projects are holding up, and to see which areas of the county are losing or gaining sand.
Starting in 2022, engineers are hopeful that a specific "survey-grade drone" program will be implemented at the state level, allowing county governments to monitor the shoreline by drone images, which can then be integrated with survey and coastal design software to help provide more timely data on the condition of our beaches, and to plan future sand projects.
Earman said the drone technology will be a "big asset," not just from a scientific perspective, but to promote all Indian River County has to offer on the county's website. "We want to show off our parks from above, where people can walk the trails and stuff like that, and show the beaches."