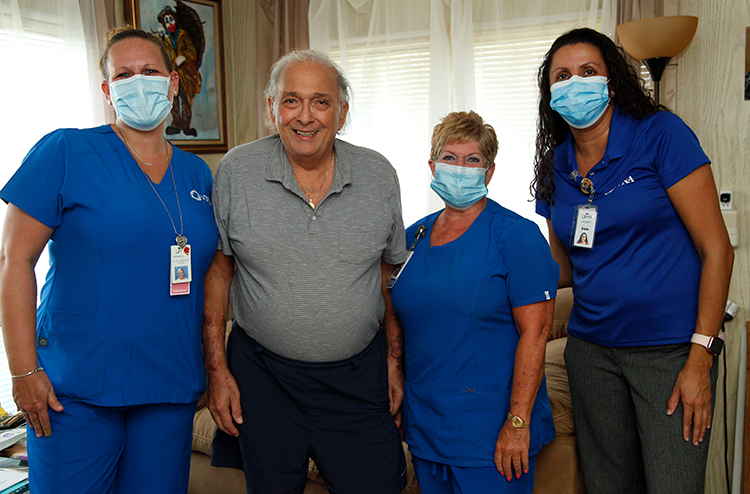 The Hospice Division of the Visiting Nurse Association provides compassionate care during one of life's most challenging times and, for the past year and a half, has also been making end-of-life wishes come true through its Project Wish program.
"Project Wish was born out of an idea that we had to bring some more warmth and some joy to our patients," said Sara Bumgarner, VNA's volunteer services manager. Her team oversees all volunteer programs for the VNA, with the bulk of them related to hospice care.
"I had read a story out of the U.K. about a nonprofit that was making last requests or last wishes come true for patients there. I thought, gosh, why couldn't we do that here? All it really needed was somebody to coordinate it and some funding," said Bumgarner.
Their inaugural Project Wish, in December 2019, involved a patient who wanted to attend a Christmas party.
"And I thought, we can totally do that. She had some physical limitations so we hosted it at the Hospice House, where we could control the environment. It was amazing; that was our jumping off point," said Bumgarner.
With the support of the community, they have since granted 17 wishes, from small requests such as a trip to the beach to a highly unusual request for a sloth.
"Isn't that the craziest thing? I didn't even know where to start; where do I get a sloth? And this was happening at the height of the pandemic," she recalls. "This was a teenager and there was no way I was going to let this kid down. We managed to find a privately owned zoo out of Orlando, and we made it happen."
Her team coordinates all aspects of the wishes, including whatever medical or counselor support might be needed.
A few weeks ago, Bumgarner said a patient wanted to attend a country line-dancing party but could no longer go out. So, they brought the party to her, arranging for line dancers to perform in her driveway. "It was amazing; it was such fun."
Another request came from a patient wanting to meet with about 14 of his friends at Earl's Hideaway Lounge in Sebastian. "So, we bought them lunch, and that was one of his last outings before he passed."
The most recent Project Wish recipient is Dominick LaCavalla, who turns 78 on Sept. 15.
"I've got to tell you it was a complete surprise; a total, complete surprise," said LaCavalla, recalling that Jacqueline Ruiz, his hospice counselor, asked him, "'If there is one thing you would want to do if you were able to, what would that be?'"
He joked that he had always wanted to jump out of a plane, but didn't think his knees could take it.
"But then I said that I'd really like to see my son," said LaCavalla. His son Dominick, 46, who lives in Arvada, Colorado, has multiple sclerosis and is no longer able to travel. Although they're in regular contact by phone, they hadn't seen each other in about four years.
"I never thought any more of it. I really didn't; it was just something in passing," said LaCavalla, a former New Yorker who has lived in Florida some 30 years. "And then all of a sudden, a couple of days later, she said, 'Guess what? You're going to see you son!'"
The team arranged to have a driver pick him up and Kim Smith, a volunteer coordinator, made sure he got safely on the plane.
"What's really unique about Kim is she's also a hospice aide, so she has the most interesting experience that she brings to our team," said Bumgarner.
"She was able to get him ready to roll for his trip, followed the transportation up to the airport in her own car, and got him all situated at the gate.
"She checked on him every day while he was in Colorado. He was a little bit nervous and anxious, and she was able to keep him calm and help him enjoy himself. She was very instrumental."
Once in Colorado, LaCavalla was picked up and driven to his son's house, where he spent a week with Dominick and his girlfriend Krys Allen, and grandson Jacob, 14.
"It was a surprise to them, too. This all happened bing, bang, boom; there it was. It was wonderful, truly wonderful," said LaCavalla, adding that his only complaint was that his son keeps his house "very cold."
"He keeps it about 70 degrees and for me that's the middle of winter. Most of the time I spent underneath an electric blanket," LaCavalla said with a laugh. "In the evening he'd make a fire in the firepit, and we'd sit around and drink hot chocolate and just talk our behinds off, so to speak. It was truly amazing."
LaCavalla called that gift of time with his son "totally remarkable."
"Something like that had never happened to me before in my life. It brings tears to my eyes. I feel so blessed having been the recipient of it; I really do. They've been really incredible; the whole group has been just wonderful," said LaCavalla.
Bumgarner said the program has become increasingly popular and successful as it's progressed, adding that the program relies on the VNA Foundation for financial support.
"They secure private donations because this is not a program that is covered by Medicare. It is not an insurance program; it is a warm and fuzzy program," she explained. "Ultimately, the community's generosity supports this, financially and in-kind. We've just had the most amazing people come together to grant these wishes. They're so diverse in their scope."
She encourages others to become part of the Project Wish team, and said they also need in-kind support from the community.
"We've utilized everybody from landscapers to country line dance teams to ladies who do nails. So we definitely welcome anybody who would want to contribute," said Bumgarner.
For more information or to donate, visit vnatc.org. To learn more about Project Wish call Bumgarner at 772-978-5553.
Photos by Kaila Jones