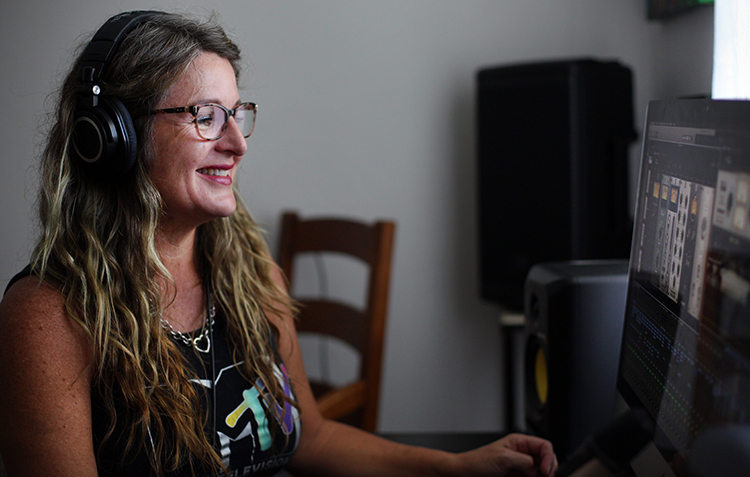 Singer/songwriter Kally O'Mally has only lived in the area for a short time, but she is already making a name for herself at such local hotspots as Kilted Mermaid in Downtown Vero Beach, where she plays the first Sunday of every month, and venues in Sebastian, including Pareidolia Brewing Company, the Tiki Bar & Grill and Earl's Hideaway.
She credits Dave Scott, lead guitarist in the band Tumbleweed, and other local musicians for assisting her since arriving on the scene in March, moving here from Sacramento, Calif.
"Dave Scott is just the consummate guitarist. There are a lot of great players; Todd Jones is excellent. They're just great musicians; those guys have been just so wonderful. I had such a good band in Sacramento, and I love playing in a band, and they literally have been able to back me up right away," says O'Mally.
After they heard her singing some Janis Joplin when she first came to town, they were playing at Earl's and asked her up on stage to sing some Joplin there. "It's just one of the nicest things that one artist can do for another: give them the space to do that."
O'Mally has also hooked up with local vocalist Heather Rae. "She and I have put together a nice little duo show, where we have a mix of leads and harmonies. She's super fun; a strong singer. It's been a pleasure to work with her," she says.
"It's been really lovely here. Honestly, it's one of the nicest things about having moved here. I'm working on gaining a better foothold here but I'm also sensitive to the local scene. I think that's one of the benefits of a smaller town."
O'Mally's road to Vero has been a circuitous one.
Raised in Homestead, Fla., O'Mally says she sang in school choirs throughout her education. She also fondly recalls being asked to sing at a country club party to celebrate her mother's graduation from the Highway Patrol Academy.
"I think I was maybe 14 or 15 years old and the very first song I ever sang with a band was 'Jose Cuervo You Are a Friend of Mine,'" she recalls with a laugh.
"I think it kind of portended the future. I really enjoy writing fun party songs about drinking and dancing and having a good time."
O'Mally served for four years in the Air Force straight out of high school.
"I did law enforcement, which was hilarious, because I'm the worst cop ever. The first time I pulled somebody over I totally apologized," she says. "I got stationed in England and actually found a private teacher there and continued to sing."
Although disappointed that she didn't sing Tops in Blue (a touring performance ensemble of USAF active-duty members), her service enabled her to pay for college upon her discharge through the G.I. Bill.
Once home, she attended Miami Dade Community College and the New World School of the Arts, before finishing with a Bachelor of Arts in English from Florida State University.
"I was making music the whole time. That was actually about the time I started playing guitar; I think I got my first guitar in 1996. I had been playing piano; I started taking piano lessons when I was a kid and then continued to play," she recalls, adding that the guitar is considerably easier to transport to music gigs.
"That really got me interested in songwriting. My degree is in English, and so it's creative writing with an emphasis in poetry. It's a perfect marriage between the two things; it's the communication aspect and you're adding music to it. I love that. To me it's one of the most fascinating things that I can do artistically," she explains.
"Being a songwriter kind of expands my curiosity about all of it; like the engineering and production process, as well as all the different instruments that you play and engage in when you do songwriting."
To date, she has published five CDs that can be found on music streaming sites such as Pandora and Spotify.
"I think I've grown a lot as an artist. I can go back to that very first CD and I'm like. 'Oh my God I sound so young.' I can see the difference in how I've changed artistically and lyrically."
O'Mally says she enjoys the studio recording angle as well as the public performance piece, mastering setlists, planning and collaborating with others.
"It's really a wonderful experience; I love it."
After FSU and a short three-month stint in Nashville, she moved to Sacramento and spent the next 22 years working for the University of California-Davis, primarily working in the anesthesiology and pain medicine department as the assistant to the chairman.
"I learned so much working there; it was fascinating work. And then I spent the last couple of years working in the department of neurosurgery for the chairman there. It was a really fun job; it was a small department, so I got to do a lot of different things. Oh my gosh, I was so busy, and then the past year and the pandemic was just insane," she says.
Despite that hectic job, O'Mally still found time for music.
"That was really where I kind of built my teeth in terms of public performance and having a band and all of that. I also did a lot of the recording," says O'Mally, who manages her own production and engineering.
"I do a wide variety of cover songs and I specialize in writing a wide range of original material.
I do really enjoy writing kind of funny, witty and upbeat songs."
After retiring from UC Davis in January 2021, she sold her house and found a "lovely little house" in Sebastian that she moved into in April.
Her parents have lived in Vero for about five years and, while she originally thought to move to Jacksonville, which was more familiar, her parents had other ideas.
"They kept taking me to places that had live music, trying to tempt me," she says, recalling visits to the Tiki Bar, Earl's, Costa d'Este and other places where musicians regularly performed. "We had so much fun. I was blown away by how many people were out enjoying the music and having a good time," says O'Mally.
"I'm so happy with the choice, actually. I think it's so beautiful here and the people are wonderful. The music community has been incredibly welcoming. It's really a lovely community."
O'Mally is in the process of putting together another recording – her sixth CD – which she hopes to have finished by this December.
"The business part of it is really kind of the hardest piece to me. I'm just reaching out and establishing the connections with the booking people. I've also been working on updating the website to make it a good, comprehensive website that houses all of my information."
Although it's been quite a transition from working full-time for someone else to working for herself, she says "I'm just excited to be here and really grateful for the opportunity to get to do what I love."
For more information, visit kallyomally.com.
Photos by Kaila Jones