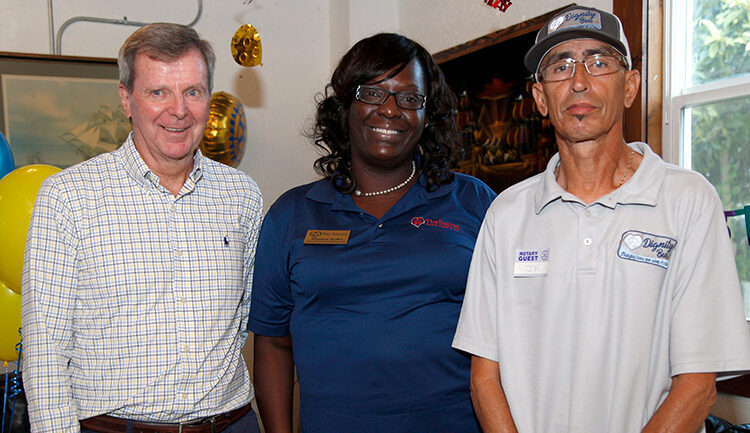 The Rotary Club of Vero Beach recently celebrated its 95th anniversary with a barbecue at Walking Tree Brewery, where members gathered to reminisce about nearly a century's worth of accomplishments in Vero Beach and abroad.
Ophelia ("Opey") Angelone, current club president, shared a little about the history of the nonprofit, from its formation in 1926 with just 19 male members, through to the achievements of more recent months, even while facing with the challenges of the coronavirus pandemic.
"All the things we have contributed to in town, it's pretty impressive, as are the members of this club," said Angelone.
She noted that in recent years, the club funded various community projects, established a vocational program at Indian River State College and posted signs throughout the county to promote Indian River Lagoon water quality.
Congratulating Angelone on a job well done, Daniel Fourmont, a Rotarian for more than 20 years, said that her tenure under COVID should be counted as two years.
"Opey is the second woman president in our club," he said. "The club's first woman president was [Vero Beach 32963's own] Samantha Baita."
Fourmont went on to highlight some of the more notable achievements of the Rotary Club of Vero Beach, the oldest of the five clubs in this county, over its tenure.
Among them, the club was instrumental in the establishment of Dollars for Scholars in 1964, now known as the Scholarship Foundation of Indian River County, and the development of Our Father's Table Soup Kitchen. The club has also been active in the Homestay program, one of Rotary's international service projects.
During the evening of camaraderie, the Rotary Club of Vero Beach presented $950, representing its 95 years of service to the community, to The Source to help fund its Dignity Bus program.
Through four Avenues of Service — Community Service, Vocational Service, International Service and Club Service — Rotary clubs strive to improve the quality of life in their community, represent the vocations of its members, advance international goodwill and peace, and perform whatever tasks are needed to make their club function successfully.
In addition to meeting these Avenues of Service and leaving "things better than we found them," the club lives by the Rotary International motto of 'Service Above Self.'"
The Rotary Club of Vero Beach meets Thursdays at noon at the Vero Beach Yacht Club. For more information, visit rotaryofverobeach.com.
Photos by Kaila Jones