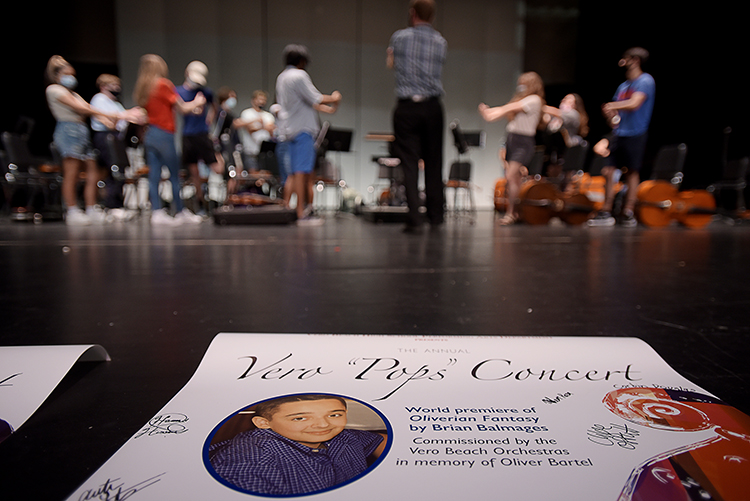 When Vero Beach High School students gathered for their annual Vero "Pops" Concert on May 6, the repertoire included the world premiere of "Oliverian Fantasy," by composer Brian Balmages. The piece was based on a melody written by Oliver Bartel, a VBHS sophomore who passed away last November, just 10 days before his 16th birthday.
Bartel's story was not that of the typical high school musician. He had not begun playing an instrument until after completing eighth grade, when he took a particular shine to the cello.
Despite the late start, he would eventually meet his goal of earning a spot with the VBHS Philharmonic Orchestra.
According to Mark Shuping, VBHS orchestra director, Bartel had a strong work ethic and what he described as an "old soul."
"From a teaching standpoint, Oliver was the kind of kid you wish you could have a thousand of. It didn't matter how difficult the challenge, he had this internal drive to learn and to push himself," said Shuping.
During his freshman year, Bartel persevered with his goal, culminating in an audition and acceptance into the orchestra in May 2020. However, when COVID-19 altered the school landscape, Bartel began his sophomore year of school virtually, and passed away without ever having had a chance to play with the orchestra.
It made this recent concert especially poignant for his parents, Scott and Sybil Bartel, as their son would otherwise have been on the stage, playing with his peers.
Shuping said that Bartel had so looked forward to being a part of the orchestra, adding, "I believe it is all the more touching that we get to honor him by playing his music."
Those students who knew Bartel best are still struggling with their loss and grief. Shuping said that after he and several students took part in his funeral, they were still left with a sense of wanting to do more.
They eventually decided to commission a piece that would honor Oliver; something that would last forever and continue his legacy. As a result, Shuping reached out to Brian Balmages, an award-winning composer, conductor and music educator.
Balmages recalled that he nearly said no. When Shuping made the request, Balmages said he was still reeling from three emotionally powerful yet draining compositions that had all touched on moments of great loss and grief. His gut reaction at the idea of taking on yet another such project, even a compelling one, was to decline.
"What did it for me was that Mark sent me the file of Oliver's melody. I looked at the music and thought, 'Wow, I can really hear doing something with this,'" said Balmages.
"They wanted this to be a light in the sea of darkness that had been surrounding the family, the orchestra program, and the school. And I felt I could do something to help, so I decided to take the commission."
While "Oliverian Fantasy" will soon be professionally recorded, the May concert performed by VBHS students was its world premiere.
When Shuping offered the baton to Balmages to conduct his piece, he demurred. Oliver's parents suggested that the honor should be Shuping's.
The students themselves discussed and decided upon the musicians who would play the two solos in the composition. Although solos are traditionally performed by principal players, in this case they decided that the students who were socially closest to Bartel should play. The violin solo was performed by Graham Frankenberger, and the cello solo by Thomas Miller.
The students also got a rare level of connection with the Maryland-based Balmages, who was able to arrange his travel schedule to rehearse with the orchestra in Vero Beach.
As a result, the students had an opportunity to work directly with the composer, instead of simply playing music written, as Balmages put it, by some "dead white guy who has no connection for a 21st century kid."
The students were also working with music that flowed from an experience in their own lives; a tragedy that they could connect with.
"This shows the power of music. It really does allow us to get in touch on a deeper, more personal level. And in this case, to showcase beauty and to honor Oliver's legacy," said Balmages.
"All art is the result of life experience. All art is the product of people who are either trying to bring beauty into the world, to highlight the beauty that already exists, or to shine a light on injustice or tragedy in the world," said Balmages. "Given the absolute intense nature of this experience for each kid in the orchestra, this concert gives them a chance to explore those connections for themselves."
Fifteen members of Bartel's family were in attendance at the concert, some from as far away as California.
It was a moment filled with significance and hope for Oliver's parents, who have a deep and abiding pride in their son, paired with gratitude and a sense of humility for this gift.
"There are no words to describe this ruthless separation," said Sybil Bartel. "I was apprehensive going into this concert. I thought, this is it. This is going to have a sense of finality. After this, people will move on with their lives and forget Oliver. But when I was in the auditorium listening, I realized the exact opposite is true. This concert was a beginning.
His music will live on. This young child, who was kindhearted and driven and creative, he will live on."
"That melody that he wrote, it's short and beautiful. It's haunting," added Scott Bartel. "The way those kids played it, and the emotion behind their knowledge of Oliver – nothing will ever be as powerful as what those kids played last night. It was astounding."
Shuping said the students had cherished the opportunity to honor their friend as a class and to share his music with the world.
"The moment was magical," said Shuping. "We felt that Oliver's presence was really on the stage with all the students last night. I always tell my students that when a piece finally ends, if nobody claps right away, then you've really done it. And you'll know, because no one wants to be the first to break that moment. We had that last night."
In addition to the composition, an Oliver S. Bartel Memorial Scholarship has been arranged through Vero Beach High School for an exceptional senor orchestra student planning to continue with a music education in college.
Photos by Brenda Ahearn