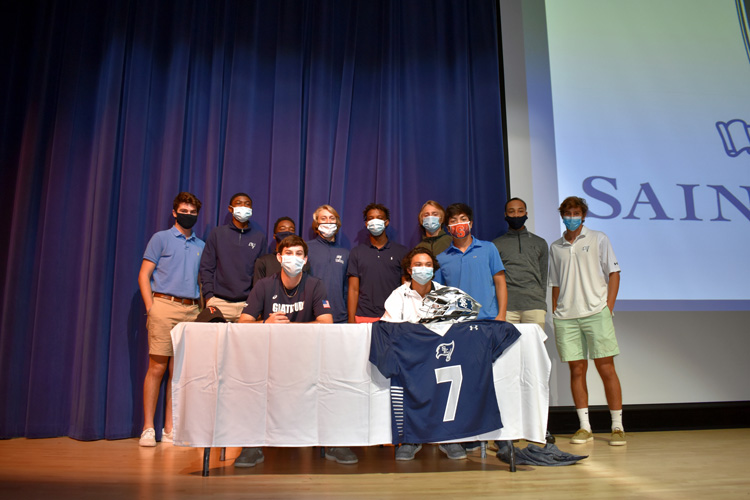 The circumstances surrounding St. Edward's athletic college signing ceremony on Nov. 12 are part of a story that could only be told in the ethereal theater of 2020.
Seniors Danny Richmond and Ryan Barnett formally committed to play the sports they love on the college level. What had been a fairly straightforward ritual in the past, one filled with great joy for the honorees, friends and families, took on a different tone this time.
What looked familiar was the concept of productive achievements in high school transitioning to anticipation of an exciting future in college, but the linear progression to this point took some outrageous detours over a relatively few months.
Richmond will attend Florida Tech in Melbourne to study electrical engineering and play lacrosse. Barnett plans to major in sports medicine and join a high-powered Division 1 volleyball program at Pepperdine University on the Pacific Coast of California. Both benefited from engaging early in the recruiting process and are back on track, at least for now, despite pitfalls endemic to the times.
"The 2020 (spring) lacrosse season was nothing but a disappointment," Richmond told us.
"I scored two goals in the season opener, then I broke my hand in the first quarter of the next game. I missed five games. When I was cleared (to play) the whole world was shut down and our season ended. Luckily, I had already been talking to the head coach (at Florida Tech) since October of 2019, and attended a camp in January of 2020."
Richmond arrived at St. Ed's as a freshman and immediately played on consecutive district championship teams. His junior year was a washout, as he described, however he will co-captain the 2021 Pirates in a quest for another district title, and possibly more.
Barnett arrived at St. Ed's for his senior year. That was rather odd since the school does not offer varsity volleyball for boys. However, when you factor in COVID-19, the story comes into keener focus.
"I lived in Westhampton Beach, that's a small town about an hour and a half from New York City," Barnett said. "The last two years I was on the varsity volleyball team. Last year we won the county championship, the Long Island championship, and I started in the state tournament.
"I was already recruited by Pepperdine and verbally committed before my junior year. I visited the campus and it is beautiful."
When the virus hit, everything changed, as we all know. Schools closed for in-person learning and sports programs were suspended. Barnett made what must have been a gut-churning decision to ensure, as much as he could, that nothing was derailed.
Barnett continued: "I moved to Florida because my parents and I sat down and realized that if I didn't get any reps for volleyball, as well as a proper education because my school was going hybrid, I wasn't going to do very well at Pepperdine.
"My grandfather lived down here, so we made contact with the school and I got in.
"It's worked out perfectly from the day I came here until now. I'm doing great at school. As for volleyball, I play for a club team in Orlando. I go up there every weekend and we play in a lot of tournaments. I like it and it's a lot of fun."
This academic/athletic hybrid situation seems to be working well for Barnett. Those volleyball reps (he says the best part of his game is serving and hitting) will come in handy at Pepperdine, a current Top 10 volleyball program. The Waves made the NCAA semifinals in 2019; the playoff tournament this year was a virus-related cancellation.
Richmond is known to play well all over the lacrosse field. St. Ed's varsity head coach Doug Bailey noted that "Danny plays both offense and defense with a chip on his shoulder, which I enjoy. He is very fast, has excellent quickness, great field vision, and a cannon shot that is explosive."
Richmond has the spring lacrosse season to look forward to at St. Ed's before he reunites with some former Pirate teammates at FIT. The forgettable junior year notwithstanding, his high school experience has been mostly positive.
"My time at St. Edward's has been great," Richmond said. "Academically, I like the smaller environment that allows students and teachers to have a more personal connection. Athletically, our small school has competed with the top schools in the state. That has been huge in my development as a lacrosse player.
"Coach Bailey has been the best coach in any sport I've played. Next year I will once again be playing with my former teammates Luke Jayne and Sam Cardosi. They have all pushed me to be the best. Everything I have accomplished would never have happened if it wasn't for them."