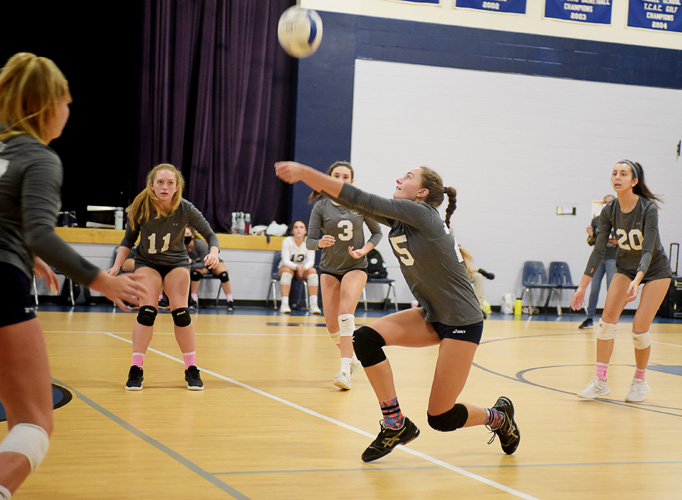 Back in August, the first order of business for St. Ed's volleyball team was simply getting on the court to compete against other schools, knowing whatever form the season might take was largely beyond their control. What has happened since in the face of extremely trying conditions will stand as a testament to why there is deep emotional and psychological value associated with playing these games, even against all odds.
The Pirates were 11-3 after surviving the first round of regional play last Thursday evening by hanging on for a five-set victory over City of Life Christian Academy.
That came on the heels of the first district championship for St. Ed's in 17 years. Imagine some of these girls telling that story years from now. Some long-standing memories are undoubtedly being carved out.
"The 2020 volleyball season had more variables than most complex math equations," head coach Angelique Soderman, also a math teacher, told us. "Just securing conditioning and practice times was a challenge because of the ever-changing parameters outlined by the FHSAA.
"Once we knew for sure we would have a season, albeit abbreviated, we were all excited to get started despite the mask and other COVID protocols. I reminded the girls to be happy we are in a gym playing a sport we love.
"We started the season against Covenant Christian with a loss in the fifth set. After that we rattled off four wins in a row until John Carroll defeated us. A regular group of girls would be unsettled by this, but not my team. The setback just drove us harder and we took two more matches.
"We later had a loss to Pine School, but the girls used the adversity to drive harder and we dominated the district tournament with skill and fortitude. Who would think the season of uncertainties would turn into the first district championship for Saint Edward's volleyball in 17 years?
"I would!"
While that might have been delicious icing on a celebratory cake in and of itself, Soderman's team persevered through the regional quarterfinal to extend the season until at least this week. After taking the first two sets against City of Life by scores of 25-20 and 25-23, the tables quickly turned with 15-25 and 20-25 downturns. The Pirates then settled down to take the decisive fifth set 15-8.
"Drive, fortitude and belief pulled us through again," Soderman said. "This team is special. Their heart and joy makes me so proud to be their coach. What I do know is that all things are possible to those who believe. I believe in my team and they believe in me."
Alexa Soderman paced the effort against City of Life with 7 aces, 18 kills and 19 digs. She was in the top two of every statistical category (aces, kills, digs, blocks and assists) for the season. Alexa co-captained the 2020 team with Miranda Morey.
"It has been a very unusual year for everyone, especially when it comes to sports and school," Alexa said. "By winning districts and just by being able to play volleyball, I think it gave everyone on the team and even other students at the school a sense of normalcy. Despite the unusual circumstances, our little team of 10 girls has become a family, and I am proud of the work and passion every single player puts in every day."
Miranda Morey added: "This year definitely started out on a different note but everyone came in with such a positive mindset and a winning attitude and I think that's what made us so successful. I'm so proud of this team and I believe we deserved to win districts after all of the hard work we put in this season."
A regional semifinal match was scheduled for St. Ed's Wachter Activity Center for this past Tuesday evening. The term "scheduled" is generally used nonchalantly, but in a season that saw sporting events cancelled across the board everywhere, it has become a qualifier.