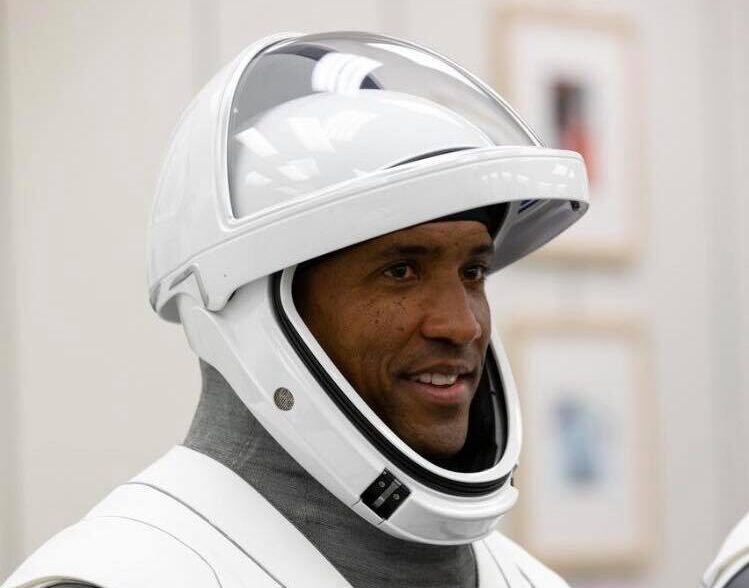 Happiness and relief were just a few emotions Astronaut Victor Glover felt after his first space flight Sunday aboard the SpaceX Crew Dragon.
It was also a moment that Gifford-based Science Institute of Discovery Executive Director Margaret Ingram found exhilarating and historic. Ingram had students in her STEM program watch the Crew Dragon's first launch in May.
For Sunday's launch, the countdown, the vibration from the rocket and the thrill left Glover and his crewmates – along with spectators below – in astonishment.
"When I first looked out of the window to Earth while we were in orbit – it was amazing," said Glover, the pilot of Crew Dragon. "It was a once in a lifetime feeling."
The Crew Dragon capsule, named Resilience, docked Monday night at the International Space Station after a 27-hour trek. This was Crew Dragon's first operational flight, and second flight overall.
Ingram said the televised SpaceX launches allow youth to see a STEM-related mission in real time. STEM is short for "science, technology, engineering and mathematics."
"STEM jobs play a crucial role to space exploration and other important factors to mankind," said Ingram, a retired Indian River County educator.
Glover said STEM is a challenging educational walk. He said the academic discipline teaches people to break things down into simple pieces, build solutions and to think critically.
"(Aerospace) is retiring more engineers than we're making," Glover said. "We need to make many more engineers and scientists. They're very important to the world and mankind."
Spaceflight
Resilience was atop the Falcon 9 rocket when it launched Sunday night from the Kennedy Space Center. Thousands of people watched in amazement from Melbourne Beach as the rocket blasted off from Cape Canaveral.
"There were so many different feelings," Glover said Thursday during a recorded news conference from the International Space Station. "Excitement was definitely one of them."
At 254 miles above Earth, Glover said the experience is one he will never forget.
"The awe of seeing the space station, (the capsule) slowly decelerating as we made contact, opening the hatch," Glover said. "The happiness, the relief, but then knowing we have work to do and wanting to contribute."
Glover is the first Black astronaut to live at the International Space Station for a long-term space mission – six months.
The Crew 1 astronauts are Pilot Glover, Crew Dragon Commander Michael Hopkins, Mission Specialist Shannon Walker, all of NASA, and Japan Aerospace Exploration Agency Mission Specialist Soichi Noguchi.
When Resilience docked, Crew 1 met with three other space crewmembers already aboard the ISS. Those members were NASA Astronaut Kate Rubins and Russian Cosmonauts Sergey Ryzhikov and Sergey Kud-Sverchkov.
The seven crew members are part of Expedition 64 – a mission that will include research investigations focused on biology, Earth science, physical sciences and technology development.
The crewmembers were all smiles as they spoke with media Thursday. Zero gravity – or weightlessness – could be seen in a live-stream video as a microphone floated in the ISS while news reporters dialed in by phone to ask the astronauts questions.
Glover said he will be writing notes in his journal to document his journey. Glover said he has been sleeping on the ceiling of the ISS.
"My brain is constantly trying to figure out where up is," Glover said as he joked with his crew mates. "Every time I pop my head out, the entire space station is upside down."
Science Institute of Discovery
Ingram started the Science Institute of Discovery 20 years ago to inspire young girls and minorities to engage in STEM programs. She said she is ecstatic about the diversity of the SpaceX crew, and that she feels part of the journey.
"The future of our space program is phenomenal. We have the opportunity to dream of a better tomorrow because of the sacrifice of these astronauts," Ingram said.
Ingram said students need to be aware of 21st century STEM jobs.
"Parents should encourage their children to enroll in honors and advanced placement courses in high school," Ingram said. "We need to instill in our children at an early age a love for math and science. Just like the astronauts, our kids can do anything. We have to motivate them."
Ingram had students in her summer program build a replica of the ISS using 2-liter bottles.
"We made the International Space Station real to them," Ingram said. "They learned how different countries built the station in space."
Ingram's nephews, Austin and Aaron Jordan, are alumni of the Science Institute of Discovery. Both have STEM jobs.
"I'm extremely proud of them," Ingram said. "They're fine young men."
Austin Jordan, 30, Jacksonville, is the communications director for Redwire, which works directly with SpaceX. Aaron Jordan, 26, Huntsville, Alabama, works at Teledyne Brown Engineering and is a contractor supporting NASA.
Black representation in STEM
Several astronauts have previously inhabited the ISS dating back to 2000. Austin Jordan said space, like any other industry, is a place where Black people matter.
"There is someone who looks like me (in space)," Jordan said. "That encourages me to keep pushing."
Jordan said there needs to be more Black representation in space.
"Aerospace having just a couple of us isn't enough," Jordan said.
"We need to continue to address why there aren't robust STEM programs in low-income communities."
Jordan said he thinks some of these deficiencies are a result of resource deprivation. Jordan said Glover's accomplishment will inspire young Black children to become astronauts or be involved in STEM activities.
Jordan said he thinks Black astronauts should be celebrated in culture as much as Black sports figures. Jordan said astronauts working together in space "represent the best of humanity."
"There's no bigger hero in STEM than an astronaut," Jordan said. "Vic is a star in the making. He will be a big part of human spaceflight in many years to come."