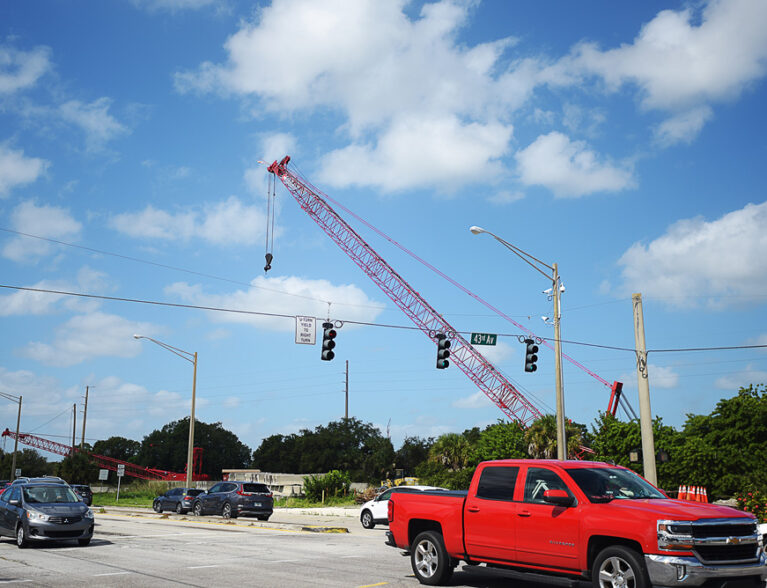 The massive red cranes that have hovered over the intersection of Route 60 and 43rd Avenue in recent weeks are part of a $13.64-million road construction project that will include widening the avenue,  building a new bridge across the main relief canal, installing new sewer lines and other utility infrastructure and replacing the old intersection with one more like the intersection at 58th Avenue.
Site work began earlier this year and is scheduled for completion in early 2022. Traffic will continue to flow through the intersection throughout the construction process, according to Indian River County Public Works Director Rich Szpyrka.
An important component of the county's long-range master plan, the project – including design, right-of-way acquisition and construction – has been in the works for many years, with the county's Metropolitan Planning Organization taking the lead. The Florida Department of Transportation has supported the county with right-of-way acquisition assistance and funding via a cost-share grant covering 50 percent of the construction cost.
The widened section of 43rd Avenue that will extend north from Route 60 to 26th Street heads into an area where numerous new subdivisions are being built that will generate increased traffic flow in coming years. 
To the south, 43rd Avenue will be widened from Route 60 to 18th Street. 
In addition, prime contractor Timothy Rose Contracting is putting in new water and sewer lines along the widened stretches of 43rd Avenue, according to Matthew Kirkland of Consor Engineers, Rose's engineering firm, and three dozen FPL utility poles will be removed and repositioned to accommodate the new intersection configuration.  The old wooden poles will be replaced with concrete poles.
The cranes were at work in October swinging huge buckets of concrete over the main relief canal and emptying the liquid stone into bridge formwork spanning the canal. Traffic will still be able to travel over the canal as the new bridge section is built, according to Kirkland. He said the bridge widening should be complete "in a couple of months – four months max."