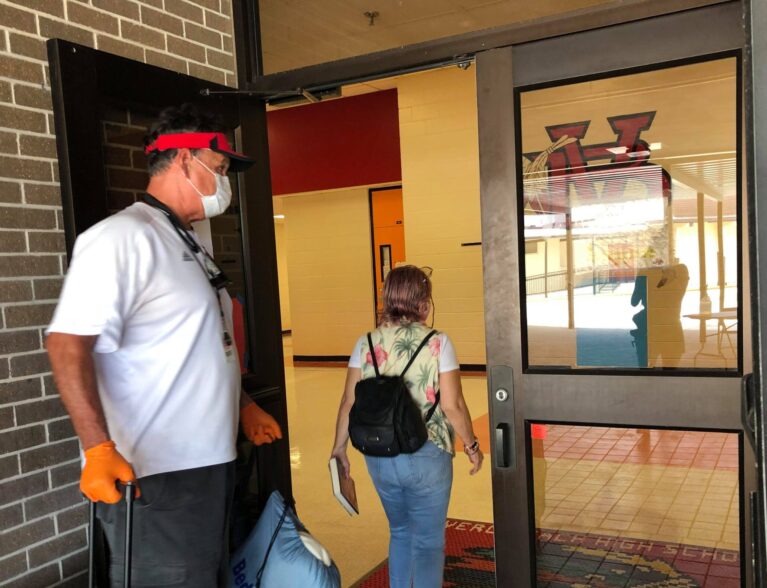 INDIAN RIVER COUNTY — Cheryl Denapoli scanned the science books in a biology classroom Saturday at the Freshman Learning Center, hoping to find something interesting to read to pass the time.
Denapoli, 71, Vero Beach, brought the book "Suspect," written by Michael Robotham, to also read during her brief stay at the center. The fiction thriller details a story about renowned psychologist Joseph O'Loughlin, who gets called in to a high-profile murder investigation.
"I'm an avid reader," said Denapoli, an evacuee at the Freshman Learning Center, which was turned into an emergency shelter ahead of Tropical Storm Isaias. Isaias was expected to strengthen into a hurricane overnight, weather officials said.
Even as Isaias slowly approaches Florida's east coast, county officials have not forgotten the importance of public safety for another emergency – the coronavirus.
County officials worked with the school district to implement safety measures for those evacuating from Tropical Storm Isaias. The county opened three shelters Saturday afternoon as a last resort for evacuees.
"The emergency shelters are a last resort," Indian River County Emergency Services Director Tad Stone said. "We have additional personal protective equipment delivered from the state to give to evacuees. We'll have hand sanitizer and enough masks for everybody."
The shelters are:
Treasure Coast Elementary School 8955 85th Street, Vero Beach (Special needs clients only)
Liberty Magnet School 6850 81st Street, Vero Beach (Pet-friendly shelter only)
Freshman Learning Center 1507 19th Street, Vero Beach (General Population)
The Freshman Learning Center is open and ready to accept evacuees. We are proud to serve our community! Health screenings are taking place at all shelter check-in locations to ensure the health & safety of all.
Isaias website: https://t.co/hAyNrz0Lqi
#SDIRCStrongerTogether pic.twitter.com/1cep4yIRBy

— Indian River Schools (@IRCSchools) August 1, 2020
Denapoli brought her luggage, including an inflatable bed, a toothbrush and toothpaste, with her to the general population shelter. Denapoli, who donned a pink mask, said this is her fourth year evacuating for a hurricane.
All evacuees underwent temperature screenings before going in the shelters, school officials said. The evacuees, grouped by families, single men and single women, were placed in different classrooms inside the facilities.
"We'll use as many classrooms as we need," said Storm Grove Middle School Principal Anne Bieber, who helped to set up the shelters.
Those in the shelters have at least 6 feet of space from each other, separated by desks, in the classrooms, school officials said. Saturday afternoon, at least eight people had signed in to the general population shelter.
"The numbers will remain relatively small," School District of Indian River County Superintendent David Moore said. "We're working with the command emergency center. We're comfortable everything will be just fine."
Anyone with virus symptoms, including fevers, coughs, shortness of breath and loss of taste or smell, were placed in classrooms in isolated wings at the shelters, School District of Indian River County spokeswoman Cristen Maddux said. Those with symptoms were also grouped by families, single men and single women.
Indian River County sheriff's deputies and nurses were stationed at each shelter, officials said. Stone said county officials were looking into having an isolated facility specifically for evacuees with virus symptoms, but haven't determined a site yet.
The Freshman Learning Center at Vero Beach High School can hold up to nearly 500 people – half of its normal capacity – because of social distancing measures, Maddux said. School officials have one-way markers in the hallways.
Maddux said those with virus symptoms won't be allowed to use the common areas, like the cafeteria. Maddux said school officials will deliver light food to the rooms of those who are sick.
Evacuees should bring minimal essentials for a short stay, including pillows and blankets. The shelters will have snacks and light meals, Stone said.
Stone said the pandemic has not slowed the county's emergency response to Isaias.  Those who want more information on the county's response to Isaias can call the emergency operations center at 772-226-4000.
Photos by Nick Samuel