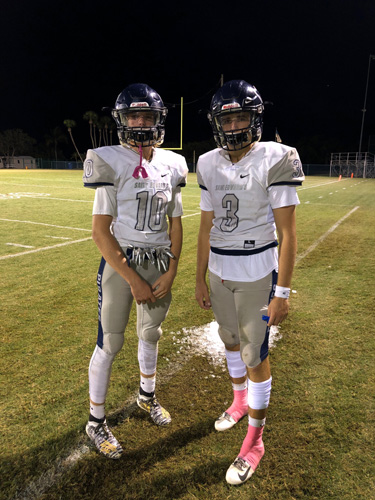 Ty Redmon is presently in a state of limbo, somewhere after completing his senior year of high school, waiting for a delayed graduation ceremony, and before confirming that his freshman year in college will indeed start, and in what form. In football terms, this might be called a game plan without any firm game plan.
Primarily on the advice from someone with heavy influence, Redmon transferred to St. Ed's from Vero Beach High School at the start of his junior year. His presence immediately shored up the Pirates' football and basketball teams, and he is currently peering into an unclear future to see if and when he will be able to play football at Southeastern University in Lakeland.
"My brother Dylan was already enrolled at St. Ed's and he was telling me how great it was," Redmon said. "It was tough to leave VBHS. Then my mom said you are going to go to St. Ed's. It was her decision on that. She said it was such a great school, so I went with her making the decision, because I really couldn't make it myself.
"When I got here it was really cool. Sports was the big reason I came, but I also wanted to get my academics up and get ready for college. I thought this would be the type of school where I could do that."
Classes are over now. Fortunately for Redmon, unlike spring athletes, he was able to finish two full seasons of football and basketball. All else appeared to be progressing pretty smoothly until this March. Redmon was about to become part of the multitude rocked by this historic cascade of cataclysms.
"It was crazy going from waking up at seven to sleeping in until nine and only having two hours of school to do on that day," he said. "Graduating and going to college is already a huge change; throwing in a world pandemic makes this experience surreal.
"With all of this happening my friends and I still found ways to enjoy the times we had finishing high school. We encouraged each other to achieve and to strive for greatness in everything we do. I am excited to see the future of the Class of 2020. I know there is so much potential and talent in this group of students. Finding meaning and purpose in these difficult times is what keeps me going."
Perhaps the biggest test case for what college life will look like could be through the lens of sports, football in particular. A lot of as-yet-unanswered questions come to mind. Redmon is well prepared should everything be a full out go.
"I wasn't really thinking about college at the beginning of the year," he said. "I was too busy getting ready for football. But after basketball I started looking at my options and SEU really stood out for me. It's a Christian-based school so I could stay with my faith with the people around me. That was a really big thing for me. Also, it was a really appealing campus and the coaches were super nice."
His glowing commentary about the SEU coaches applied to his experiences at St. Ed's as well, although he refrained from using the term "nice," instead going one better than that in both cases.
"Coach (Bill) Motta is a great coach," said Redmon. "He really taught us a lot of life lessons outside of football. He brought everything about football into what you could use it for in real life. He also made us work; we had to work hard and do a lot of running. He would not let anybody lighten up.
"I love coach (Greg) Zugrave. I always thought of myself as a shooter on the basketball team, but coach Zugrave always told me to drive. He liked my body size and said I could get to the hole pretty easily. He would listen to all of his players. If you saw something on the court that might work, he would incorporate it into his game plan if he thought it might work. That's what I really liked about him."
Redmon says he will major in business and minor in ministry at SEU. He played multiple positions on offense and defense as a "hybrid" performer for Motta. The coaches at SEU told him he could excel at linebacker.
Prior to addressing the added element of social unrest, we inquired about how this young man and his cohorts are coping with the pandemic, and this is what he told us: "Handling the pandemic is easy for us. It has definitely calmed down. We get together from time to time and we don't use masks. I am not really concerned with social distancing. I like to say I'm still one of the few people willing to shake a person's hand."