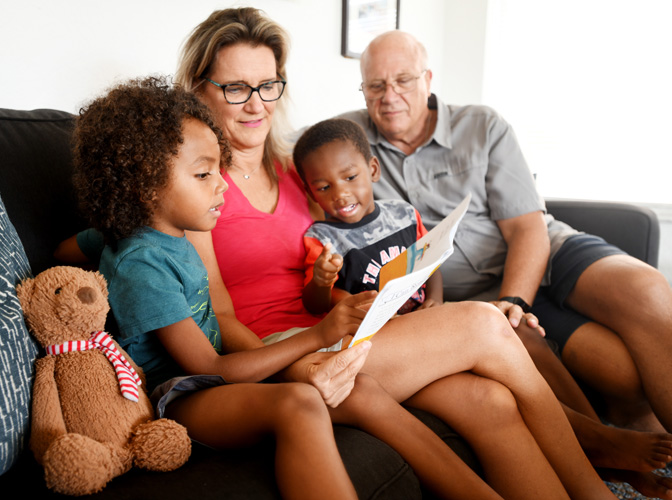 Children are at the heart of Safe Families for Children, which aims to promote "radical hospitality" as a means to help others. New to the area, the SFFC Treasure Coast chapter opened in Vero Beach about 18 months ago.
Safe Families for Children is a nationwide organization that uses volunteer Host Families to care for children on a short-term, emergency basis when their parents are in crisis or need of help, in the belief that "it takes extreme social and economic change to make a difference."
One thing the coronavirus pandemic has made apparent is that having a support system can make all the difference in the world.
"Our mission is to come alongside families in crisis, to keep children safe and families intact," said Jackie Herron-Whitfield, Treasure Coast chapter director. "We want to intervene in a family's life before it gets really bad."
SFFC assists families in several different ways, she explained.
Parents voluntarily place their children with a Host Family for the short term until the crisis has been overcome and children can return home. From there, the Host Family remains in contact, Family Friends coach and provide moral support, and Family Coaches provide emotional and tangible support.
"We try to have people stay in their lane," said Herron-Whitfield, explaining that they try to keep the roles separate. "We really want the Host Families to just love on the kids and build a relationship with the mom, so they're not the bad cop following up on goals."
The goal is to create a support network that will remain in place long after children and parents have reunited.
To ensure the safety of the children in their care, volunteers undergo a Level II background check, with fingerprinting and a home screening to make sure their houses are safe. Unlike DCF foster families, SFFC volunteers are unpaid, taking on the job strictly out of love.
There are many reasons why a parent might call SFFC, with homelessness, illness and unemployment topping the list. Often, one reason precipitates another.
"The parent may be in a crisis, but they're not in trouble. It's not like there is a hotline call on them and the kids have been removed. Literally, they're doing a very healthy thing by reaching out for help," said Herron-Whitfield.
"These are parents who are putting the needs of their children first. It's humbling how much they are trusting us to help them, by allowing us to care for their children while they crisis stabilize."
Cyntalya Mincey, a 28-year-old certified nursing assistant and mother of three, became homeless after one of her home healthcare clients no longer required medical visitations. Her life quickly went into a downward spiral. She was unable to pay rent or childcare while she searched for a new job.
In desperation, Mincey called the Department of Children and Families to 'report' herself, relating that she and her children were living in her car.
Fortunately, the DCF agent who took the call was aware of the newly established program in Vero Beach and reached out to SFFC on her behalf.
As a result, the two younger boys moved in with Herron-Whitfield; Mincey's oldest child, a daughter, joined another family; and Mincey could begin rebuilding her life with the support of her new family and friends.
Key to the success of SFFC arrangements is that parents maintain full custody and can terminate the arrangement at any time.
"We're like that aunt or uncle who would normally be there to help out," Herron-Whitfield explained.
Throughout the process, Mincey could visit and speak to her children as often as she wanted.
With her children cared for, Mincey was able to find work and housing. Her SFFC family helped her set reasonable goals and provided her with counseling and support even after she was ready to bring her children home.
"Once they come into your house, you're bonded for life," said Herron-Whitfield. She recalled a 10-year-old boy who came to America with his mother during the Iraq War. They were living in a shelter due to a domestic violence situation. Herron-Whitfield cared for little Max while his mother went to work. Today, Max is in college, but still has the blanket she gave him when he stayed with her.
"We built a relationship with the mom, with this little guy, and now he's a part of our family. They're both a part of our family forever."
Her relationship with Mincey was put into play once more during the pandemic, when Mincey again lost clients. Schools and childcare centers were shut down and, with three children at home, she was unable to search for work opportunities.
"She lost daycare and school, so she was in a panic with no one to watch her kids. She had worked so hard to get out of debt and find housing. She was really on a good trajectory, and then the crisis happened," recalled Herron-Whitfield.
The SFFC framework enables Host Families to also have backup, so those times that Herron-Whitfield was unavailable, she could call on Amanda and Eddie Brown, who had raised two daughters of their own.
"We've got all this space and there's so much need out there," said Amanda Brown. "You realize some people have no support system out there. They're good mothers; they just need someone to come alongside them. There's a lot of need out there, and we're barely scraping the surface. I got involved, and now I cannot imagine not being involved in these kids' lives. We just fell in love with these kids."
Recalling a positive update from Herron-Whitfield regarding one boy's sight-reading practice, Brown said, "I was so excited I felt like it was my own child she was talking about. These two little boys have just crawled into my heart. I never thought I would get that involved or excited, but you do. They become part of your family."
Mincey is again working full time, paying her bills and getting counseling. She is also working to repair relationships with her family. The children came home on June 1, much to everyone's delight.
"I probably would have ended up losing my children if it weren't for Safe Families. It's a big difference when you actually have someone to help you. They have been more of a family to me than my own family. I have never had that family support that I got with Safe Families," said Mincey.
"They are a part of my life forever. They are family. It's good for families that need help to know that they [the SFFC family] are still there to encourage you to keep going. They won't give up on you. They'll always be that family that gives you that strength that you couldn't find yourself."
Nationally, SFFC has facilitated 50,000 hosting arrangements supporting 15,000 families and 25,000 children.
In the short time the local chapter has been active, they have already hosted 17 children, built relationships with their parents, and have garnered the attention of local grant funders. They have established an office at the United Against Poverty UP Center and hope to continue to expand their volunteer-base to provide support to other desperate families.
For more information, visit safe-families.org.