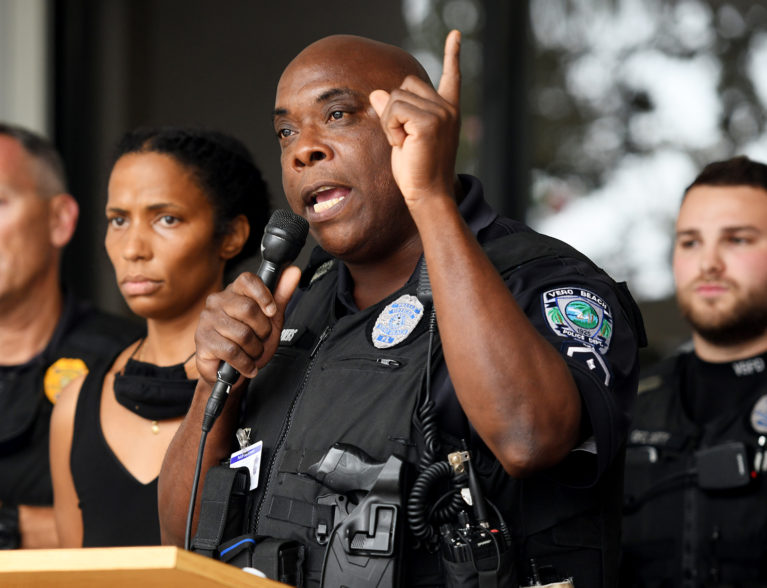 VERO BEACH — Police condemned the actions of four Minneapolis officers regarding the May 25 death of George Floyd, recorded on video and widely shared on social media.
"The unjustified killings must stop. It has to stop. We do not condone the senseless murder of Mr. Floyd by Minneapolis police officers." Vero Beach police spokesman Master Officer Darrell Rivers said.
"We all have an obligation to stop things we see are not right. Those officers did not take that step to do that."
Rivers, his voice filled with emotion, spoke to a crowd of more than 100 people during a 5 p.m. rally Thursday in front of the Vero Beach Police Department. The rally was held to bring awareness against police brutality.
Floyd's death sparked numerous protests, rallies, demonstrations and marches around the world, including two rallies in Indian River County.
Rivers said the never-ending cycle of black men being killed because of excessive police force makes him break down.
"Sometimes I cry, sometimes I get angry," said Rivers, who is black. "Sometimes I'm even embarrassed to wear the uniform because I know I have to be around other black people."
.@VeroBeachPD Master Officer Darrell Rivers speaks at rally. #VeroNews pic.twitter.com/0hV7BJvCZb

— Nicholas Samuel (@JournalistNickS) June 4, 2020
Rivers said all police officers are not the same. He noted Vero police come to work everyday with intentions to do the right thing.
Rivers quoted a line from Rev. Dr. Martin Luther King Jr.'s "I Have a Dream" speech, delivered during the March on Washington in August 1963. The famous line reads, "I have a dream that my four little children will one day live in a nation where they will not be judged by the color of their skin, but by the content of their character."
"Character speaks for everybody," Rivers said. "Character is very important, even if you're wearing a uniform."
Curtis Holden, vice-chairman of the Indian River County Veterans Council, said Floyd's death was a "sad day for law enforcement."
"This makes the community not trust the police," said Holden, a retired Boston police officer. "That was the worst case of police brutality I've seen. To me, it was murder."
What's next?
Officers allowed attendees to speak at the podium to voice their concerns about police reform. Among the topics discussed were requiring body cameras for every officer, having independent investigations into police misconduct, police training on de-escalating situations, and getting the youth to vote.
"We're trying to send a message that we're totally against police brutality," Rivers said. "We believe in transparency and we love our community."
Locally, Sebastian police is the only law enforcement agency that has body cameras along with dashboard cameras. Police Lt. Tim Wood said at least 10 officers have body cameras.
But, not every officer is issued a body camera at the moment, Wood said. The Indian River County Sheriff's Office, and police departments in Vero Beach, Fellsmere and Indian River Shores have dashboard cameras, but no body cameras.
Vero Beach police and the sheriff's office are looking into obtaining body cameras, but noted a lack of funding. Indian River Shores officers do not have body cameras because the triple-certified officers – also paramedics – respond to medical calls as well.
"Recording a person during a medical call could be a violation of their HIPPA rights, especially if the patient is unable to provide consent to record," Indian River Shores Public Safety Director Rich Rosell said. "It's never a good idea to permit police the option of turning off a camera once it has been activated. So we do not have them."
For training, local law enforcement are instructed to de-escalate the situation once an individual complies, officials said. Police must never touch a person's neck unless the officer's life is in danger, officials said.
Photos by Brenda Ahearn and Kaila Jones (Click on the photos to scroll through gallery)