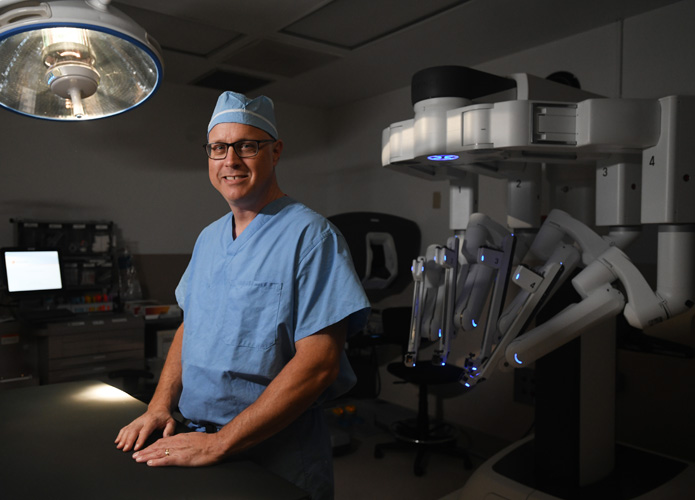 Now that so-called "elective" surgeries are being allowed again in Florida, it's entirely possible no one in the state is happier than Dr. Patrick Domkowski of Steward Health's Sebastian River Medical Center. Just before a statewide ban on "elective" procedures went into effect, Domkowski's team had acquired an impressive new piece of robotic surgery equipment he will now be able to use.
Domkowski, medical director of bariatric and general surgery and the overall chief of surgery at the Sebastian hospital, is well aware the term "elective surgeries" might seem to denote procedures that are not, strictly speaking, medically necessary – but he knows better.
Bariatric surgeries, for example, can be a life-savers.
The National Institutes of Health cites morbid obesity as "the second leading cause of preventable death in the United States," responsible for well over 300,000 death a year, and adds that bariatric surgery is currently the only evidence-based, durable treatment for that condition and that new robotics are playing an increasingly important role in those surgeries.
"We have been fortunate here at SRMC to have had a robust robotic surgery service line for years," says Domkowski.
"We routinely perform robotic bariatric, general, thoracic, gynecologic and urologic surgeries. We have used this technology to better serve the patients in our community for a decade now and we are all very excited to have the new Xi DaVinci robotic surgical system from Intuitive.
"We already have the Si DaVinci system, but recent technological advancements in robotic surgery have made it outdated. The newer Xi DaVinci has many advantages and enhancements compared to its older counterpart."
The NIH agrees: "With the rise in a number of bariatric procedures, surgeons are facing more complex and technically demanding surgical situations," going on to report that robotic digital platforms potentially provide a way to better address these challenges.
"The use of robotics," NIH continues, "has led to lower complication rates in bariatric surgery when compared with laparoscopy.
"Performing bariatric surgery can be technically demanding in many situations because of large patients, large livers, thick abdominal walls and substantial visceral fat making exposure, dissection and reconstruction difficult."
The Journal of the American Medical Association is more succinct. It says simply that today's robotic devices like the Xi DaVinci "have led to a reduction in some of the most difficult challenges" in weight loss surgery.
"The Xi has a wristed, powerful vessel sealer that allows for easier and more precise tissue dissection," Domkowski explains. "It has a robotic stapling system with auto-feedback technology. This prevents the stapling and dividing of tissue that may be too thick and not as secure as standard laparoscopic stapling techniques. It [also] allows the surgeon to operate in more than one part of the abdomen at a time.
"In the past," Domkowski continues, "we were limited to just being able to use the robot in one part of the abdomen. However, with the Xi we can go up into the mediastinum and the lower abdomen in the same case. The Xi is truly a game changer for robotic surgery."
Just a few years ago most bariatric surgeries nationwide were performed using the older laparoscopic procedures, but Domkowski says the benefits of advanced robotic surgery – improved patient outcomes, less pain, shorter hospital stays and lower complication rates – will soon make robotic surgery the new gold standard for bariatric as well as general, thoracic, gynecologic and urologic surgeries nationwide.
He sums up his case by saying "there have already been independent published studies demonstrating improved outcome for patients undergoing robotic surgery."
And now he and his team are putting their new Xi DaVinci robot to work helping to save lives here in Indian River County.
Dr. Patrick Domkowski is the medical director of bariatric and general surgery as well as the overall chief of surgery at Steward Health's Sebastian River Medical Center and has a 5-star rating on WebMD. His offices are at the Riverside Surgical & Weight Loss Center at 14430 U.S. 1 in Sebastian. The phone number is 772-581-8003.