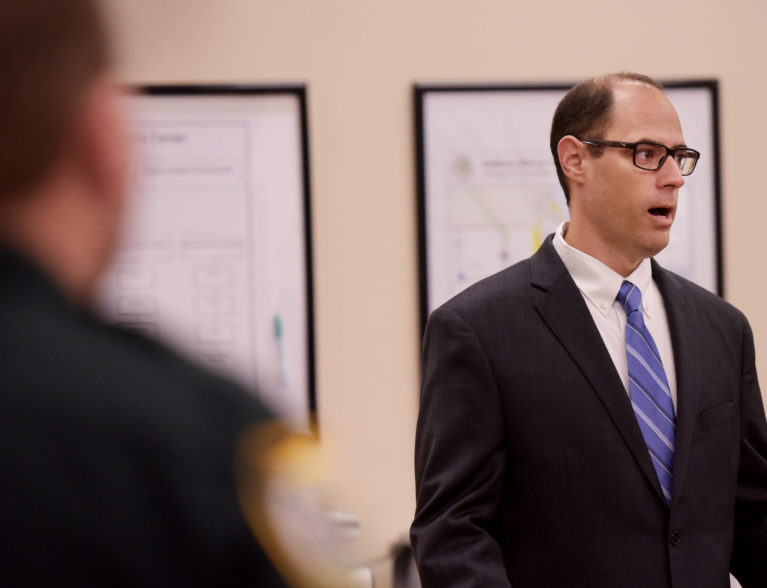 INDIAN RIVER COUNTY — Moments after announcing the first coronavirus-related death in the county, officials urged residents to continue monitoring for possible symptoms and to practice social distancing.
"Today's unfortunate news is a poignant reminder that we need to not let our guard down," Indian River County Administrator Jason Brown said in a Friday news conference. "We need to remain vigilant in the fight against COVID-19."
The report of Indian River County's first coronavirus-related death comes just before the Easter weekend holiday. Health officials said an 88-year-old woman with no travel history and no known contact with an infected person had died.
Tad Stone, director of emergency services, announced the first COVID-19 related death in Indian River County on Friday morning. The person who died was an 88-year- old woman with no travel history, Stone said. #VeroNews pic.twitter.com/vAtGmC7dO8

— Nicholas Samuel (@JournalistNickS) April 10, 2020
The woman tested positive for the illness April 2 and was hospitalized. Details on how long the woman was in the hospital were not immediately available.
"Our deepest condolences are with the family and friends of the first county case that passed away," Brown said.
Brown noted that social distancing continues to be effective in the county. Florida remains under a stay-at-home order, with schools, businesses and other facilities being closed.
Brown quoted President Donald Trump, who spoke at a briefing March 31.
"Each of us has the power through our own choices and actions to save American lives and the most vulnerable among us," said Brown while reading the quote. Brown said residents have control over the impact of COVID-19 in the community, state and country.
Local coronavirus cases
Emergency services and the health department also gave an update on other local coronavirus cases.
Tad Stone, director of emergency services, said the number of positive virus cases in Indian River County remained at 68 Friday morning. The health department also reported 18 hospitalizations.
Those numbers are both cumulative, and do not represent the current number of positive cases being tracked or current number of people in the hospital, officials clarified. Stone said at least 10 people were still hospitalized while the other cases were self-isolating at home.
Cory Richter, the former deputy fire chief assisting with the county's virus response, said Cleveland Clinic Indian River Hospital's COVID-19 hotline has received 3,642 phone calls.
Richter said the hospital has done 847 tests total, including drive-thru and inside the building. Out of those tests, 658 were negative, 141 are pending and 48 were positive.
Richter said Sebastian River Medical Center has done 52 total tests. Out of those tests, 43 were negative, five are pending and four were positive.
The positive cases done by SRMC did not need to be hospitalized and are self-isolating at home, Richter said.
Richter said the hospitals are severely limiting visitors inside its facilities. Those who want more information on visiting guidelines should go to the websites for each hospital.
"They're trying to reduce cross-contamination of current patients who do not have COVID-19," Richter said. "Both hospitals have been planning for a potential surge and are well-prepared."
Richter said SRMC has a full supply of masks for its staff and patients. Richter said the hospital is doing temperature checks on employees.
If a worker's temperature is more than 100 degrees, the employee will be sent home, Richter said.
Florida Department of Health Officer Miranda Hawker said the Center for Disease Control and Prevention recommends people to wear cloth masks in heavily-populated social areas, such as grocery stores.
Stone said emergency service officials are continuing to give personal protection equipment to healthcare facilities, including hospitals, assisted living facilities and nursing homes. Stone said there are no issues with the food or fuel supply chain.
"It's been a team effort county wide," Stone said.