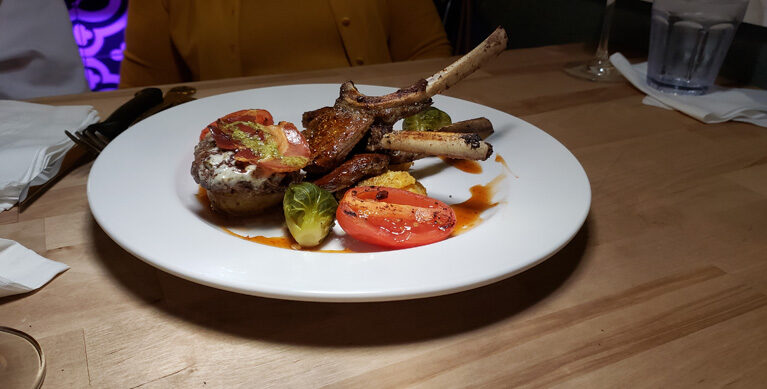 Chef Michael Amaral, whom we first encountered a half dozen years ago when he was executive chef at Costa d'Este, has built out and opened a restaurant of his own on 17th Street – and the early signs are very promising.
Headline news: River Twist Food and Wine is located two doors down from Sumo House, about a half mile west of the 17th Street bridge, in a strip mall on the left just before you get to US 1. A first tasting of the offerings of Chef Michael – ranging from creative starters to very good entrées – suggest this restaurant is likely to quickly develop a following.
Look & Feel: The décor of the main dining area, with several types of chandeliers hanging from the exposed ceiling, might best be described as industrial chic. A half dozen red booths line the walls, with a large high-top share table set in the middle of the room. At the rear of the dining area is a large open bar.
Food: Last week, our party of four sampled an assortment of appetizers and entrées.
But while we were waiting for our wine selections, Chef Michael's wife Lorraine came by the table with a plate for us to share of homemade crostini with goat cheese, golden raisins and caramelized onions with a little drizzle of organic honey. This was not on the menu but it should be. As one of our companions remarked, a fantastic mix of flavors.
For appetizers, we tried the seared shrimp and soppresata ($10), the fresh tomato mozzarella stack ($12), and the salt and pepper fried chicken livers ($8).
The salads were both excellent, and beautifully presented. But I cannot tell you how excited my husband was to see the chicken livers, which were served with a caramelized onion jam and gochujang aioli. Gochujang is a Korean chili paste that nicely offset the sweeter jam and gave the dish a bit of a kick. A definite winner
For entrées, we sampled the seared lollypop lamb chops ($23), the Portuguese spiced pork loin ($17), the herb seared chicken breast ($15), and the evening's special, pumpkin seed encrusted sea scallops over wilted spinach ($31).
The lamb chops, alas, which should have been medium rare, were tasty but close to well done – and the chicken and pork loin also were tasty but a bit dry. The best dish of the four was the sea scallops, three beautiful, perfectly seared scallops that any chef would have been proud of.
While River Twist serves a variety of tempting house-made desserts, we were full by this point and decided to pass.
Drink: River Twist has an impressive wine list, offering a variety of excellent wines by both the bottle and glass.
Service: Our server Stacey was knowledgeable and attentive, and Lorraine also checked in from time to time to make sure all was well.
Prices: River Twist's appetizers range from $8 for the chicken livers to $15 for the lump crab cake. Entrées are mostly in the high-teens and low $20s. Two flatbreads were also on the menu at $10 and $11.
Also of note: In addition to dinner four nights a week, River Twist serves lunch Tuesday through Friday, and brunch from 10 a.m. to 2:30 p.m. on Sundays.
Initial impressions: The Amarals have clearly put a lot of work into launching this restaurant, and Chef Michael is preparing some very creative and tasty dishes.
Our single caveat is they only take reservations for parties of five or more. We have previously criticized this practice wherever we have found it. This restaurant is good enough smaller parties may soon find it tough to get a table.
I welcome your comments, and encourage you to send feedback to me at tina@verobeach32963.com.
The reviewer is a beachside resident who dines anonymously at restaurants at the expense of Vero Beach 32963.
River Twist Food and Wine
Hours: Wed.-Fri. 11 a.m. to 9:30 p.m.; Saturday, 4 p.m. to 10 p.m.
Beverages: Beer & Wine
Address: 717 17th Street, Vero Beach
Phone: 772-770-0908
Click HERE to see more or buy photos