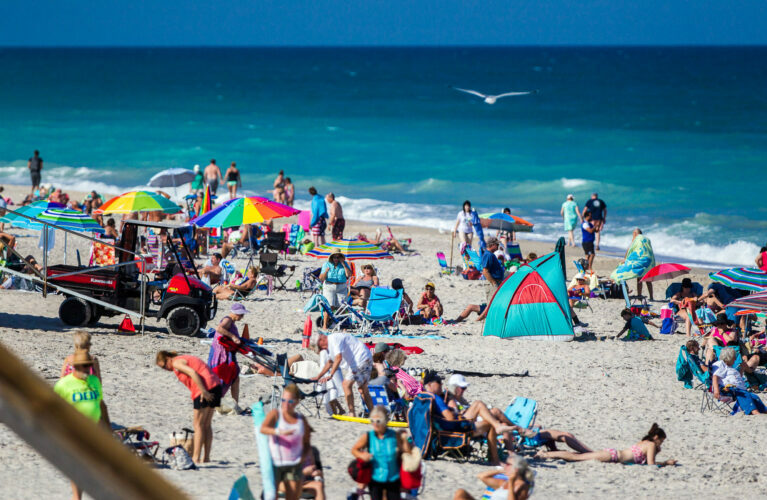 VERO BEACH — The city's three beaches had more than 5,000 additional visitors in November, beating the previous monthly record set in 2017 when 55,000 people hit the shore, according to a Vero Beach Lifeguard Association report.
This November saw 60, 170 visitors at the city beaches – Humiston Park, South Beach Park and Jaycee Park, officials said. Lifeguards said a good economy and colder weather up north may be contributing factors to the growing numbers of beach goers.
There were 16 medical emergencies on the beaches in November. In five of those incidents, the victims were transported to area hospitals by fire rescue, lifeguards said.
Lifeguards also pulled two people from rip currents, bringing the total number of rip current rescues in 2019 to 21, officials said. Lifeguards said the average ocean water temperature dropped to 74 degrees.
Volunteers with VBLA continue to try and reattach buoys that have washed away from the artificial reef. Buoys are distinctively shaped floats that mark the location of artificial reefs.
Not having the buoys in place creates a safety hazard for beach goers, who could get hurt by swimming into the artificial reef, VBLA President Erik Toomsoo said.
Swimmers should look for beach condition signs and flags, swim near lifeguard towers and avoid swimming during non-guarded hours, officials said.
City lifeguards are also working to get funding for the construction of the House of Refuge Lifeguard Tower and Command Center at Humiston Park. Last month, lifeguards submitted a fun and quirky video to the Ellen DeGeneres Show in hopes the celebrity and her team would support the project.
The video highlighted the need for a new tower and showed the current tower was functionally obsolete, officials said. Vero Beach has already pledged $75,000 toward the project.
City lifeguards need another $225,000 for the tower and command center.