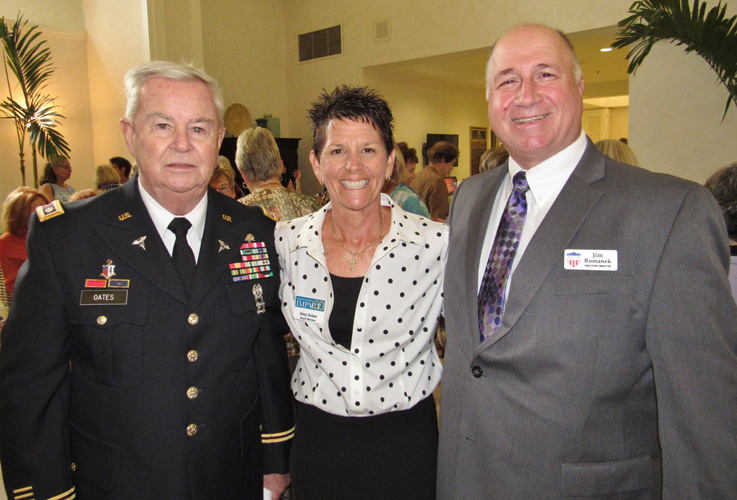 Members of the Veterans Council of Indian River County were front and center at the 12th annual Indian River Impact 100 Membership Kickoff Brunch last Wednesday morning at the Oak Harbor Club. The featured guest speaker was retired U. S. Army Lt. Col. Carroll Oates, representing the Veterans Council of Indian River County, a 2018 grant recipient.
"As we begin our 12th year, we have so much to be proud of. We've given over $4.1 million to our local nonprofits," said Amy Acker, Impact 100 board president.
Following a team philanthropy model, Impact 100 members contribute $1,000 apiece. The money is combined into increments of $100,000 and members collectively vote to determine which high-impact programs to fund. The number of transformational grants is determined by the number of members.
Acker noted that this past July 1, Impact 100 became its own 501(c)3 nonprofit, adding, "On that day in July, we celebrated our own independence from the Indian River Community Foundation, and now stand financially and operationally independent."
She credited the achievement to the initial Impact founders, past and present board members, sponsors and members, noting that reaching the milestone had been the result of their vision, courage, commitment, teamwork and passion for the mission of team philanthropy.
Before he spoke about the impact of the grant they received for the Veterans Helping Veterans program, Oates spoke about the growth of the Veterans Council since its founding in 1987.
"Veterans Helping Veterans not only is the program we established, but it happens to be our basic standard mission," said Oates. He said the Veterans Council supports local veterans through the collective effort of 25 veteran organizations, along with civic and community groups.
Oates said programming has grown from its initial focus on transportation and Veterans Day ceremonies, to areas such as Veterans Memorial Island Sanctuary, the Vero Beach Air Show, Upward American Veterans, Veterans Outreach, Veterans in the Classroom, Scholarships, the Victory Center Military Store and the Veterans Helping Veterans program, which assists qualified veterans with home repairs and handicapped accessibility needs.
Having received the grant, Oates said, "we were determined to earn the gift we were given. We wanted to stretch the impact of every dollar."
Primarily using veteran contractors, the Impact grant funded 23 separate projects, directly impacting 82 recipients from World War II veterans to recent conflicts. The Veterans Council is continuing the program through their own fundraising efforts; they are now working on the 29th project.
For more information, visit impact100ir.com veteranscouncilirc.club.
Photos by: Mary Schenkel
Click HERE to see more or buy photos