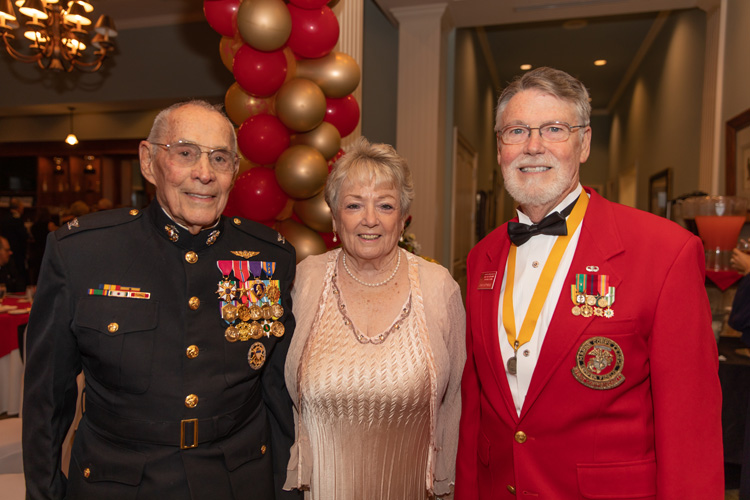 The Marine Corps League Indian River Detachment recently hosted its annual United States Marine Corps Birthday Ball at the Pointe West Country Club, with a theme for the evening that focused on the three C's: Ceremony, Celebration and Comradeship in commemoration of the Corps' 244th birthday.
The yearly event is held in recognition of Nov. 10 as the day on which the Continental Marines were established by the Second Continental Congress in 1775.
The sold-out event was steeped in military tradition, from the presentation of Colors and playing of Taps in memory of fallen comrades, to the ceremonial cutting of the patriotic birthday cake by the oldest and youngest marines in attendance. Wielding a sword with much fanfare, these warriors sliced the cake and made a toast to the Corps with a "top secret" Marine Corps punch.
The reading of the Original Charter of the Marine Corps and the rededication of the local detachment's flag were poignant reminders of the oath they made and continue to uphold. Semper fidelis, meaning always faithful, signifies a marine's loyalty to the United States as well as to their fellow service men and women.
While Marine Corps members were the honored guests, there was quite a large showing by members of other branches of the military as well. In honor of their brothers and sisters in arms, each of the other branches of service was acknowledged during a moving musical tribute.
The mission of the Marine Corps League is to preserve the traditions of the Marines and to provide support to those who are currently serving or have been honorably discharged, and to the widows and children of fallen marines.
The group's efforts are also focused on promoting the ideals of American freedom and democracy through good acts and by observing occasions of historical significance.
Regular detachment meetings are held at 7 p.m. on the fourth Thursday of each month at the Victory Center Military Store in the Indian River Mall.
Photos by: Denise Ritchie
Click HERE to see more or buy photos