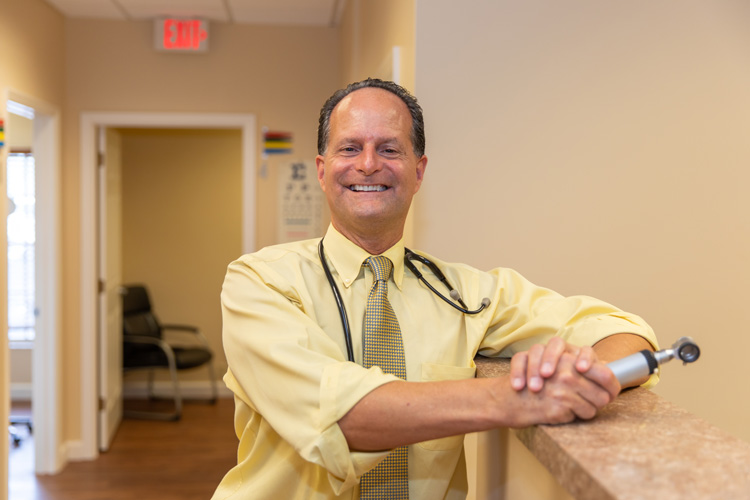 Finding "urgent care" close to the island in Vero Beach is about to get a little trickier.
Dr. Christopher Olenek is phasing out his longtime East Side Urgent Care practice on 37th Street and replacing it in the same location with the newly re-named East Side Vero Beach Medical Care.
The new office will not offer walk-in urgent care but rather regular appointment-based primary care for Dr. Olenek's patients along with cosmetic and wellness procedures.
When will that happen? Olenek pauses reflectively, sighs and says, "I would say certainly by the end of the year."
According to Olenek, he is making the change in part because he wants to offer his many existing primary care patients a less hectic, appointment-based atmosphere – which is difficult in an office that also offers walk-in urgent care – and because he's eager to offer patients more of the services he says they've told him they want.
New services will include an IV lounge with comfy leather chairs for a variety of treatments. In addition, Olenek plans to return to his medical training roots by offering some cosmetic procedures in addition to primary care.
"I went to New York College of Osteopathic Medicine," Olenek explains. "I went to Mount Sinai in Long Beach for my internship. I went to Columbia for my residency in Manhattan. And during my training, I did rotations at NYU, Manhattan Eye Nose and Throat and Mount Sinai for plastic surgery."
Is this board-certified family medicine physician about to pick up the scalpel again and practice plastic surgery?
"No. I won't be doing breast implants," Olenek says flatly. "I won't be doing face lifts. Not true face lifts. I'm not going to be cutting or tightening muscles."
But he will be offering what's known as "platelet rich plasma or PRP injections," which he claims "is not a filler. But it is going to make your skin look radiant. Radiant."
The National Institutes of Health says PRP injections "have become increasingly popular, particularly for treating sports-related musculoskeletal injuries. The injections are widely available at both private and hospital clinics, and as a cosmetic, anti-aging service often referred to as the 'vampire facial.'"
The Transylvania-sounding service, according to ABC News, "is a new kind of cosmetic procedure and it doesn't require injecting any acids, fat or toxins into the body. The main ingredient in this wrinkle-removing procedure is a patient's own blood."
"Based on in vitro and in vivo research, PRP may play a role in promoting tissue regeneration, oxidative stress relief and re-vascularization, which form the theoretical basis for the use of platelet rich plasma in the clinical treatment of facial rejuvenation," according to the National Institutes of Health, which also warns great results are not a sure thing. There is, NIH says, "little evidence from clinical trials to support its widespread use."
Now, what about those comfy leather chairs?
Olenek has transformed an old exam room into an "IV lounge" – with four over-stuffed leather armchairs and a 65-inch, high-definition TV – for those seeking to boost their immune system, aid in memory, add energy, lose weight, gain muscle mass, improve gut health and even just recover from a hangover.
Harvard medical calls IV lounges, already wildly popular in Miami and California, "a relatively new trend" and adds "in many places throughout the U.S. you can request IV fluids and you'll get them. A nurse or physician's assistant will place an IV catheter in your arm and you'll receive IV fluids.
"Some services offering IV hydration include a special blend of vitamins and electrolytes, and, depending on a person's symptoms and budget, an anti-nausea drug, a pain medication, heartburn remedies, and other medications may be provided as well."
But Harvard also cautions that these IV treatments are "usually not covered by health insurance" and patients seeking a seat in the IV lounge will need to provide a medical history before anything is administered.
In fact, it's probably wise to consult your primary care physician – assuming that's not Olenek – before seeking either platelet rich plasma injections or any kind of IV treatment.
Dr. Christopher Olenek is at East Side Vero Beach Medical Care (formerly East Side Urgent Care) at 927 37th Street. The phone number is 772-770-6225.