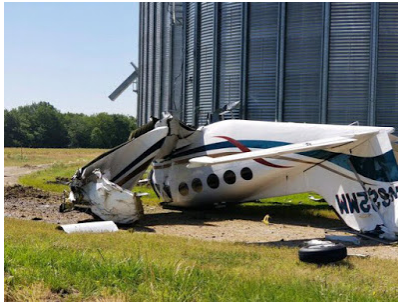 A pilot traveling to Kansas from Vero Beach reported engine trouble moments before the aircraft descended, struck a grain silo and crashed near a Missouri airport last month, a preliminary report shows.
The pilot, identified as 80-year-old John N. McConnell Jr., Vero Beach,, told the air traffic controller, "I am trying to get this thing under control." McConnell said, "she's going down" and told the controller he would try to land on Highway 69, reports show.
But, McConnell, who also had a home in Kansas City, never made it to his destination. His plane crashed into a 75-foot-tall silo and then fell to the ground.
The wreck happened about four miles northeast of the Butler Memorial Airport in Butler, Missouri, officials said.
It will take at least a year before a final investigation into the cause of the crash is finished, according to the National Transportation Safety Board. The day of the wreck saw clear skies, investigators said.
McConnell departed about 6 a.m. June 10 from the Vero Beach Regional Airport. McConnell was navigating a Cessna 425 multi-engine airplane scheduled to land at New Century Air Center Airport in Olatha, Kansas, reports show.
The plane climbed about 26,000 feet, according to data from flightaware.com, a live flight tracking website. McConnell was beginning to descend the aircraft when he reported to the controller he was having issues lowering power to the right engine, reports show.
As the plane traveled to lower altitudes, McConnell told the controller the right engine was stuck at full power and that he was going to shut the engine down, authorities said. The pilot then was instructed the nearest airport was Butler Memorial Airport, about eight miles away.
McConnell then headed for runway 36 at the airport. Then, McConnell lost control of the aircraft.
A witness reported seeing the plane at a low altitude, nosing down toward a field, reports show. The silo where the plane crashed was about a mile from the highway, investigators said.
The wreck destroyed the aircraft, reports show. The investigation remains ongoing.