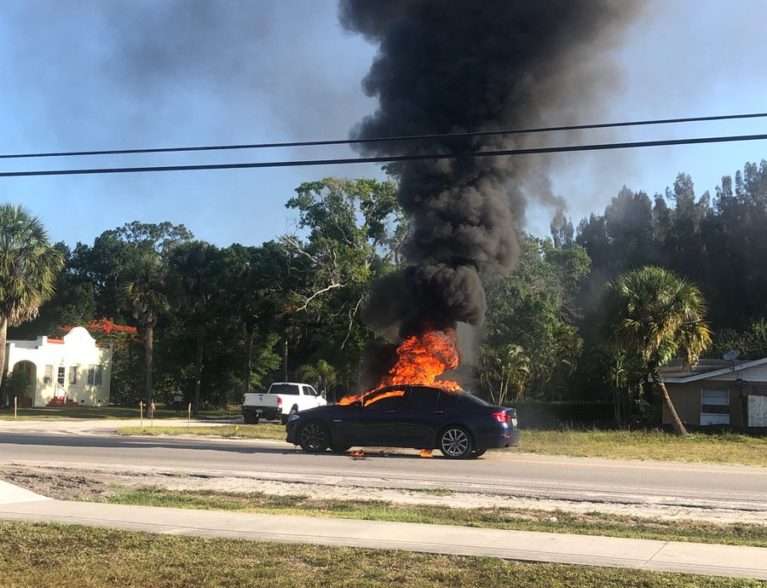 FELLSMERE — An onlooker pulled a man from a burning car after the vehicle erupted in flames early Wednesday, sending billows of dark smoke into the air and closing County Road 512, police and fire rescue crews said.
The man suffered severe burns and was flown to Orlando Health Burn Center with critical injuries, Indian River County Fire Rescue Battalion Chief Kyle Kofke said. A fire investigator was headed to the scene to investigate the cause of the incident.
Video provided by Fellsmere Police Department. *Click the audio icon in the lower right hand corner for sound.
Vehicle fire at CR512 and Elm Street. Driver rescued by bystander. Media call Sgt. Scott Newsom at 772-473-1913

Posted by Fellsmere Police Department on Wednesday, May 29, 2019
Fellsmere police and Indian River County Fire Rescue crews were called to the fire about 8:30 a.m. Wednesday at C.R. 512 and Elm Street. A motorist was driving when he saw a BMW in front of him burst into flames, Fellsmere police Sgt. Scott Newsom said.
The bystander got out of his vehicle, ran up to the other car, opened the door and initially had trouble unfastening the driver's seat belt, Newsom said. The bystander eventually got the seat belt off and pulled the man from the burning car.
"All the windows were up," Newsom said. "(The driver) was pretty disoriented. We don't know if he knew what was going on."
The blaze totaled the car, Newsom said. Newsom said police think the fire started from the engine compartment.
Firefighters extinguished the flames at 9:18 a.m., Kofke said. Police expected C.R. 512 to reopen within the next half-hour, Newsom said.
The incident remains under investigation.