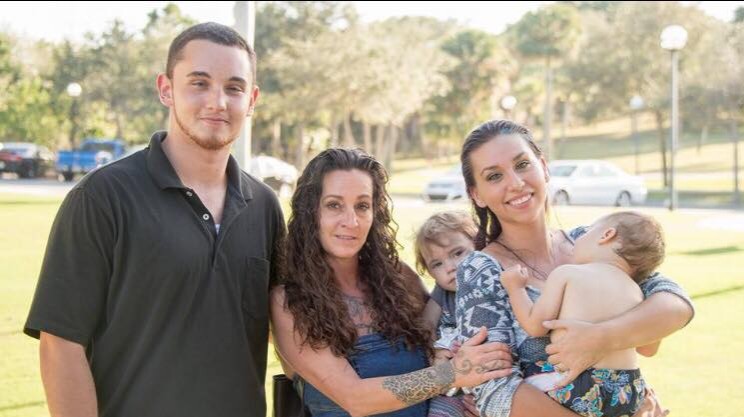 Photo provided by Gilley Family
INDIAN RIVER COUNTY — When Tammy Gilley got a phone call last year that said her son was missing, she drove from Maine to Florida in a desperate attempt to find the 23-year-old.
Gilley said she spent hours riding down local roads to find Brandon Gilley, an electrician, who went missing April 7, 2018. Gilley said she reached out to the CUE Center for Missing Persons, a non-profit organization, and local law enforcement, who used all-terrain vehicles, drones and cadaver dogs to help the mother in trying to find her son.
Despite the effort, her son was not found. A certain sense that all was not well with her son settled in.
"I told deputies I didn't feel like he was missing. I felt he was murdered," said the 48-year-old mother. Gilley said she felt like dying every day her son was gone.
About a year later, a gruesome discovery was made. On April 3, buried about three-feet deep in the backyard of a Fellsmere home, Indian River County sheriff's deputies found the skeletal remains of Brandon Gilley while executing a search warrant.
"It's disturbing. It's a 110 percent lack of human dignity," Gilley said. "He was my best friend and had a heart of gold."
Deputies digged for several hours trying to recover the body. A foul smell still lingered at the home the day after the remains were unearthed.
"Since his disappearance, our detectives have worked to find out what happened to Brandon. Now that we have located the body of Mr. Gilley, our efforts are focused on bringing his killers to justice," Sheriff Deryl Loar said in a previous statement. "Detectives are conducting interviews with witnesses and suspects as our efforts are now dedicated to making an arrest."
An autopsy was performed on Brandon Gilley's body earlier this week.
Two residents who lived at the home, Heriberto Gamez, 31, and Selena Rodriguez, 23, were arrested on drug charges. The home was located at 12945 100th Lane.
April 3, Rodriguez was released from the county jail on $1,000 bond. Gamez was transferred to the Brevard County Jail on April 8 for an outstanding warrant, records show.
Indian River County deputies said the residents sold drugs to Brandon Gilley, which Tammy Gilley denied. It was unclear if the residents would be charged in the man's death, as the investigation continues.
"This doesn't feel like closure. His killer(s) are still walking the streets," Gilley said.
Family Man
It was a holiday message that would be the last time Tammy Gilley would hear from her son, Brandon Gilley. A week before Brandon Gilley went missing, he texted his mother, "Happy Easter Beautiful."
Brandon Gilley, who worked at Boys Electrical Contractors in Brevard County, was just three weeks shy of his 24th birthday.
Gilley said it hurts to look at her son's pictures. The mysterious disappearance left her shedding tears during the past Thanksgiving and Christmas holidays.
Gilley said her son loved his job and would often send her pictures of items he worked on, including a fuse box.
"He said, 'Mom, I love this company. They treat me good,'" Gilley said, her voice filled with passion. "He was a hands on learner."
Brandon Gilley loved his younger twin brothers, Kevin and Alec, both 22, and his older sister, 26-year-old Danielle. Brandon Gilley's nephew, 4-year-old Brodie Giles, adored him, Gilley said.
"(Brandon) made him feel like he was the only kid in the world," Gilley said. Brandon Gilley – who received his GED from St. James Academy in Fort Pierce – had the tattoo "FOE" on the back of his arm.
The acronym stood for "Family Over Everything," Gilley said.
No sign of Brandon
On April 9, 2018, Tammy Gilley received a phone call from her son's friend. The friend told her Brandon Gilley had not come back to his Sebastian home, where he was renting a room.
"I had an uneasy feeling," Tammy Gilley said. "Something felt wrong."
A manager at a liquor store next to the Sebastian Winn-Dixie contacted Danielle Gilley. The manager told her she saw Brandon Gilley about 2 p.m. two days earlier at the store, located on Sebastian Boulevard, Tammy Gilley said.
Tammy Gilley said deputies reviewed the store's surveillance footage and confirmed Brandon Gilley had been there.
The man was last seen driving a 2003 black 4-door Chevrolet Cavalier. More than a week later, law enforcement officers found Brandon Gilley's abandoned vehicle on Wesday Road Southeast in Palm Bay.
Still, despite the discovery, Tammy Gilley's son was not found, compounding her worry.
Gilley said she gave deputies Gamez' name last April and told them he ran a drug house in Fellsmere. Gamez has a history of convictions from drug-related charges, including possession of cocaine.
Missing Persons
Gilley never thought she would be one of those parents who would be searching for their missing child for an extended period of time.
The mother said she wished deputies had jumped on the case right after her son disappeared. But, Gilley added that she is thankful deputies worked hard to find Brandon Gilley.
"It would be unbearable if he was never found. My biggest nightmare was to not know what happened to him," Gilley said. "I'm one of the lucky ones. My family can now begin the healing process."
Another missing resident, Assunta 'Susy' Tomassi, still has not been found after she disappeared March 2018. The 73-year-old – who has dementia – vanished after she walked away from the Quilted Giraffe, a restaurant she had owned with her husband, Patrick.
And there are other cases, including runaway juveniles and adults who go missing without any clues.
Some people with missing loved ones contact the CUE Center for Missing Persons for help. Gilley said she spoke at the organization's conference in Wilmington, North Carolina, last month because she wanted people to listen and care.
"I felt like I had to go talk and get his story out," Gilley said. "There were so many people who knew what I was going through. They heal by helping to find other people's missing loved ones."
What next?
Now, Gilley has to wait again, this time to see if deputies can formally connect the Fellsmere residents to her son's disappearance. Gilley said arrests will not be enough, and that she wants to see convictions in her son's case.
"He was an amazing man and an amazing son," Gilley said.