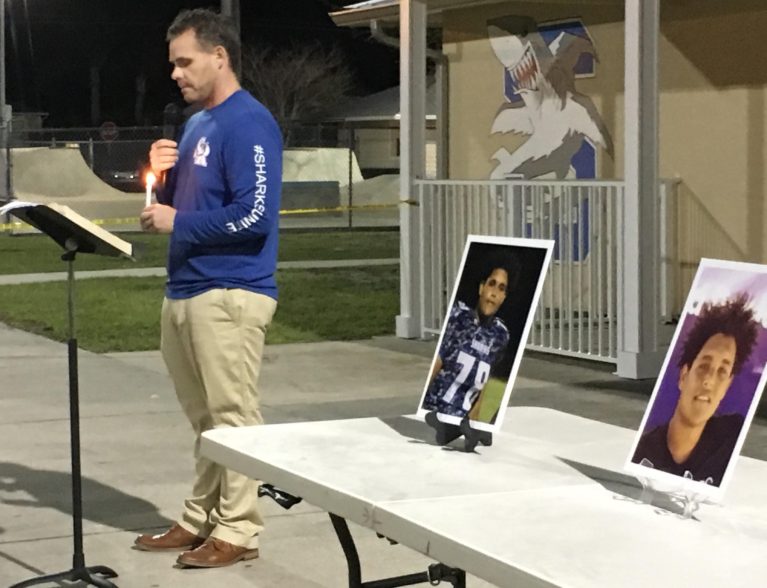 Photo by Nick Samuel
INDIAN RIVER COUNTY — An 18-year-old last seen with a missing teenager found dead several days later in Fellsmere, has been charged with murder, authorities report.
Thursday, deputies charged Elisha Martin, of the 600 block of Carnival Terrace, Sebastian, with first-degree murder, but did not immediately name the victim, records show. Martin was held Thursday at the Indian River County Jail without bond.
More details on Martin's murder charge will be given Friday at a news conference, Indian River County sheriff's spokesman Maj. Eric Flowers said. Deputies will detail if Martin's murder charge is connected to the death of 16-year-old Logan Spencer, who was a student athlete at Sebastian River High School.
A community candlelight vigil for Spencer was held at 7 p.m. Thursday at the Barber Street Football Field located at Tulip Drive and Barber Street.
*Click the audio icon in the lower right hand corner for sound.
Moment of silence during a prayer vigil Thursday for Logan Spencer, a 16-year-old student athlete at Sebastian River High School who died last week. A body was found in Fellsmere last Thursday, but deputies have not yet confirmed the identity. #VeroNews

Posted by Nick Samuel on Thursday, February 28, 2019
The S.R.H.S. Touchdown Club last week stated in a Facebook post that Spencer had died. Spencer, of the 400 block of Watercrest Street, Sebastian, had been missing since Feb. 18; several days later, a resident found a body in a wooded area in the 13000 block of 87th Street in Fellsmere.
Deputies noted an autopsy report showed that the body had a gunshot wound to the head. Thursday, deputies had not officially confirmed if the body was Spencer, only referring to the victim as a 16-year-old in reports.
Law enforcement did not immediately give a motive for the slaying.
Spencer a 'protector' who had his teammates' back
During the vigil, the number 78 – Spencer's football jersey number –  was beamed on the scoreboard at the football field. Spencer's family wiped away tears as the high school's head football coach, Tyrone Perry, presented them with a sweatshirt honoring the late teen.
More than 200 people attended the vigil, including Spencer's family, classmates, teammates and friends. Spencer's football teammate and best friend, Bailey Dennis, said Spencer was like a big brother to everybody.
"You could have the deepest conversation with him. He was all ears," said Dennis, 17, of Sebastian, who also attended Treasure Coast Elementary with Spencer. "He meant a lot to me. He made his mark and will be remembered forever."
If anyone was with Spencer, he would protect them anyway he could, Perry said. Perry said Spencer, who was 6 feet 2 inches and weighed 278 pounds, went out of his way to speak to the other teens at practice and wanted to help people.
"He was a son, a friend, a brother and a teammate," said Pastor John Stranzin, of Crossroads Christian Fellowship, who led Thursday night's vigil. Spencer's teammates and family were gathered in the middle of the field as teachers and coaches expressed their fond memories of the teen who "made everyone happy and had a personality like no other."
Spencer attended Sebastian Middle School before coming to Sebastian River High School, Stranzin said. Spencer, a defensive end for the Shark's football team, started playing football in the spring semester of his freshman year.
The teenager began playing on the varsity level and also played baseball and recreational basketball. Spencer was a junior at the high school before his death, Perry said.
"He was very athletic and could have went on to play Division 1 football," Perry said.
Martin seen with missing teen
Deputies said Martin was last seen on surveillance footage with the 16-year-old picking up the teen from his girlfriend's home on the day he disappeared. The interaction was the last time anyone heard from the teen.
His body was found several days later, reports show.
Last week, deputies spoke with Martin, who gave them multiple stories about his interactions with the 16-year-old, reports show. Deputies said Martin kept changing the narrative of his story, telling detectives at one point that he dropped the teen off in Fellsmere and left.
Deputies found drugs and a firearm inside a room at Martin's home. Deputies initially arrested Martin on Feb. 22 for giving false information to a law enforcement officer during an investigation and possession of marijuana with intent to deliver.
It still remains unconfirmed if the 16-year-old mentioned in the reports is Spencer.
Remembering the 'Gentle Giant'
Spencer had a heart of gold and a smile that would like up the darkest room, his obituary states. The teen loved to fish.
Spencer's dad, John Spencer, was his coach, biggest fan and best friend, the obit states. Spencer leaves behind his dad, as well as his mother Amanda Danguillicourt, relative Phyllis Spencer, step-dad Jorge Danguillicourt, siblings Robby Spencer, Ava Danguillicourt and Angel Solomon, and other family members.
Funeral arrangements for Spencer were not available.
"Darkness has taken a life from us," Stranzin said. "We must push back darkness from the light we have, not only our light, but also Logan's light."
Photos by Nick Samuel