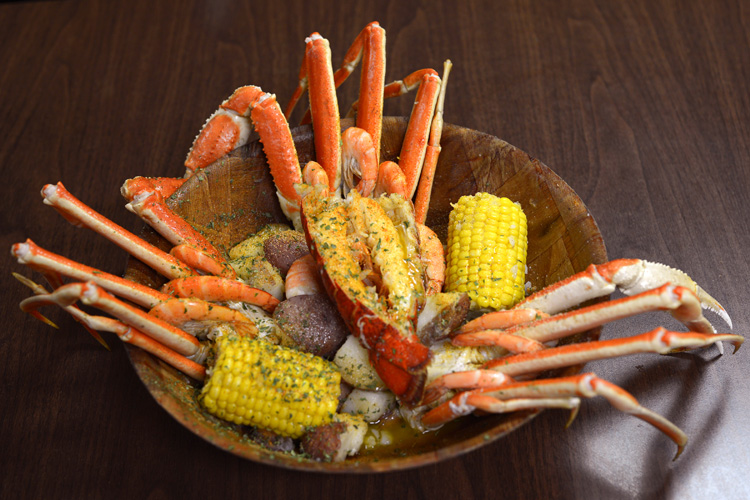 Many years ago when I lived in Washington, D.C., on summer weekends we would visit the Eastern Shore of Maryland.
July and August are the peak of blue crab season on the Chesapeake Bay, and these outings would frequently take us to a waterfront crab shack for a Maryland-style crab feast.
Those were the days. I sure do miss sitting down at a newspaper-covered table, and pounding away at those Old Bay-encrusted steamed crabs.
But while the Chesapeake blue crabs that I dream about are regarded as the most delicious of the species, blue crabs can be found up and down the East Coast – including in Florida.
So recently, spotting the words "Maryland-style" in an ad for the Crab Stop on the Sebastian waterfront, I stopped by to try the blue crabs available there.
The Crab Stop in Sebastian has been open just about a year, and the first thing I noticed was the ambiance – more that of a bright-and-cheery waterfront seafood restaurant than crab shack.
No newspaper-covered tables or wooden mallets here.
And the personable proprietor, Ellis Buckner, a retired county fireman who went into the restaurant business after a near-fatal heart attack, quickly made it clear that his blue crabs were not from Maryland, but were brought here live from the Gulf Coast and prepared "Maryland-style."
Blue crabs, in fact, turn out to be only one of the two types of crabs featured at the Crab Stop. Equal billing goes to snow crab clusters, which come mostly from the northern Pacific and Alaska. The Crab Stop also offers an array of seafood combinations including some with shrimp and lobster.
But I was intent on trying the blue crabs. I wanted to order a half dozen – pretty much a normal portion – but neither the menu nor the server seemed to indicate that was possible. We could have had a "table combo" of a dozen medium blue crabs for $39, or 18 for $59, but there seemed to be no way of just having six.
Sharing an order might have been fine under other circumstances, but my husband has never been a fan of the whole blue-crab experience.
So at my server's suggestion, I wound up with the "blue snack pack" ($18.95) consisting of three blue crabs, three jumbo shrimp, sausage, egg and a half-pound of potatoes. My husband ordered the crab cake dinner ($15.95).
My blue crabs turned out, in fact, to be very tasty. The Crab Stop seasons the crabs not with Old Bay but its own spice mixture. I should have gone for the full dozen! And the sausage and garlic potatoes were also delicious.
My husband's two "crab cakes," however, consisted of a mixture that was more breading than crab, stuffed into blue crab shells. An attractive presentation, but not great crab cakes.
Before our entrées, we had started with two bowls of soup – the New England clam chowder ($5.95) and the lobster bisque ($5.95). I liked the clam chowder better than my Massachusetts husband, but we both gave high marks to the homemade lobster bisque enhanced with a dash of sherry.
Bottom line: Round up a couple of friends who love Maryland-style blue crabs, and go order a mound of these beauties. They are what makes it worth giving the Crab Stop a try.
I welcome your comments, and encourage you to send feedback to me at tina@verobeach32963.com.
This reviewer dines anonymously at restaurants at the expense of Vero Beach 32963. n
The Crab Stop
Hours: Mon.-Sat. 11 a.m. to 9 p.m., Sunday 1 p.m. to 9 p.m.
Beverages: Full Bar
Address: 1550 Indian River Drive, Sebastian
Phone: 772-571-6767
Photos by: Anthony Inswasty
Click HERE to see more or buy photos