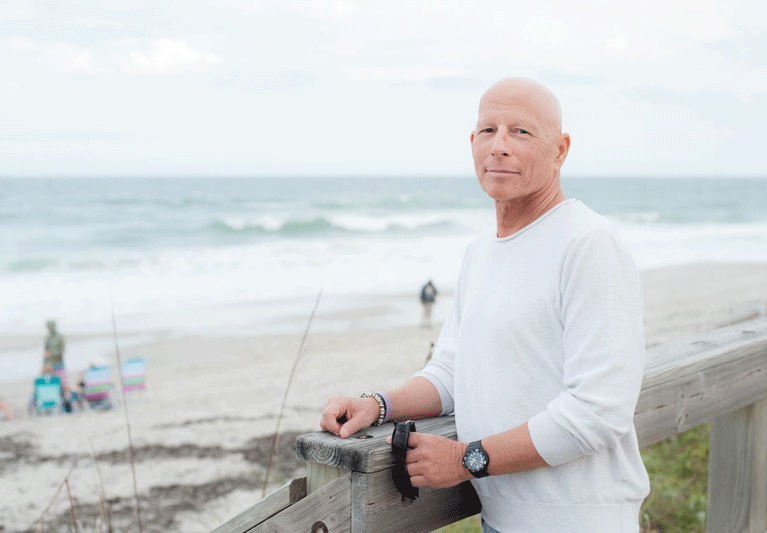 Lifelong surfer Duane E. DeFreese, 64, a PhD marine biologist and Executive Director of Indian River Lagoon Council of the National Estuary Program, is riding a surge of beachside support from Vero to Melbourne – and a few real waves – as he battles Stage 4 Non-Hodgkin's Lymphoma.
The work of the Lagoon Council, which is headquartered in Sebastian, extends up and down the Space and Treasure coasts, where De Freese is well known as one of the leaders in the effort to protect and restore the waterway that is the economic and aesthetic heart of Vero Beach, Sebastian, Palm Bay, Melbourne and points north.
DeFreese had no idea how much support he would have in his challenging struggle, but that support has poured out, especially from his informal group of surfing buddies who congregate around Long Doggers in Indialantic would rally to his side in tough times. Starting after the first chemo treatment, "The Choir Boys" as they call themselves, insisted on helping him simplify and downsize, from a two-bedroom home on a half-acre in Indialantic to an ocean-view condo in Indian Harbour Beach.
That's where DeFreese surfed with some of those many old friends Nov. 25, marking the end of the fifth out of six rounds of chemotherapy.
"Neuropathy in feet plus chemo dizzy does not equal good surfing LOL. So fun to be in water with the boys,'' DeFreese posted on social media that evening.
"Some (of) it is stupid defiance and a little bit of it is denial that I'm going to let cancer dictate and define my life. Every day I try to counterpunch,'' he said.
The Choir Boys never let up transitioning DeFreese out of his Indialantic home of about 20 years.
"They stuck with me through that whole sequence of getting the house ready for sale, painting the house (when) I was sick as a dog. I gave away, sold or threw out over 90 percent of everything I owned in August/September and closed the deal on the sale in eight weeks. None of that would have happened without those guys support,'' he said.
The Choir Boys started with about eight or ten members and has now grown exponentially to help out in a growing number of ways, he said.
"It shows how tight the beach community is and how supportive this community is for people in need. I have people dropping food off at my condo. It's not just my surfing crew, it's my extended family from the National Estuary Program. I have support from all five counties. They're rallying around me, making sure I'm ok,'' he said.
"People say to me it's really a shame, it's really a bad thing. Actually, on average, this has been about 80 percent good, 20 percent bad. It's reaffirmed the things I believed before. I just decided instead of looking at it like a victim, (I would) look at it like an opportunity to learn about yourself," he said.
Still working full time, DeFreese is taking some time off while he waits for results on the effectiveness of the chemo with a prognosis expected in February after a PET scan.
What has he learned about himself? That remaining private behind self-limiting personal walls that don't allow you to accept help is out of the question for this type of fight, he said.
"I had to take that wall down really quick. My friends weren't letting that wall stand whether I wanted tit down or not. They bulldozed that wall down for me. I'm kissing and hugging way more than I ever did before. You've got one shot to tell people you love that you love them and it wasn't something I did very often. I was a scientist and kept it conservative. That wall is down. These guys are kissing me on my bald head. How lucky am I to experience that? If I didn't have this challenge I would never know it. This outpouring usually happens after you die. There's a blessing in all this even though (chemotherapy) is brutal,'' he said.
DeFreese said he feels the difference at work. "As a scientist you try to be factual, you try to be kind of distant from the information, kind of like a medical doctor. It was never a personal story. That was my job. That's all shifted in the last six months. People are saying that was the best speech I ever heard and I am wondering if I am communicating differently or are they receiving me differently because they know I have chemo and I've lost my hair. I've started to talk about this fight for the lagoon and this fight for my life as the same fight,'' he said.
DeFreese said he feels the need to create his legacy now. "I want to save my life to save the lagoon," he said.