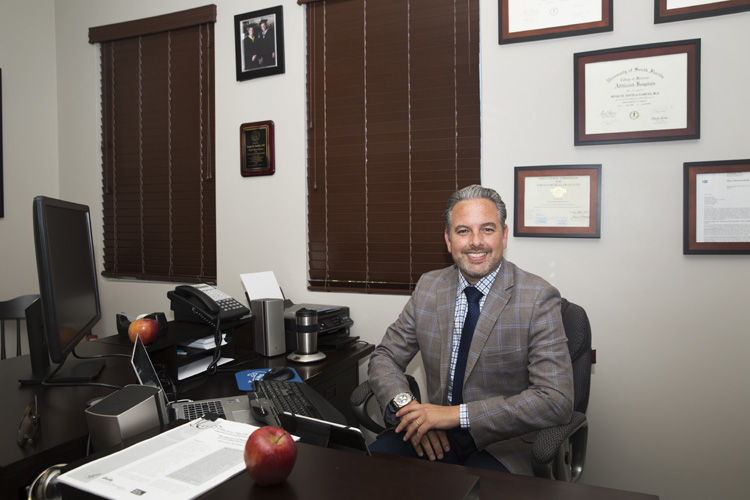 Dr. Hugo Davila of Florida Healthcare Specialists is excited about a new tool available to treat prostate cancer – the SpaceOAR hydrogel system by Augmenix.
According to Davila, a Moffitt Cancer Center-trained urologist and robotic surgery specialist, SpaceOAR is a synthetic polyethylene glycol hydrogel that is injected into patients to gently "move" the prostate gland away from other organs and internal structures – including the rectum, the bladder, the penile bulb and the sphincter – before beginning external beam radiation treatments to destroy cancer cells inside the prostate.
Why? Because the radiation used to kill the prostate cancer cells is powerful and can sometimes damage those sensitive tissue structures if they are irradiated along with the cancer.
Davila provides an example. "The sphincter is the door that opens and closes when you want to empty your bladder and sometimes that can be affected by radiation."
That can lead to a lifetime of incontinence for the patient. So, Davila continues, "the idea of the OAR gel is simply to move [the prostate] away from the other internal structures."
That's especially important since, as Davila puts it, urologists are "always looking to improve treatment without increasing the side effects," but as procedures change, precautions must also change.
"One of the things that radiation oncologists are doing now is what we call the hyper-fragmentated radiation treatments," Davila explains. "They start with low dose [radiation] and as they progress in the treatment, they keep increasing the dose."
Increased radiation levels heighten the potential for damage to those other nearby organs and internal structures surrounding the prostate, but in the clinical trial prior to its FDA clearance, SpaceOAR patients suffered significantly fewer such problems.
Or, as the FDA itself put it, "the ability to protect the rectum [and other structures] from radiation may allow for radiation dose escalation to increase cancer kill rates and entail fewer radiation treatment sessions."
Indeed, a whopping 65 percent fewer patients experienced clinically significant urinary problems when the gel was used and an even more impressive 78 percent maintained their sexual function (erections) three years after radiation treatments.
Statistics like that make the gregarious Davila smile broadly. "I'm very happy to be a urologist because we are a surgical specialty that is always looking for new approaches and new techniques and things that we can provide to our patients to improve outcomes and quality of life."
And speaking of new – or, at least, fairly recent – as anyone who was diagnosed with prostate cancer just a few years ago is doubtless aware, the standard test then was the Prostate Specific Antigen (PSA) test which, it turns out, was wildly inaccurate.
"Today," says Davila, "we have many options that provide a better assessment of prostate cancer than the PSA. One of them is the 4Kscore. It's a blood test that has allows us to identify even better the patients who are at risk for having prostate cancer. Another [newer blood test] is called the PHI [or] Prostate Health Index and a third test is the PCA3, which is a urine test that allows us to identify who is at risk of having prostate cancer."
And the best news of all for men?
Davila predicts the day will soon come when prostate biopsies – actually snipping off a piece of the prostate to examine under a microscope – will also be a thing of the past.
"I think we'll get to the point where we'll replace the biopsies. I think between MRIs and blood tests we'll get to that point in the near future," he says. It could be in five or 10 years, or it could be much sooner.
In Davila's eyes, the diagnosis and treatment of prostate cancer has never been better with more proven options available. As an accomplished robotic prostatectomy surgeon, he is keenly aware that an important part of his job is to inform his patients about those many options, and his easy-going conversational manner makes information and choices easier for his patients to grasp.
Dr. Hugo Davila is with Florida Healthcare Specialists. He has offices in Vero Beach at 3730 7th Terrace, Suite 101 and in Sebastian at 8005 Bay Street. The phone number is the same for both locations: 772-581-0528.