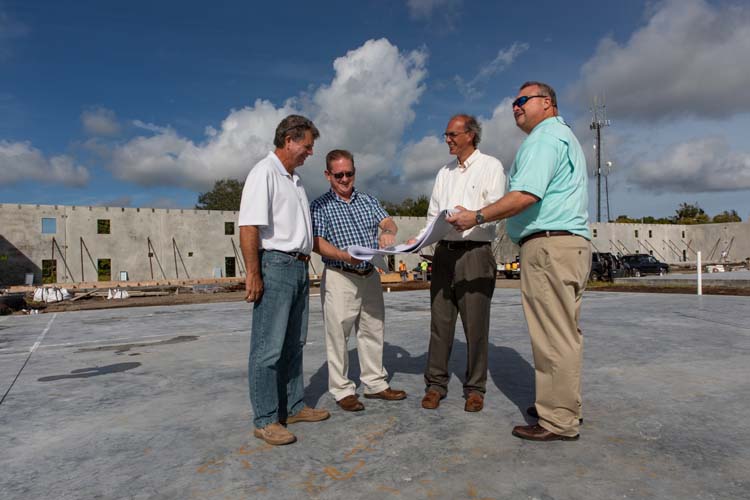 Owners of valuable objects – a beloved Rolls Royce, a Grady-White boat, a Winnebago RV, a grandfather clock or other choice items – will soon be able to store their treasures in an industrial-version jewelry box specially constructed in Vero Beach via the "tilt-wall" method.
"The walls have double the strength required by the Indian River County Building Code," said engineer Bill Stoddard, one of the owners of Vero AutoHaus at 950 12th St.
The AutoHaus project is part of a nationwide trend, according to Bloomberg.
In an Oct. 19 article title "The Latest Real Estate Trend is Storing Rich People's Cars," Bloomberg reported a shortage of secure storage
facilities for rare cars and other collectibles, noting that "entrepreneurs and investors are seeing opportunity. Car warehouses that can store a hundred or more pricey vehicles are beginning to pop up across the U.S."
In Florida, the trend toward heavy, steel-reinforced concrete storage units may have extra impetus in the wake of Hurricane Michael. Media coverage of the storm's aftermath showed brightly painted sports cars peeking out among the dun-colored ruins, metal storage unit walls crumpled like tissue paper.
Here in Vero, the entrepreneurs who sensed a pent-up demand for secure storage space are AutoHaus owner/developers Joe Schulke, Jodah Bittle, William Stoddard and G
eoff Barkett of Schulke, Bittle & Stoddard engineering firm, and Vic Lombardi, owner of the luxury building firm Waters Edge Estates.
The men saw a need for a high-end warehouse designed for valuables like collectible cars, looking to the island as their main customer base.
AutoHaus is in mid-construction, an exploded diagram of the tilt-wall method in which concrete walls complete with window and door openings are cast in large molds onsite and then tilted up and fastened together – bypassing weight, size and transportation problems that generally limit precast c
oncrete construction.
"It looks like a giant Lego Erector Set," said John Zuefle, the superintendent on the project.
To be economically feasible, the project must be at least 40,000 square feet, the size of AutoHaus, Schulke said. There are six buildings and 37 individual units – which have 14-foot-high garage doors and 22-foot ceilings to accommodate big vehicles, lifts or mezzanines. The interior roads are wide and have big turning lanes.
Months were spent planning for the construction of the walls. First, 2-foot-deep footers were poured, then 5-inch concrete floor slabs.
The floor slabs are the pristine bed for the concrete molds for the walls and roof. Wood, plastic, metal a
nd other materials are used to form the molds to give the 7.5-inch-thick walls the desired shape and texture. A chemical is applied to break the concrete bond with the underlying floor slab.
Engineering the molds is an exercise in plotting positive and negative space. Windows, doors, vents and pipe penetrations must be left open. Other forms receive a web of steel-rod reinforcement. Corner and L-brackets and steel plates require clockwork placement before concrete can be poured, enmeshing them at the exact place where bolts will conjoin concrete walls, floors and ceilings.
Final preparation includes grading and compacting the surrounding dirt to withstand the weight of the crane n
eeded to lift and tilt the walls, and the wall panels themselves, some weighing 43,000 pounds.
The poured concrete walls take 28 days to fully cure, but the walls can be tilted into vertical position just shy of that, Schulke said.
"Then it goes fast," Stoddard said, the labor savings that make tilt-up construction economical kicking in. Several walls were tilted up in a day and a half. Laying concrete block would take much longer, and would contain more air than the dense, high-quality concrete.
"It's strong concrete – 5,000 pounds of pressure per square inch – about twice the strength you find in residential concrete," Schulke said. "It's enormously fire resistant and
provides a better noise barrier [than concrete block]."
While concrete block requires a layer of stucco before painting, AutoHaus' tilt-up concrete walls can be painted immediately, saving more on labor and materials.
Braces hold the walls in position, awaiting the stabilizing steel-framed roof and roof deck. The roof will be a sandwich of reinforced concrete, Styrofoam insulation and another layer of reinforced concrete, a continuous pour melding the layers together.
The partners bought 2.8 acres of vacant land at the 12th Street site in the summer of 2017, paying $480,000. They chose the location because of its proximity to the 17th Street
bridge, making it a quick hop for wealthy island collectors.
Half of the 37 units are already sold, ranging from 800 square feet to 1,320 square feet, although three buyers have bought double units, leaving out the center wall to expand the interior space.
"Half of the buyers want them for general storage, the other half for autos, boats and RVs," Lombardi said. "They don't want to drive their car back up north when the season is over."
"Or they don't want to leave their boat in the water or their RV out in the weather," Schulke said. "One couple is tired of evacuating. They said they purchased a unit so they can bring their boat in and weather out storms here. A lot of people who didn't e
vacuate complained they felt trapped by the bridges being closed and want to be on the mainland."
"There is demand for it," car collector and hedge-fund investor Henry Robertelli told Bloomberg.  Robertelli  "is building out a 7,000 square-foot auto garage in a suburban Atlanta warehouse space that's nearly five times as large, if he wants to expand."
Located close to U.S. 1, AutoHaus will be among the first to get power back on, along with the grocery stores and pharmacies nearby.
The building should be move-in ready by March, the team of owners said, becoming the only tilt-wall storage unit in t
he county.
Vero Autohaus
Address: 950 12th St., Vero Beach
Neighborhood: Near 17th Street Bridge, just beyond the train tracks on the right-hand side on 12th Street
Lot size: 2.8 acres
Units: 37 units ranging in size from 800 sq. ft. to 1,320 sq. ft., although more than one unit may be purchased to gain up to 7,000 sq. ft. by leaving out interior walls. Ceilings are 22 feet high.
Construction: Poured concrete reinforced with steel, including an insulated concrete and steel roof
Additional features: Each unit has two access doors and a 14'x14' insulated garage door. Interiors may include a mezzanine floor within the 22-foot-high unit. Plumbing may include a full bath and kitchenette. All units include automatic ventilation systems and floor drains required to permit the storage of vehicles, RVs and boats. Every unit has its own electric meter and 150-amp panel, ready to add climate-control air conditioning. Two common bathrooms, RV dump, wash area and air-vac will be provided onsite. The site will be fenced and gated with video-recorded surveillance.
Ownership: Commercial condominium, pricing starting at $167 a square foot, prices ranging from $142,900 to $249,900
Owners: Vero AutoHaus, 772-696-4287
Jodah Bittle, Joe Schulke, Bill Stoddard, and Vic Lombardi
Autohaus construction
Autohaus construction
Autohaus construction
Autohaus construction