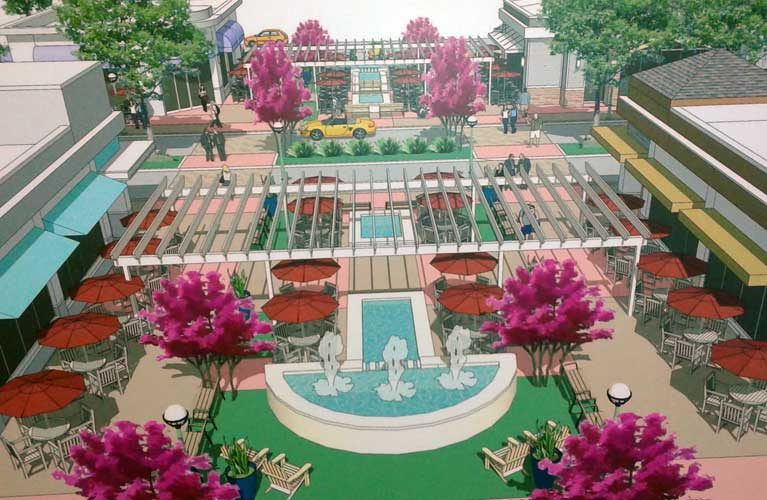 A major and much needed update is coming to the Vero Beach Outlets, according to Karen Fluharty, head of marketing for the sprawling 340,000-square-foot mall west of I-95.
"We are going to make it worth the trip again," says Fluharty.
The multimillion-dollar renovations, which are set to begin in January, will include a new shopping center entrance and a central cluster of restaurants with courtyards and outdoor seating in middle of the vast, underutilized parking lot. There will be new pedestrian walkways and a tram system to carry shoppers around the mall's wide perimeter.
The architect's illustrations show four restaurant buildings arranged around two courtyards with fountains. Fluharty says "there will definitely be a coffee shop," along with fast-casual restaurants offering food such as burgers and pizza. "We are going to create an outdoor environment that feels good and has a sense of place," Fluharty says.
The mall is in negotiation with higher-end restaurateurs to occupy slots in the main retail buildings. Fluharty says Vero Beach Outlets is seeking "strong local operators offering unique dining experiences," but would consider high-end chains such as Capital Grill, Yardhouse or Bonefish Grill.
The redesign comes in conjunction with a planned shift toward more high-end home-goods stores. A 25,000-square-foot Design Within Reach outlet is slated to open next spring, joining the Restoration Hardware and Williams-Sonoma Outlets.
Design Within Reach sells stylish, high-quality mid-century modern furniture, lighting and housewares. A catalogue provided by Fluharty shows sofas that cost between about $2,000 and $12,000. Beds go for between $1,300 and $5,500.
The store in Vero will be Design Within Reach's first outlet store and the mall's expectation is that it will draw shoppers from across the state and even out of state.
Fluharty says online shopping sites such as Amazon are eating into bricks and mortar clothing sales faster than into traditional home-goods sales.
She says the Restoration Hardware Outlet has been very successful, with designers coming in from Miami and Jacksonville to pick out merchandise for multiple clients.
"Restorations numbers are fantastic."
Vero Beach Outlets, which has 45 outlet stores, opened in 1995. Current owners The Simpson Organization bought the shopping center in 2017 with plans to upgrade and refurbish it.
"The Simpson Organization is dedicated to not only enhancing Vero Beach Outlets' offerings by continuing to attract new and novel retail concepts, but we are also dedicated to enriching our customer's overall shopping experience," says Simpson Managing Director Scott Bryant.
According to a press release, the 25-year-old, Atlanta-based Simpson Organization is a full-service real estate company that "capitalizes on value-enhancing opportunities," and has completed more than $3 billion in real estate transactions.