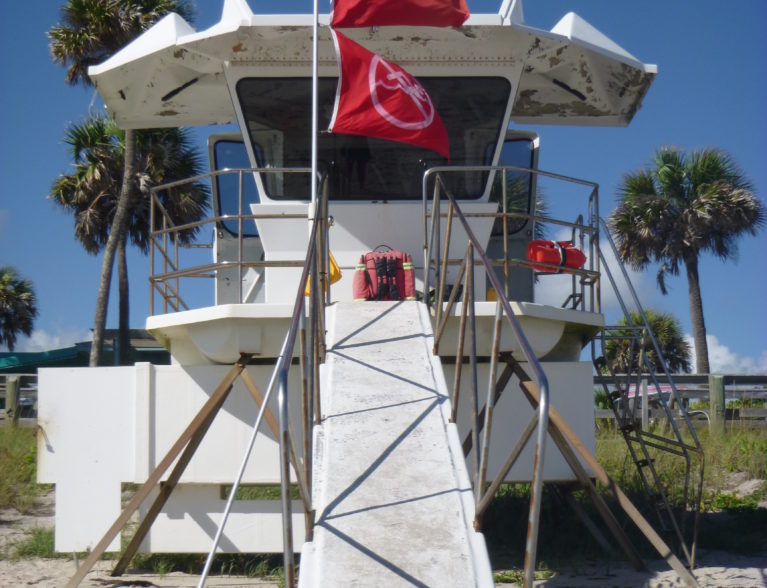 Indian River County is in the grips of a severe red tide infestation that has killed large numbers of fish and is causing symptoms such as coughing and eye irritation for people who are hundreds of yards from the beach.
The Emergency Services Department sent out an alert late Tuesday confirming that red tide reached the county, and is making its way north to Brevard County. All county and Vero Beach access points, with the exception of Round Island Beach Park, will be closed until further notice, officials said.
A researcher who studies harmful algal blooms at Florida Atlantic University's Harbor Branch Oceanographic Institute says he has confirmed a high level of red tide at Vero's South Beach.
Malcolm McFarland said he collected a water sample from the beach Monday evening and found it contained 1 million cells of the toxic algae per liter – enough to kill fish, cause respiratory irritation and discolor the waters. He also said he encountered "quite a few" dead fish.
McFarland said his findings have been shared with Indian River County and Vero Beach officials, who collected water samples Monday and sent them to the Florida Fish and Wildlife Conservation Commission's Fish and Wildlife Research Institute for analysis. 
An FWC map shows that medium and high levels of red tide were found in water samples collected from beaches in Indian River County.
Red tide was first reported at South Beach, Humiston Park, Jaycee Park, and Tracking Station beach Monday morning. Beachgoers reported runny noses, scratchy throats, coughing, eye irritation and scattered dead fish, prompting city and county health warnings to stay out of the water and keep pets away. Conditions were worse on Tuesday.
"If you do have chronic respiratory problems, avoid areas that have red tide," advised Indian River County Health Department spokeswoman Stacy Brock. "If problems persist, seek medical attention. Keep your pets off the beach too."
This is the first influx of the red tide here in about 10 years.
"It had made it to Fort Pierce Inlet late last week," McFarland said of the red tide bloom that spread from Florida's Gulf coast to the Treasure Coast earlier this month. "I think it's been moving north slowly but surely over the past week or two. These organisms grow in the ocean like clouds in the sky. They can be really dense in one place and not as dense further away – not necessarily uniform throughout the water."
Red tide, a naturally-occurring microscopic algae, blooms in Gulf offshore waters and spreads inshore with winds and currents. The Gulf coast has been experiencing a fairly steady bloom for about a year that really exploded this summer – causing massive fish kills, driving residents and visitors inland, and ruining tourism. Scientists say the algae got picked up by the Loop Current that whirls like a pinwheel in the Gulf and was transported around the Keys and up the east coast with the north-rushing Gulf Stream.
Because of the force of the Gulf Stream, McFarland said heavy blooms are unusual but not unheard of in Atlantic coastal waters.
"I wouldn't expect this to stick around too long," McFarland said of the red tide bloom. "Hopefully, it will move through quickly and we'll have much lower cell densities in a few days."
Earlier story
INDIAN RIVER COUNTY — Reports of dead fish spotted on local beaches and beach goers experiencing respiratory issues prompted health officials to collect water samples to investigate possible red tide, officials said.
The water samples will be sent to the Florida Fish and Wildlife Conservation Commission for testing, said Florida Department of Health spokeswoman Stacy Brock. The results will be sent back to the health department in Indian River County.
Double red flags could be seen at Vero's three beaches – Jaycee Park, Humiston Park and South Beach, said City Manager Jim O'Connor. The flags are to warn beach goers of possible red tide.
The city provided masks to lifeguards at the beaches for protection against exposure to red tide, O'Connor said. Exposure to red tide can lead people to experience throat irritation, coughing and itchy and watery eyes.
Residents, especially those with respiratory issues, should stay away from the beaches for the next two to 10 days, according to the Indian River County Emergency Services Department. The emergency services and Florida Department of Health were working Monday to assess the conditions at the beaches.
No official confirmation of red tide was made as of 4 p.m. Monday. There were no reports of beach closures Monday afternoon.
Red tide is an algal boom that produces toxic chemicals that are harmful to both sea life and humans, according to the FWC.
Higher winds and tides can spread the algal bloom more quickly, officials said. Residents should not eat any dead fish and should take caution with any fish caught from the southeastern coast of Florida.
Residents should not eat any shellfish of any kind until the red tide passes.
Photos by Sue Cocking