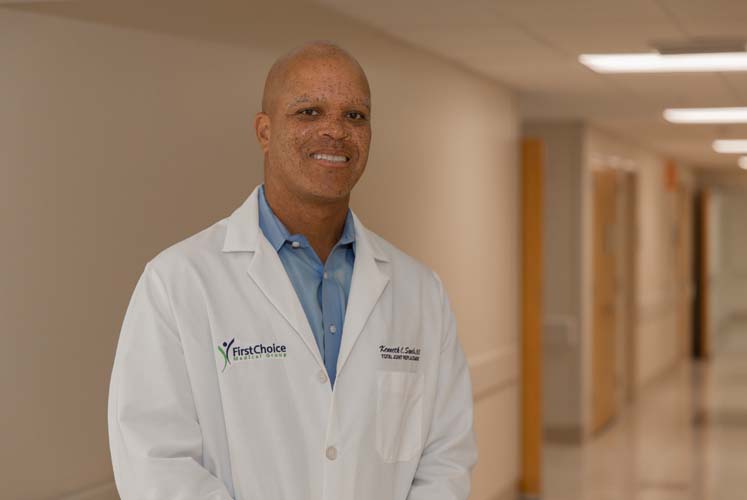 Everybody has heard of tourniquets. In cases of traumatic bleeding a tourniquet can save your life.
In a total knee replacement procedure, however, there's now ample evidence that tourniquets may actually do more harm than good.
Sebastian River Medical Center orthopedic surgeon Dr. Kenneth Sands has seen more than his share of traumatic bleeding after spending more than a dozen years as a U.S. Army surgeon.
That said, Sands has also spent the past six years performing "total knee arthroscopies" or knee replacement surgeries at a rate of close to 60 procedures a month and, as he puts it, "one of the things we are doing now that's different is something called tourniquet-less total knee replacements."
Bucking a more than half-century-old formula, Sands and many other orthopedic surgeons have now turned to the tourniquet-less technique to help speed recovery times and allow patients to comfortably leave the hospital in less than 24 hours after surgery.
"In a traditional total knee procedure," Sands explains, "we'd put a tourniquet on the thigh to decrease blood loss during the operation. That's been standard care for 60-some-odd years." But Science Direct's Seminars on Arthroplasty says "we have encountered no difference in blood loss or transfusion rates" between the two approaches.
Sand then adds, "the downside of using a tourniquet is, patients end up having a lot of thigh pain after the operation. If you have a lot of thigh pain after the operation, that tends to decrease your ability to [start on] your physical therapy."
The National Institutes of Health agrees. It says that in clinical trials comparing patient outcomes with and without tourniquets, "patients in the non-tourniquet group showed a better outcome in all knee replacements and better early knee range of motion."
And then there's the pain factor.
NIH also states "postoperative pain and analgesic consumption were less when a tourniquet was not used."
That "analgesic consumption" line is, in many ways, just as important as the pain reduction.
As Kinamed Corporation, a designer and manufacturer of implants and instruments for orthopedics and neurosurgery puts it, "the ability to reduce opioid consumption is significant since opioid addiction has become a national crisis and protocols that result in reduced patient pain are highly sought after."
For that reason, Sands and his colleagues are adjusting how they treat pain, as well as how they perform knee replacement operations.
Instead of relying strictly on opioids, Sands says, "we use this special cocktail that we inject into the patients. It helps control pain post-operatively so that patients actually feel good the next day and they want to go home. It [also] cuts down on some of the post-operative nausea that makes many people want to come back into the hospital.
"It's a combination of different medications," Sands continues, "that they'll get during the operation and then there's also some medication that they'll get prior to the operation to cut down on pain receptors."
Simply put, using fewer and lower-dose opioids combined with other medications substantially reduces the risk of post-operative addiction.
The overall goal, according to Sands, is just as simple. "We want to get people back to just being active. Like I said, the surgical techniques that we're using nowadays, removing tourniquets, using the analgesic cocktails, all of those things are assisting a lot people to get back sooner."
How soon?
According to Sands, "most of our patients here only stay for 23 hours. With making some of these changes, if you came in to have your surgery done on Monday, you would usually leave on Tuesday afternoon. And that's for 95 percent of the patients."
Finally, Sands can't resist adding one more piece of positive information.
In the recent past, knee replacement patients could only expect their prosthetic implants to last 10 to 15 years, but Sands flatly states that "now we can confidently tell people [their implant] will probably last them 20 to 25 years."
Dr. Kenneth Sands is with the Steward Medical Group and also has offices in Melbourne at First Choice Medical Group at 709 S. Harbor City Blvd. In Vero Beach he is at 1715 37th Place. The phone number for both locations is 321-725-2225. He performs hip and knee replacements as well as other orthopedic procedures.