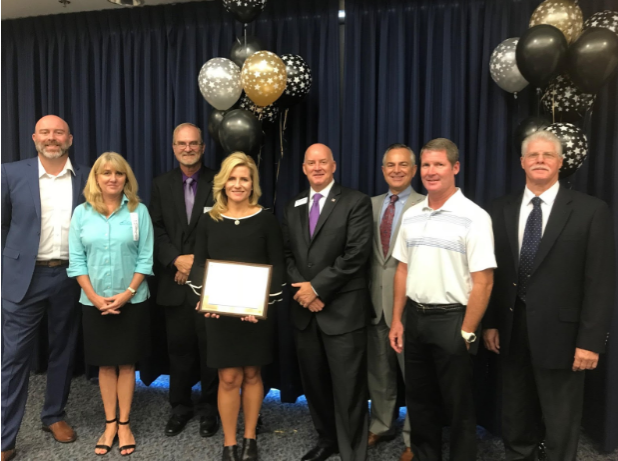 INDIAN RIVER COUNTY — A local college recently received an Industry Appreciation Award for its efforts in providing students with a new technology building that has state of the art equipment, including virtual welding.
The Indian River County Chamber of Commerce awarded the Treasure Coast Technical College with a plaque on Sept. 20, at the 30th Annual Industry Appreciation Awards, officials said. The event was held at the Richardson Center, located at the Mueller Campus at Indian River State College.
"As principal of Treasure Coast Technical College, I am excited to have this building on my campus," Principal Christi Shields said in a statement. "It was a pleasure working with Donadio & Associates and Summit Construction to design and erect the Industrial Trades Building. It represents the school district's support of providing expanded career and technical opportunities to the community."
The college won in the "Government Building Renovation" category.
"We challenged these companies with an aggressive timeline – from concept, to design, to construction," Schools Superintendent Mark Rendell said in a statement. "Not only did they meet deadlines, they delivered a first-class facility. We are thankful for their hard work. Our entire community will benefit from the addition of the programs offered at this facility."
The chamber of commerce designated Sept. 17 through Sept. 21 as Industry Appreciation Week in Indian River County. The Industry Awards program gives an opportunity for the chamber to recognize positive impacts businesses have had on the community.
The program is part of the chamber's Economic Development Business Retention and Expansion efforts, officials said. All businesses in the county are eligible for nomination.
The new industrial technology building represents an opportunity to help students excel in different trades.
More than 100 people attended a ribbon cutting ceremony about 3:30 p.m. August 9 at the new building, located on the campus of Treasure Coast Technical College, 4680 28th Court. Inside the building, students can learn about virtual and hands-on welding, carpeting, plumbing and more.
"This much-needed expansion of career and technical offerings was a clear mandate of Indian River County citizens," School Board Chairman Shawn Frost said in a statement. "The fact that our hard-working facilities and building team, Donadio & Associates and Summit Construction, are being recognized for their fine work, is icing on the cake. They should be proud of this well-deserved honor."