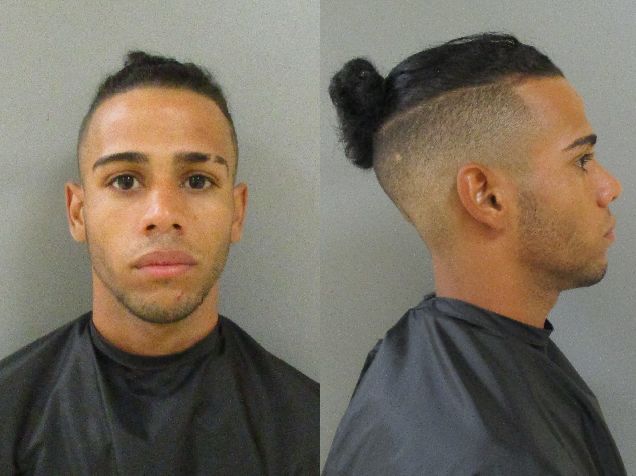 VERO BEACH — Two residents were hurt – one seriously – after being stabbed multiple times while fighting off two armed suspects during a home invasion Monday afternoon, police said.
The incident possibly stemmed from an ongoing drug dispute, reports show.
The victims, two men, identified to police one of the suspects as Jorge Lazaro Casales after the 19-year-old's mask fell off during the struggle with the men.
One of the victims told officers he previously bought marijuana from Casales. The victim said Casales – armed with a hand gun – thought one of the residents stole cannabis from him, reports show.
The other suspect – a juvenile – initially told officers he and Casales were robbed my multiple men in a blue van.
Police said those claims proved to be false and that Casales and the juvenile were the pair who broke into the home to steal items.
Police arrested Casales, of the 1400 block of 5th Place, and the juvenile each on charges of home invasion robbery, aggravated battery and false imprisonment.
Casales remains at the Indian River County Jail on $225,000 bond. The juvenile was taken to the Department of Juvenile Justice in St. Lucie County for holding.
Officers said two suspects broke into a home about 2 p.m. Monday on 31st Avenue. The suspects were trying to steal items inside when they encountered a woman at the residence.
The woman told officers she was about to leave the home when she saw a suspect standing in front of her. The suspect – later identified as the juvenile – put his finger up to his mouth "as if he was motioning her to keep quiet," reports show.
The juvenile held the woman at knife point and took her phone when Casales came in and pointed what appeared to be a handgun at the woman's head, authorities said.
Two other men who lived at the home heard the commotion and confronted the suspects. Casales threatened to shoot the woman. Both suspects stole cash and marijuana from the residents, authorities said.
The residents then tried to fight off Casales and the juvenile, but were stabbed multiple times, reports show. The woman told officers she could hear one of the residents yelling for her to "get out" and that she saw blood everywhere.
The two suspects then fled from the home. The woman drove the two residents to the Indian River Medical Center.
One man, who had serious injuries, was flown from the local hospital to Lawnwood Regional Medical Center & Heart Institute in Fort Pierce, police said. The other man remained at Indian River Medical Center with minor injuries and was released later on Monday.
Officers eventually located Casales and the juvenile a short time later and arrested the pair. Casales has an arraignment at 8:30 a.m. August 15, court records show.