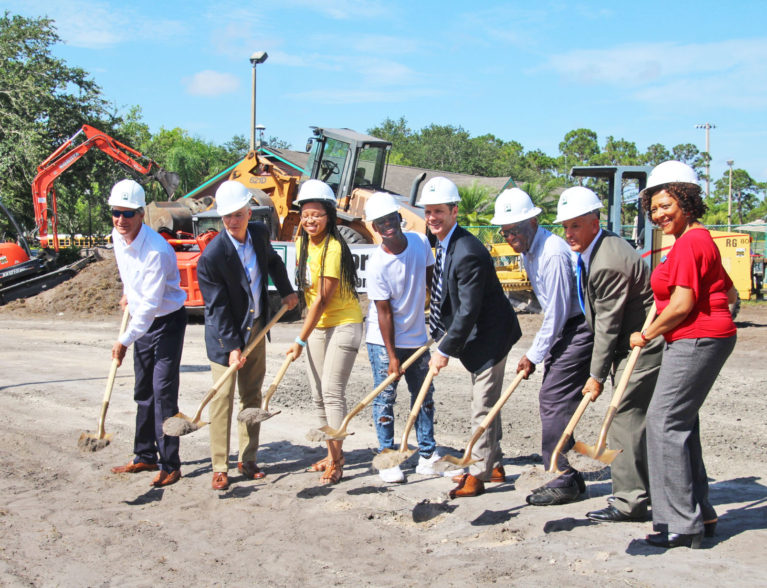 GIFFORD — An expansion project at a youth center that will help get rid of its growing waiting list by adding eight new multi-purpose rooms officially launched Thursday, authorities said.
Students and staff from the Gifford Youth Achievement Center's summer programs, volunteers, donors and government officials gathered at 10 a.m. Thursday at the center for the traditional shovel ceremony. The center is located at 4875 43rd Avenue, west of U.S. 1.
"Over the past 10 years we've seen a 62 percent increase in our enrollment, to the point that we are now officially out of space," Executive Director Angelia Perry, with the GYAC, said in a statement. "More families than ever are asking for our help, but we are forced to turn away more than 60 children each year because we have no room for them."
The 14,000 square-foot expansion will add eight multi-purpose rooms, including a specially equipped computer lab and two rooms designed for teenagers, officials said. The extension is being designed by Edlund Dritenbas & Binkley Architects and Associates and being built by Proctor Construction.
Some notable people that attended the ceremony included Joe Flescher, Chairman of the Indian River County Board of Commissioners, Adam Bolinger, Chairman of the GYAC Board of Directors, and Dr. A. Ronald Hudson, and original founder of the youth center and retired educator.
Bolinger said the plan for the $3.4 million expansion – for construction and three-year operating costs – has been years in the making. Even though the youth center has raised money for construction early on, it is still in need for an additional $4 million in endowed funds to support the ongoing work.
The inspiration to build an academics-based center in Gifford began after locals began to see a dramatic decrease in the graduation rate for black students.
"In 1997 the graduation rate for African-American students had plummeted to below 30 percent and I knew something had to be done," Dr. Hudson said. "With insight from the Progressive Civic League of Gifford, we brought forth the idea of combining recreation with academic support to both attract students and support them in their education."
The GYAC was officially founded in 1998. Two decades later, the graduation rate for black students has risen to 80 percent, and many locals consider the GYAC the pioneer for the improvement.
"GYAC's academic programs are a game changer for many students," Perry said. "This expansion is going to ensure more students can access after school and summer programs tailored to their needs. We operate with a mentality that there are no excuses to succeed."
Last year, the youth center served 200 students. The commitment "no excuses" helped 98 percent of students improve their grades, officials said.
Recently, the GYAC awarded 36 college scholarships to former students for the upcoming year.
Photos provided by Gifford Youth Achievement Center