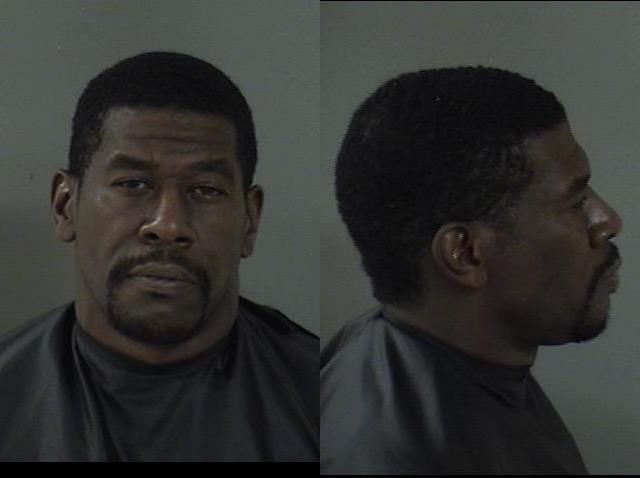 VERO BEACH — A 44-year-old man who police said 'sliced' a woman multiple times with an edged weapon while beating her outside a chicken restaurant now faces an attempted murder charge.
The woman required 100 stitches to her neck, face and chin after the Monday attack, Officer Megan DeWitt, spokeswoman for the Vero Beach Police Department, said Wednesday. The woman is in good condition and recovering.
The man – identified as Brandon Sean Douglas, of the 800 block of 22nd Street – told his roommate, "I gotta go, I slit (the woman's) throat," after the incident, reports show.
"He sliced her in the throat area," Officer DeWitt said. "I don't know how deep the cut is."
Police on Tuesday added a charge of attempted first-degree murder with a weapon against Douglas. Douglas, who was previously arrested Monday for the incident, is being held at the Indian River County Jail on $545,000 bond.
The woman Douglas attacked, described as an ex-girlfriend, gave police a detailed statement saying that Douglas struck her with an edged weapon while both were inside her vehicle. Police declined to release the specific type of weapon used.
Officers responded to a disturbance about 7 p.m. Monday at the Maryland Fried Chicken parking lot in the 700 block of 21st Street. Police found the woman bloodied in the face.
The woman told officers she met Douglas at Cunningham's Pool and Darts. The woman spoke briefly with Douglas, but then chose to leave.
After she got in her car, Douglas opened the passenger door and began to attack her, police said. Witnesses reported that the woman tried to escape from Douglas, but he continued to beat her in the parking lot.
Douglas then fled the area in the woman's red Hummer while she ran inside Maryland Fried Chicken and yelled for help, reports show. A short time later, officers found the vehicle, parked and unoccupied, on Royal Palm Boulevard, east of U.S. 1.
Douglas then went to his apartment and stole $80 plus a bicycle worth $250 from his roommate, another woman, police said. Officers recovered the bicycle, DeWitt said.
Police eventually detained Douglas on Monday and took him to the county jail. Reports previously described Douglas as homeless.
Douglas has an arraignment at 8:30 a.m. July 18, court records show.