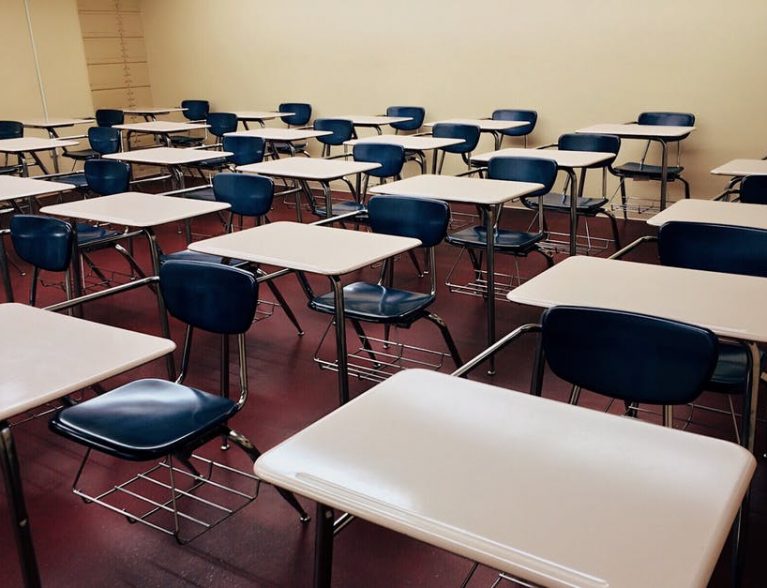 INDIAN RIVER COUNTY — A state arbitrator has ruled the Indian River County School Board wrongly disciplined a teacher for his part in a cheating scandal that resulted in the Florida Department of Education invalidating about 400 students' industry certification tests.
Ralph Vaughn, a career tech teacher at Vero Beach High School, was accused in 2016 of unplugging computers to freeze certification tests so students could take them over a two-day period, instead of within the timeframe allowed by testing company, Certiport.
A "forensic" digital investigation conducted by Certiport discovered Vaughn was also logging onto computers under fake student names, and the district claimed he did so to capture test questions to give students an advantage on the test.
Vaughn admitted to the behavior but said it was standard procedure, approved by his supervisor and known to School District officials.
The district's own investigation was conducted by then-Assistant Superintendent of Human Resources William Fritz, who concluded Vaughn and Alison Moody, another career tech teacher at Vero Beach High School, had cheated.
District Superintendent Mark Rendell landed hard on the teachers, accusing them of perpetrating fraud to enrich themselves, among other infractions. The state pays teachers about $25 for each test passed by one of their students – capped at $2,000. It also pays the district about $50 per test.
In a show of indignation, Rendell fired both teachers – and then promptly retracted the action, stating they would be disciplined instead.
Moody and Vaughn appealed Rendell's decision to discipline them. At a school board meeting, union members, fellow teachers and other supporters said the board could not be trusted to rule on the appeal and asked that the matter be referred to the state Department of Administrative Hearings for a ruling. The board refused.
Moody and Vaughn withdrew their appeal and refiled the complaint as a grievance through the teachers' union in February 2017. The district and union agreed the matter would be heard by the American Arbitration Association's Arbitrator Harold Smith.
Moody's grievance was resolved through a confidential agreement with the district. The union made public part of Vaughn's arbitration hearings and all of Smith's ruling.
"Throughout both the disciplinary investigation and the grievance process," Smith said in his ruling, "Vaughn has freely admitted to the conduct of which he is accused but has maintained that he engaged in it at the direction of Gina Hodges, the testing coordinator at his school and with full knowledge and approval of administration at both Vero Beach High School and the District level."
Hodges testified her administrator would not allow students to be kept in class beyond the normal 50-minute class period to finish a certification test. She claimed she asked Certiport if the test could be administered in two parts and was told to unplug the students' computers to freeze the test "If there is an interruption."
Hodges tried to maximize test time by having teachers log on under false student names to de-bug problems before testing season. Often Certiport tests wouldn't launch or froze, she said.
Vaughn produced practice tests created by Certiport's sister company, G-metrics, demonstrating they contained actual test questions, undercutting another of the district's accusations.
Smith noted the test freezing and registering under false names had been the practice within the department since 2010, with upper-administrative knowledge, until Hodges retired in 2016.
The arbitrator held the school board accountable, not Vaughn.
"The evidence supports the Union's argument that the School Board should have known about the testing procedures used by Vaughn in administering the test in question," Smith said. "Vaughn never attempted to hide or cover up the testing procedures. There was insufficient evidence to support the School Board's charge that Vaughn was dishonest or attempting fraud in the way he administered the tests.
"The lack of due process, and a less than thorough investigation, indicates the School Board decided early on that Vaughn acted to enrich himself," Smith said, noting Hodges wasn't interviewed, nor were any students.
He ordered that Vaughn be reimbursed for his five-day suspension without pay and his record be cleared of wrongdoing.
School Board Chairman Shawn Frost disagreed with the arbitrator's ruling, stating "the justification given [for clearing Vaughn] was that a supervisor instructed them to engage in these behaviors.
"I would hope and trust that most teachers in a similar situation wouldn't follow a directive to do these things, because they know it will cost their program its state funding and result in their students' certifications being revoked," Frost said. "I sincerely hope, and believe, that those involved have learned from this experience."
Career and Technical Education Director Michael Arnett said during testimony the school district had to pay back nearly $300,000 related to the students' lost credits and certifications. Asked why the financial settlement didn't come before the board, Frost contradicted Arnett and said the money was docked from the 2017-2018 state funding, not paid back.
Adding to the confusion and impression of district incompetence, School Board Members Charles Searcy and Laura Zorc said they were not informed about the arbitration hearings or results and were unaware the testing debacle cost the district $300,000.
Smith's ruling resolved matters at the district level for the two teachers, but not at the state level.
Education Commissioner Pam Stewart petitioned the State of Florida Education Practices Commission in February to hear the case against Moody and Vaughn. Possible sanctions include fines and suspending or revoking their teachers' certificates.
The hearings before the Commission have not yet appeared on the docket. Both are being represented by union attorney Mark Wilensky.