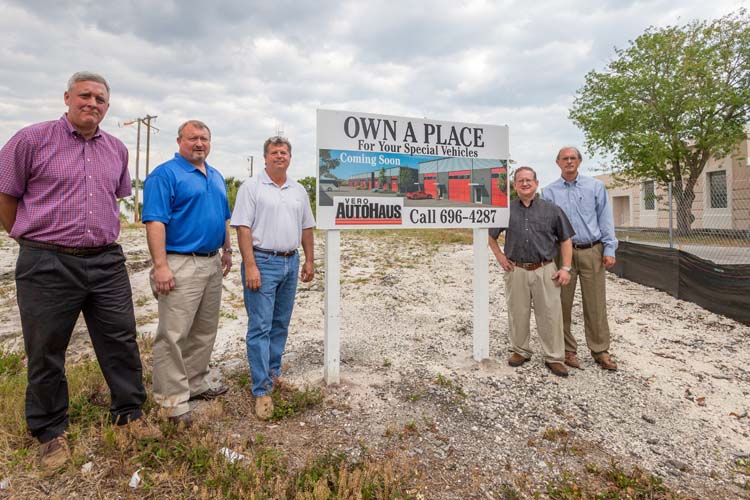 A fancy new storage facility, which will be built like Fort Knox on the outside and finished as lavishly as desired inside with big doors, high ceilings and wide turning lanes, is likely to attract large-item collectors living on the island who want close-by, anytime access.
A group of longtime friends, some of them partners in a local engineering firm and one a building contractor, were seeking the perfect space to store their collectable cars and boats. When they discovered no such facility existed in the area, designing and building one was the next logical step.
Finding there was pent-up demand for high-end storage, they enlarged the scope of the plan beyond their personal needs and spread out the cost of the investment by making the project a commercial condominium.
William Stoddard, Jodah Bittle, Geoff Barkett and Joe Schulke of the local engineering firm Schulke, Bittle & Stoddard, and Vic Lombardi, owner of local contracting firm Water's Edge Estates, are building AutoHaus, which Stoddard described as "The Mercedes of storage units."
The partners bought 2.8 acres of vacant land at 950 12th St. last summer, paying $420,000. They chose the location because of its proximity to the 17th Street Bridge, making it a quick hop for wealthy island collectors, their primary market.
The parcel was the most island-adjacent suitable land with industrial zoning, a designation needed to build storage units larger than 300 square feet.
The 37 units will range from 800 to 1,320 square feet and will be grouped in six buildings. More than one unit can be purchased, specifying the intervening wall be left out, to gain up to 7,000 square feet.
All the units will have 20-foot-high ceilings and wide, 14-foot-high insulated garage doors, which Schulke said "are very hard to find. Most commercial storage units have 10-foot-high doors."
The door and ceiling height will allow for storage of big boats and RVs. Stoddard said the tall walls will also allow collectors to "lift and stack" cars, or build a mezzanine, "which can be outfitted as a man cave, where you can escape and ride out a hurricane."
The steel-reinforced, poured concrete buildings are much stronger than concrete block construction, designed to withstand a 170-mile wind.
"It's 'tilt-wall' construction," Stoddard said, "which isn't feasible unless you're building over 40,000 square feet," about the size of the AutoHaus facility.
After the concrete floor is poured, the 7.5-inch thick walls are framed, poured and cured, and then lifted by crane into place. "The mobilization required to do the job is costly," Stoddard added.
The ceilings, too, are poured concrete over steel, forming "a secure bunker," Schulke said.
The complex will have three security gates, enough security cameras to challenge Ocean's Eleven, and a 67-foot-wide "turning drive," providing plenty of room for maneuvering large vehicles and trailers.
"We are prohibiting commercial occupancy," Schulke said. "People will be storing valuable assets and they won't want to be bothered with people coming and going. It's in a good location – secure, exclusive, safe, strong and multi-use – but no commercial."
The ownership structure will be "commercial condominium," and once all the units are sold, the AutoHaus developers expect owners will likely make friends and want to hold group social events, such as car shows.
Pre-construction prices are $168 to $171 a square foot, making the units range from $139,900 to $249,900. "We know we've hit the right price point," Schulke said, "because we have eight contracts and six are pending out of 37 units. And that doesn't include partner-purchased units."
Stoddard owns a 1997 Porsche 911 and plans to lay out his inherited antique train set on the mezzanine. Schulke owns 1964 and 1978 Corvettes, a 1965 Pontiac 2 + 2 and a 2004 BMW M3. Lombardi shook his head and said, "Not me. I have kids in college."
"Several contracts are boat and RV owners," Schulke said, "but one is an artist and will use the space as his studio. Another owns several homes and rents them furnished and unfurnished and needs ready access to store or retrieve furniture."
How extensively the interior is finished is up to the owner. It will be "ready for climate control – to bring AC in," Stoddard said. "Every unit is pre-plumbed for a full bath and has a 150-amp electrical service."
"That's enough electricity for a good size house, enough to lift a car or to connect an RV," Lombardi said.
The condominium fee will be $120 a month and covers property damage and liability insurance, water and sewer bills, gate and camera security, fire-alarm system, two common bathrooms, landscaping, cleaning and future repairs.
The project is slated to break ground in April and will probably be completed by November 2018.
Vital Statistics
Address: Vero AutoHaus, 950 12th St.
Neighborhood: Near 17th Street Bridge, just beyond the train tracks on the right hand side on 12th Street
Lot size: 2.8 acres
Units: 37 units ranging in size from 800 sq. ft. to 1,320 sq. ft., although more than one unit may be purchased to gain up to 7,000 sq. ft. by leaving out interior walls. Ceilings are 20 feet high.
Construction: Steel-reinforced, poured concrete, including roof
Additional features: Garage doors are 14' by 14' and are insulated, as is the roof. Interiors may include a mezzanine floor within the 20-foot-high unit. Plumbing may include a full bath. All units wired for air conditioning. A common bathroom will be available onsite.
Ownership: Commercial condominium, pre-construction-price units at $168 to $171 a square foot, prices ranging from $139,900 to $249,900
Owners: Vero AutoHaus, 772-696-4287