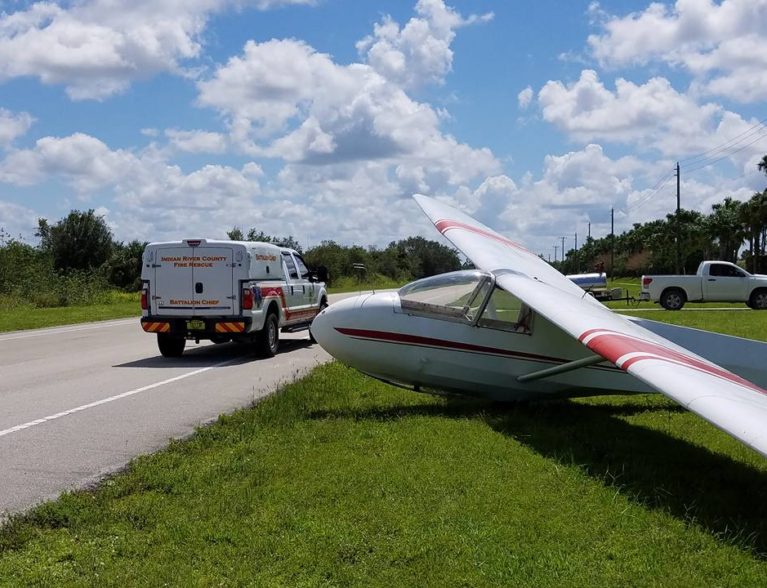 INDIAN RIVER COUNTY – A student glider and his instructor were forced to make unplanned landing on a road when faced with stronger than anticipated winds Saturday afternoon.
No one was injured in the incident, which the Treasure Coast Soaring Club explained is a called a "landout" on its Facebook page.
According to the club, the 2-33 glider "encountered a strong wind gradient on final glide and wisely opted for the 3000′ x 150′ stretch of road and grass just south of New Hibiscus."
The glider landed on 98th Avenue, south of State Road 60, in unincorporated Indian River County.
The instructor, Bob Gaerttner, had previously identified that stretch of road as potential site for landing, the group posted on Facebook.
"We have viewed it as a viable alternate landing site all along," the group said.
The organization called the unplanned landing "relatively routine."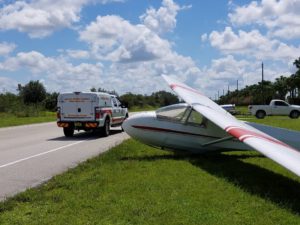 Authorities were called to the scene, though, by someone reporting a possible plane crash. The Indian River County Sheriff's Office as well as Fire Rescue responded.
"At least they didn't try to foam the glider," the club quipped about the incident. "On the plus side, it provided an great opportunity to start educating them on glider operations and the difference between a landout and an accident."
The club was required to break down the glider and trailer it back to the hangar.
The Treasure Coast Soaring Club is located at 1890 98th Ave., Vero Beach, and can be found on Facebook at www.facebook.com/TCSoaring