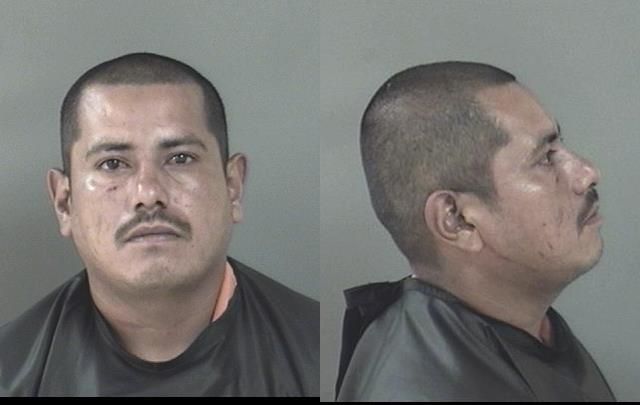 VERO BEACH — A man was arrested after he battered his girlfriend and then barricaded himself inside their home, according to a Vero Beach Police Department news release.
Juan Antonio Dominguez, 30, of the 900 block of 16th Place, Vero Beach, was charged with battery and false imprisonment. He is being held at the Indian River County Jail on $15,000 bond.
Police received a call of a woman screaming about 7 p.m. July 14. They traced the call to a home in the 900 block of 16th Place in Vero Beach.
When officers arrived, they saw a woman and a 7-year-old child outside the home, the release states. The woman told officers her boyfriend, later identified as Dominguez, assaulted her and was not letting her leave the home.
She said when she went into the bedroom earlier to wake Dominguez up for dinner, he pushed her away, threw her on the bed and punched her in the face several times, the release states. She said Dominguez squeezed his hands around her neck and said "I'm going to kill you."
When the woman's son began to cry, Dominguez left the bedroom. The woman then grabbed her son and tried to run out of the front door, but Dominguez stood in front of the door and didn't let her leave, the release states.
She tried to hold her foot between the door and the frame, but Dominguez slammed it closed several times, which caused the woman to have bruising and lacerations. Then, he grabbed the woman's cellphone and smashed it on the floor, the release states.
The woman then ran into the living room, grabbed Dominguez' cell phone and dialed 911. When she took her son and ran outside the home, Dominguez chased her, threw her to the ground, took his cell phone and went back inside the residence.
She told officers that Dominguez said he will kill any responding officers, the release states. He refused to open the door for officers at the home.
The police department's Critical Response Team responded to the scene shortly before 10 p.m. They made entry and apprehended Dominguez shortly before midnight.
Dominguez was arrested and taken to the county jail for booking.