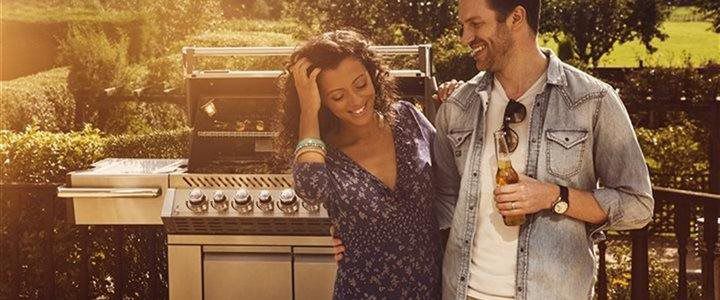 (BPT) – Do you still feel the heat? Are you allowed the space you need? Are the best years yet to come? If you answered "no" to any of those questions, you may want to dump your current grill and upgrade to a newer model. With grilling season upon us, there's no time to waste being stuck in a grilling relationship rut.
While you likely have a sentimental attachment to your grill, like most Americans, you may feel you could do better. According to a study from gourmet grill-maker Napoleon, two-thirds of grill owners feel a connection to their current grill. Yet, four in five grill owners agree their grill isn't perfect — and could benefit from some upgrades.
How do you know when it's time to cut ties and move on? Following are five signs your grill relationship might need a trade up:
1. Commitment Phobia – You need a partner who's in it for the long haul. Number one on the list of importance for grillers is high-quality construction and durability. Some grills, like some relationships, lose their luster over time. Consider a grill that offers superior construction, high-quality materials and a long warranty. For example, Napoleon grills offer premium stainless steel construction, including the body, burners, sear plates and grate.
2. You've Been Left in the Dark – Are you and your grill riding off into the sunset, or when darkness falls are you left by your lonesome? Look for a grill that features integrated interior lights and lighted control knobs to help keep the flame burning all night long. Napoleon's Prestige PRO series even offers knobs that turn red when the gas is on and blue when the gas is off, allowing users to know exactly which burners are lit for both precise grilling and added safety.
3. It Feels Like a Chore – Some say relationships should be simple. This is especially true when it comes to your relationship with your grill. Look for traits in your partner that make life easier, like easy assembly and set-up, an integrated wood chip smoker tray or interior storage to house all the grilling essentials.
4. There's No Spark – Wanna feel the heat? Meet the infrared burner. Napoleon offers an Infrared Sizzle Zone Side Burner that heats to 1,800 degrees F in 30 seconds for a restaurant-quality sear. Perfect for steaks, it heats up fast and gets extremely hot — much like a young summer romance, but with the durability to last a lifetime.
5. You're Left Wanting More – Perhaps you're feeling restless, looking for something more, but not quite sure what. How about a built-in ice bucket for marinade or a cold beverage? Or a built-in cutting board for added convenience? Today's grills offer features you didn't even know you needed, until now.
Life's too short to be stuck in a lackluster relationship — even if it's with your grill. You can do better.
To begin your online search for a fiery soulmate, visit NapoleonGrills.com.