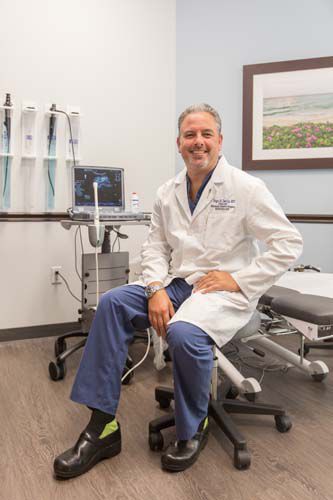 You won't find Vero Beach listed anywhere alongside Boston, Los Angeles, New York or Baltimore in Becker's Hospital Review as a center of surgical innovation.
That said, it's entirely possible that local urologist Dr. Hugo Davila might just shake that list up a bit with his newest laparoscopic and robotic procedures for treating and repairing pelvic organ prolapse problems.
Davila, who is with Florida Healthcare Specialists in Vero, just had a paper published on the surgical repair of pelvic organ prolapse in the Journal of Robotic Surgery as well as on the websites of the National Institutes of Health and UroToday, a urology-centric site focusing on new and evolving procedures and techniques.
Pelvic organ prolapse is a more common condition than many people realize in which a woman's internal structures, including her uterus, rectum, bladder, urethra, small bowel or even the vagina itself may shift out of their normal positions and slip downward.
The Johns Hopkins Medical Center in Baltimore says "in severe cases the vaginal walls or cervix can protrude beyond the vaginal opening and be visible outside the body."
In the worst cases, a woman's uterus can be completely outside of the vagina.
"Pelvic organ prolapse," says the approachable, easy-going Davila, "is something that is very common. After 46 years old, about 3 percent of the female population will have a prolapse.
What is even more concerning, Davila says, is that as women age as many as 12 percent of them will require surgery to fix this problem.
As a comparison, Davila points out that the incidence of diabetes in the population as a whole is about 3.5 percent.
Vaginal childbirth, ruptures of the paracervical ring, the loss of estrogen during menopause and possibly even genetic pre-dispositions can all contribute to the problem as the muscles, ligaments and even the skin that normally hold these structures in place weaken over time.
Other symptoms associated with pelvic organ prolapse can include urinary incontinence, difficulty in urination, discomfort with sexual intercourse, stool incontinence, difficult defecation, low back pain and low abdominal pain.
One of the primary approaches to stabilizing these internal structures used to include the now infamous "trans-vaginal mesh implants" of the 1990s and early 2000s, but serious complications resulting from mesh use – along with the ensuing public outcry – has urologists nationwide searching for a better way.
Working with local colleagues including Dr. Lindsey Bruce and Dr. Taryn Gallo, Davila came up with a pair of minimally invasive alternative procedures that don't involve mesh materials.
One of Davila's procedures employs the most sophisticated robotic equipment available and both radically reduce the chance of infection. Further, since both are considered minimally invasive, patients have significantly less blood loss and are able to return home the next day.
Davila's procedures rely on sutures and existing ligaments inside the pelvic area rather than mesh to hold a woman's internal structures in place. Some of those sutures absorb into the body after about four-to-six months and those stitches are reinforced with non-absorbable ones that "hold even better."
Indeed, once the suturing is complete, Davila confides, "It makes your insides look like you're [only] 20 years old."
Clearly thrilled by the initial results, which, Davila says, have an impressive success rate approaching 95 percent, he has prepared a text and video Power Point-type presentation so he can clearly show his patients – as well as his colleagues – a step-by-step demonstration of exactly what's involved.
That's especially important, Davila explains, because, Vero women tend to be both medically savvy and extremely active.
"Here in Vero Beach," says Davila, "women are playing golf, they're playing tennis, they have a social life and they're still traveling."
In Davila's experience, it's not at all unusual for those women to come into his office and say, "I want a no-mesh fix."
Davila hastens to add that "surgery is not the first option for everybody," and proceeds to list a number of alternative procedures and treatments including pessary devices and Kegel or "pelvic floor" exercises which may suit some women better than surgery.
Still, as Davila's colleagues nationwide review his latest paper and possibly adopt his techniques, Vero Beach may edge a little closer to someday being considered something of a center for surgical innovation – for pelvic organ prolapse surgery, anyway.
For more on Davila's paper go to: http://www.urotoday.com/recent-abstracts/endourology-urolithiasis/minimally-invasive-procedures/91245-robotic-and-laparoendoscopic-single-site-utero-sacral-ligament-suspension-for-apical-vaginal-prolapse-evaluation-of-our-technique-and-perioperative-outcomes.html
Dr. Hugo Davila is with Florida Healthcare Specialists at 3730 7th Terrance, Suite 101 in Vero Beach. The phone number is 772-581-0528