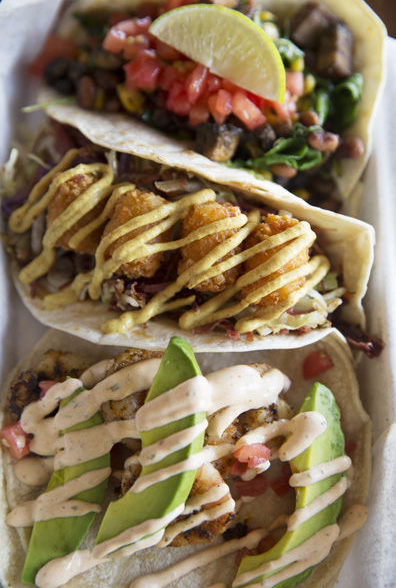 First there was Bijou. Then came Burp. After that was Counter Culture. Now, Taco Dive has become the latest restaurant to try to make a go of the tiny, noisy space at the corner of 14th Avenue and 19th Street in Vero's arts district.
Describing itself as "not your average hole in the wall," this takeoff on a Mexican eatery – a clone of the popular Taco Dive in Fort Pierce – was packed, largely with young people, on the two nights we visited it.
Will the fourth time be a charm for this downtown location?
Headline news: What the Taco Dive lacks in Mexican authenticity it makes up for in very creative tastes drawn from other corners of the world. The pork taco – slow-roasted pork topped with sweet and salty Thai sauce, served in a flour tortilla – was a bit reminiscent of Asian moo shu pork. And from the auld sod, the corned beef and cabbage is aptly described as St. Patrick's Day in a taco.
Look & Feel: Taco Dive's décor is unusual, to say the least. Two lighted coil box springs are mounted on the ceiling, and wooden pallets adorn otherwise plain walls. The tables are Spartan (mostly hightops with a couple of low tables for large parties), and the absence of anything that might soften the room means that when the eatery is full, it is noisy. Extremely noisy.
Food: On two visits last week, our party of three sampled three appetizers, two salads, eight tacos and one empanada.
The appetizers we tried were the fresh salsa, the guacamole and the queso, all served with fresh tortilla chips. Pretty much what you'd expect. We also sampled the house salad served with a cilantro aioli dressing, and the arugula salad served with a very spicy chipotle lime dressing. Both very tasty.
But the tacos on flour tortillas were the highlight of our visits. My favorite was the Cajun shrimp – blackened shrimp, tomato and avocado, drizzled with chipotle lime sauce. My husband loved the BLT taco – two slices of Applewood bacon on a bed of arugula, pimento cheese and tomato, topped with a fried egg. Our companion voted for the taco bella – a marinated and sautéed portabella mushroom with arugula, black bean corn salad and tomato on a layer of guacamole.
Our second visit was on empanada night (Thursday). At 7:15, only one empanada was left. This week's empanada (it keeps changing) was filled with a mixture of macaroni, ground beef and cheese. Faux Mexican comfort food.
To augment the empanada, we decided to try more tacos served not in a tortilla but in a black bean and rice bowl. My husband's was the best of these – fresh fish (on this evening skewer-size chunks of swordfish) that went well with the beans and rice. But both our companion and I agreed that on the whole, we liked the flour tortillas better.
Drink: Taco Dive has domestic beer and a small selection of Florida craft beers on tap, as well as a decent house wine at $5 per glass.
Service: Our server Blake was very helpful and attentive. However, it should be noted that on both visits, dishes all came out very quickly. If you are planning to enjoy a beer and chips with guacamole and chat with friends before you get down to dinner, you might want to hold off putting in your taco order.
Prices: Appetizer prices run from $5 for fresh salsa and chips up to $10 for nachos with beef, chicken or pork. Large salads run $6 to $8 ($2.50 if served as a side). Tacos are mostly $4.50 or $5 (more for fish). Having your taco filling served in a black bean and rice bowl is an additional $4.
Initial impressions: A party of two can dine well here – chips and a bowl of guacamole, a couple of tacos, a couple of beers – for $40 to $50. A bit pricier than some Mexican places, but we agree: This is a better than "average hole in the wall."
I welcome your comments, and encourage you to send feedback to me at tina@verobeach32963.com.
The reviewer dines anonymously at restaurants at the expense of Vero Beach 32963.