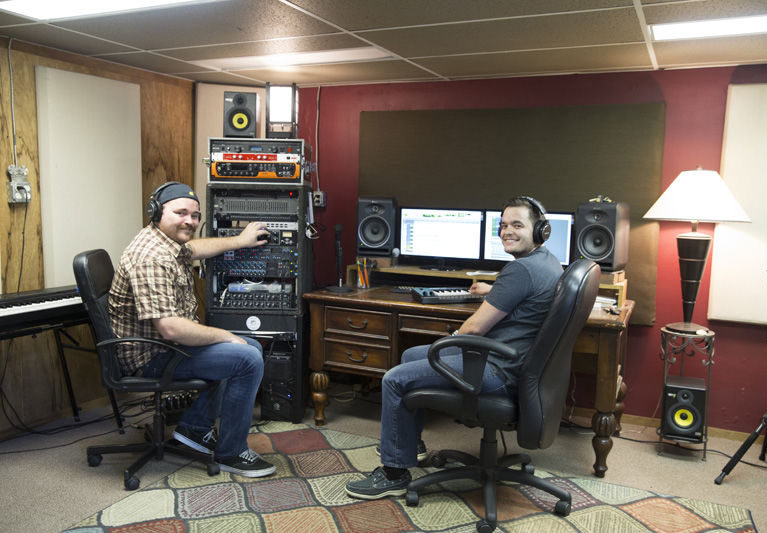 Bryan Lamar and Jeff Coulter were walking home from school one day when they had the sort of why-not moment that the seventh-grade mind is known for.
"Let's start a band," said Bryan.
"Nah," said Jeff. "We don't know any instruments."
But Jeff thought it over for a week or so, and changed his mind. It was totally doable. They just had to pick their instruments and learn to play.
Today, their instrument is their sound equipment, from speakers, amps and microphones to the mixer software on their computer. They still play guitar and drums in their heavy-metal band. But they also play background for many of the 100 or so clients at Rain Cat Studios, their four-year-old venture that is taking a lead role in Stuart's burgeoning music scene.
Singer-songwriters from their teens to retirement age are recording in Rain Cat's upstairs live studio or isolation booth tucked inside a nondescript building on a side street in downtown Stuart.
Afterwards, seated at a thrift-shop vintage desk, Coulter and Lamar, both 29, share the tasks of producing the clients' vocals and instrumentation, mixing those tracks and mastering them to a reproducible, saleable product.
They also offer guidance, coaching new songwriters through the structure of a song, or suggesting changes to instrumentation. For that, they had an example: their own mentors, a West Palm entrepreneur and musician.
They met by chance on an airplane, when Lamar, in his early teens, was flying back from New York. The man seated next to him heard him beating out a rhythm on his tray table. They started to chat and it turned out he was a part-time professional drummer who was thinking of opening a rock music academy.
He and a fellow musician took the boys under their wing, emailing back and forth and occasionally meeting to play face-to-face.
"We'd come back up here and practice what they told us for the next six months. We probably only went down there a handful of times. But because we were so young, the information they gave us just changed our world," says Lamar.
Lamar had one musical influence in his family: His step-dad was a jazz drummer in New York. And his mom had moved south from music-centric Nashville – at one point, he and Coulter considered taking their studio there. Instead, they stayed in Stuart, a good move considering how the scene has evolved.
Coulter is the son of Brenda Leigh, a talented muralist whose work adorns a number of public buildings in Stuart. Her free spirit was the reason Jeff was born in Tortola in the British Virgin Islands; she had taken off for a year to cruise the Caribbean, reached St. Thomas and stayed for 17 years. When her relationship with Coulter's dad, a boat captain, fell apart, she and Jeff headed for Texas, then to Hawaii for five years. They came to Stuart when Jeff was 8.
Bryan and Jeff found themselves in the same class at St. Michael's School (now the Pines School). But they were not in the same social circle, at least not initially.
"I was a jock and he was a nerd," says Lamar. "When we heard the new kid in school was from Hawaii, we all expected him to surf and be cool. Then Jeff shows up in a sweater vest and a briefcase with his hair slicked back."
Lamar and his snobby friends sneered – until Jeff set Bryan straight. "He taught me how not to be a jerk," says Lamar, using a more contemporary term. He soon sidled over to Jeff's lunch table, where he stayed until high school separated the two. But by then, they were a band.
"The band is what kept our friendship together," says Lamar.
It took three years of practice before they finally performed in public, at a battle of the bands at Martin County High School. They were 15. By 2005, Bryan had arranged for them to play at their huge CD release party in Stuart's Memorial Park, not far from Rain Cat Studios.
"We were very nervous," says Coulter. "We had played in a bedroom for so long that when we actually played we did pretty good."
Their heavy metal band, Drowned Out, included Bryan's identical twin Lucas Lamar on bass. They were a big hit, including in Vero where they played to 200 kids at the Heritage Center, one of their favorite gigs. "Word got around because we were good," Lamar says frankly. "We went on tour right after high school."
In 2009, with a new name – Abolish – they cut their first album, "Beyond Redemption," at a Connecticut studio called Dexter's Lab Recording.
Buying up used equipment to record their own music, in 2012 they reached out to other artists. Coulter was running open-mic nights at Osceola St. Café, and they got the idea to offer a free recording to the people playing there. By the time they opened Rain Cat, they had a client list.
Anchored by the music venue Terra Fermata, which opened around the same time as Rain Cat, downtown Stuart's blossoming live music scene includes the growler bar Crafted Keg, the coffee bar Blue Door, the wine bar Crush and the waterfront bar and restaurant Stuart Boathouse. "There's been a rumbling for a while from people in need of a place to go," says Coulter. "Terra Fermata spoke really well to what would do well. The fact that people are making a living playing music is pretty unique."
Among the Rain Cat artists: Deal James, a St. Louis soul-and-funk musician, often uses Lamar on the drums. Taylor Wingfield, a country artist whose last album they produced, has become their friend in the process, and Coulter often plays guitar with her.
Most recently, they have been working for four months on a six-song EP for singer-songwriter Summer Gill, a student at Florida State University who often plays as a duo with her father Ken Gill.
"Their level of professionalism is more than I could ever ask for," says Gill. "They're amazing sound engineers but they've become even better friends."
Gill performed last Sunday afternoon at Fort Pierce's Endless Summer Winery's Rising Stars Showcase. So did Deal James – her boyfriend, it turns out.
For artists like Gill and James, selling CDs can be an important way to generate income while getting their music out there. "The more CDs they sell, the more they can record," says Coulter. "If you sell a CD for 10 bucks, it's not going to take you that long to recoup your investment. And those sales become really significant to see what kind of success the band is having. People come in and see you, and if you don't have a CD to sell them, they don't have any way to listen to you when they leave."
"People are going to judge you by how your recording sounds," adds Lamar.
Then there are clients like Ed Gomez, a songwriter and story teller in his 70s, Coulter says. Gomez had a 7 p.m. appointment last week to record one of his folk songs. "He's an example of someone who's loved music his whole life and now that he's retired, he's doing what he loves to do."