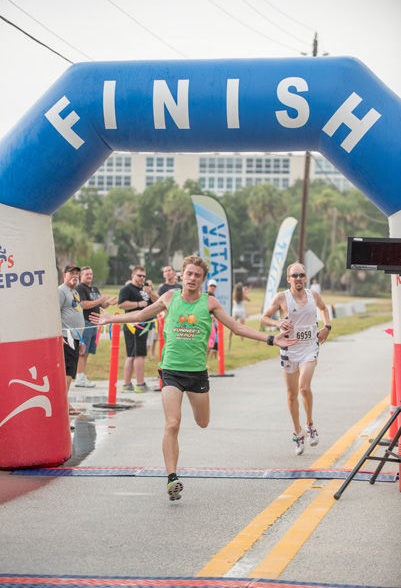 There is no question that the local running world has been positively impacted by a decision made 11 years ago by Bill and Linda Urban, when they relocated from Davie, Fla., to Vero Beach and opened Runner's Depot on Miracle Mile. In addition to selling running footwear, its Run Vero racing division is now the area's prime running establishment – organizing, timing and promoting roughly 48 races each year.
"I started running with the girls when they were in fourth grade, when they wanted to have Daddy time," says Bill Urban, who ran with daughters Meredith and Lindsay as a way to de-stress from his job in the corporate world. "I ran with both of them through high school but they just got too fast for me."
Wanting a profession that would allow him to remain active after retirement, he looked into opening a running retail outlet and methodically researched areas that would benefit and turn a profit, also considering the size and projected growth of the county.
"I looked at the closest store in an area Linda and I both wanted to live, and one was 38 miles south of Vero and another 40 miles north. I knew that I would never drive that far to go get a pair of running shoes, so Vero looked right," Urban explains. "I didn't think it would be a multimillion-dollar operation but I felt comfortable that it would be a nice niche that we could move into. I never thought that it would include the races. That was just an aside."
To drive traffic to the store, they organized what he jokingly called the "I can't believe I ate the whole thing" run on Thanksgiving Day. Thinking they might attract around a hundred people, they were blown away when 500 people showed up.
"We weren't prepared mentally for that and we were doing the timing by hand so it was an adventure, but we were able to pull it off even though it was a slow process."
The event later morphed into the annual Thanksgiving Day Trot Against Poverty, aka the Turkey Trot, a 5K walk/run that draws close to 1,700 participants to benefit United Against Poverty.
A switch to electronic timing has ensured accuracy, which is especially important for runners looking to rank on U.S. Track and Field Association-certified courses. The majority of the races they organize are fundraisers for nonprofit entities, but they also have their own Run Vero Race Series. Most races they coordinate draw between 300 and 500 participants.
As requests for their services grew, they eventually spun off the racing aspect as Run Vero, a separate division managed by Urban's son-in-law, Jim Van Veen.
"The store just kept getting busier and the races were growing," explains Van Veen. "There is a lot more to putting races together than people think – permitting, arranging volunteers and police, and regulating the route to make sure it does not affect the flow of traffic or impact neighborhoods."
Van Veen, who met wife Meredith on a cross-country team at Florida State, also works one day a week at Runner's Depot, which helps keep him in touch with the runners. He says he gets great satisfaction from watching people progress in the sport one day at a time.
"It is so great to see people coming in the store to get a good pair of running shoes. They start doing races they didn't think they could finish and then just keep getting better," says Van Veen. "We had a woman that wanted to do the Candy Cane run to motivate her and her husband to get running and now she has done it for the last two years and has lost 85 pounds. It's incredible to see people go through that transformation. It may not be an Olympics story but it's a personal triumph."
"I hope we've demonstrated to everybody that we're going to take care of people and make them comfortable," says Urban. "It's been a good town to us and we think that we have been good for Vero too."
The next race, Love's Miracle Run 5K for Children's Miracle Network, takes place Aug. 27 at Riverside Park. For a full list visit runnersdepotvb.com.