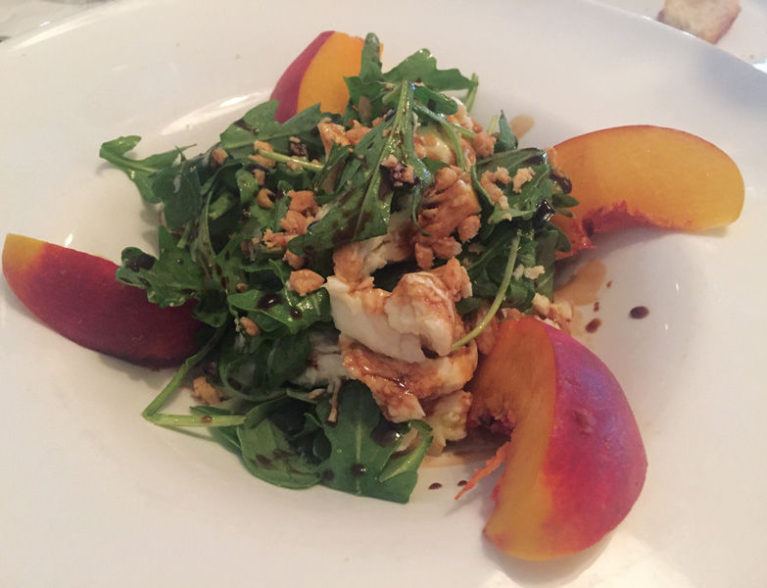 In the past couple of years, tasting menus have become the fine-dining rage in a number of major cities.
These prix fixe menus, which often include course-by-course wine pairings, give talented chefs an opportunity to demonstrate their creativity, and to personalize the dining experience by putting together dishes they are passionate about.
They also give foodies an opportunity to sample in one evening a number of small portions of expertly created tastes.
Vero Beach restaurants have been slow to embrace this trend, but one local chef always ready to put together a tasting menu for a special occasion is Scott Varricchio, owner and executive chef of the Citrus Grillhouse overlooking the sea at Humiston Park.
So a couple of weeks ago, instead of trying only a couple of the new menu items at Citrus, I asked Varricchio to serve us a small-plate sampling of the appetizers and entrées he has been offering as specials this summer.
We decided on this visit not to do a wine pairing (he's more than happy to help with that as well); so with some advice from our server, we ordered a couple of glasses of chardonnay, and sat back to await the start.
The first dish we were offered was one of Citrus' most popular summer appetizers – a crab wrap. This finger-food consisted of a piece of hydroponic bibb lettuce wrapped around a lump of colossal crab mixed with mango, red onion and a lemon-jalapeno aioli. A refreshing and absolutely delicious start to our evening.
Next up we shared wedges of roasted baby beets atop a dollop of herbed goat cheese, topped with marcona almond and drizzled with a herbed red wine vinaigrette. My husband particularly liked these.
Following those tasty "one-biters," we split a beautiful arugula and fresh mozzarella salad, surrounded by wedges of Georgia peach, and topped with marcona almonds and a balsamic made with vanilla and fig.
Our fourth course was a chilled sweet pea soup that surrounded an island of parmesan flan. Again, very light and refreshing.
This was followed by a pasta course – fresh strands of tagliolini prepared with a bit of tomato and tomato butter, surrounded by a light tomato sauce, accompanied by a couple of rock shrimp, and drizzled with a Calabrian chili oil that gave it a little kick. A great Italian summer pasta dish.
At this point, we moved on to seafood. My husband had porcini-dusted loin of tuna, a beautiful piece of rare tuna served atop truffled risotto surrounded by a truffle-soy emulsion. I had the pan-roasted lion fish, a fish Varricchio introduced to Vero, served over lemon capellini and topped by a baby heirloom tomato with a lemon-thyme vinaigrette. I love that fish.
For a meat course, we went Greek with spicy grilled lamb, topped by sun-dried tomato and feta vinaigrette, and accompanied by the chef's very interesting take on a classic "Greek" salad. Zorba would have approved.
Finally, we made it to dessert. The two offerings were a butterscotch pot de creme, with salted caramel and sweet Chantilly, and a lemon pound cake with vanilla-lemon syrup, blueberry compote, lemon cream and more of those marcona almonds.
A sensational end to a sensational meal.
"At the end of the day, what we do is focus on buying the best ingredients that we can and let the food speak for itself," Varricchio said.
Well, the food at the Citrus Grillhouse speaks loud and clear: Come and enjoy a few of these wonderful dishes. Or better yet, ask for a tasting menu.
I welcome your comments, and encourage you to send feedback to me at tina@verobeach32963.com.
The reviewer dines anonymously at restaurants at the expense of Vero Beach 32963.