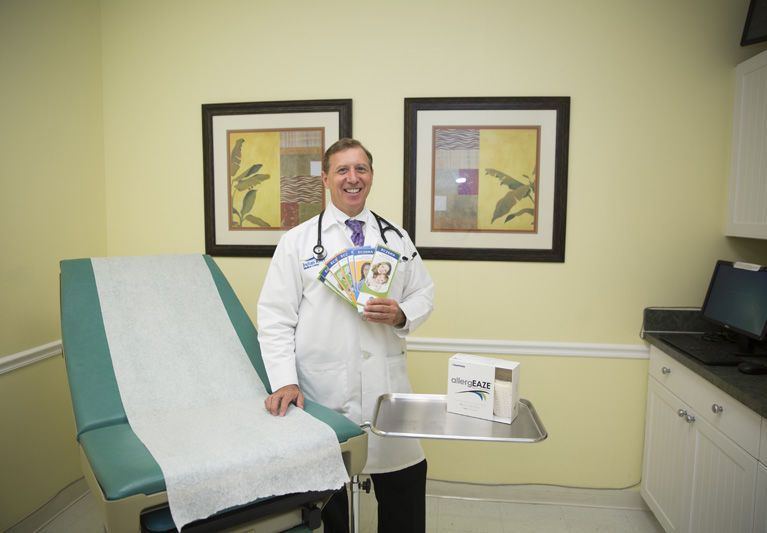 This is one in an occasional series about children's health issues. We know that many of our readers are grandparents keenly interested in the health and well-being of grandchildren. We hope this series will provide readers useful health information you can share with your family.
More than 10 percent of children in the U.S. suffer from eczema, and parents of those children often ask their pediatrician or allergist how frequently the child should bathe, as they worry that too-frequent baths can further irritate the skin. It's a pretty basic question, but one that has been answered inconsistently by the medical community for decades.
New research presented in the Annals of Allergy, Asthma and Immunology looks at past studies and provides a definitive answer. According to the authors, daily bathing is fine, as long as it's followed – immediately – by lots of moisturizer, a technique referred to as "soak and smear."
Allergist Ivan D. Cardona, MD, is the lead author of the paper. He says that a number of medical groups have commented on the role of bathing in eczema, but there hasn't been general agreement on best practices. He says, "Because parents are confused, and because they often take their questions to their allergist, we wanted to examine the studies that have been published on the topic, and see if there was agreement on just how often children with eczema should be bathed."
Michael Wein, MD, is a board-certified pediatric and adult allergist with offices in both Vero Beach and Port St. Lucie. He agrees with Dr. Cardona's research, saying, "Although clinical trials on bathing frequency have shown mixed results, the weight of the evidence suggests that soaking in a warm bath for 10 to 20 minutes followed by the application of a moisturizer is preferable to infrequent bathing."
Eczema, also called atopic dermatitis, is an itchy, red rash affecting about 11 percent of U.S. children. While it can appear anywhere on the body, babies often have it on their face and scalp, while in older children it most often appears on the neck, wrists, ankles, and in areas that bend, like the inner parts of elbows and knees.
By all accounts, eczema is a miserable condition. The rash is often painful, and its characteristic itch can be severe; it can also cause blisters and changes in skin color. Dr. Wein says "eczema can be a very challenging problem for parents, and if not treated appropriately it can cause a lot of discomfort, interfere with sleep, and lead to a very unhappy situation."
While the exact causes of eczema are unknown, up to 80 percent of children with the condition will develop hay fever or asthma, leading many doctors to believe there is a link between eczema and allergic diseases. Dr. Wein says "I am quite certain of this link. The scientific literature is pretty solid on this fact."
Among young children, there is also an association between eczema and food allergies, especially milk, egg, peanut, wheat and soy. In fact, nearly 40 percent of children with moderate to severe eczema have food allergies. Dr. Wein says "an allergist can help identify which foods, if any, to eliminate from your child's diet, and skin testing is the best approach to guide treatment. Many parents need guidance to help them appropriately modify the child's diet."
There also may be a gene mutation involved in eczema: Scientists have found that people who have a deficiency in a protein called Filaggrin, which is found in the outermost layer of the skin, are at risk for developing eczema. This gene defect is also believed to increase the risk of food allergies.
Some medical professionals think bathing less than once a day is a good practice for children with eczema, as it helps keep skin hydrated by avoiding constant evaporation of water (which can be drying) and means less use of the soaps which can aggravate the condition. The researchers came to a different conclusion; they believe the presence of very dry skin requires hydration with daily baths, limited use of pH-balanced skin cleansers, a gentle pat-dry, and an immediate application of a moisturizer (the "smear" part of the technique).
Mild cases of eczema can be treated with ointments and moisturizers. For more severe cases, Dr. Wein often recommends prescription medication, which can include topical steroids, antihistamines and calcineurin inhibitors (topical medicines that correct the immune imbalance occurring in the skin at the site of the eczema).
There are many "triggers" that can make eczema flare or worsen. Flare-ups can be caused by foods, cosmetics, soaps, wool, dust mites, mold, pollen, dog or cat dander, a dry climate, and other variables. Says Dr. Wein: "People with eczema should avoid harsh cleansers, stay hydrated, and avoid wearing materials such as wool, which could irritate the skin. An allergist can perform patch testing to see if there are other types of skin allergy."
Dr. Wein's Vero Beach office is located at 3375 20th Street; the phone number is 772-299-7299.