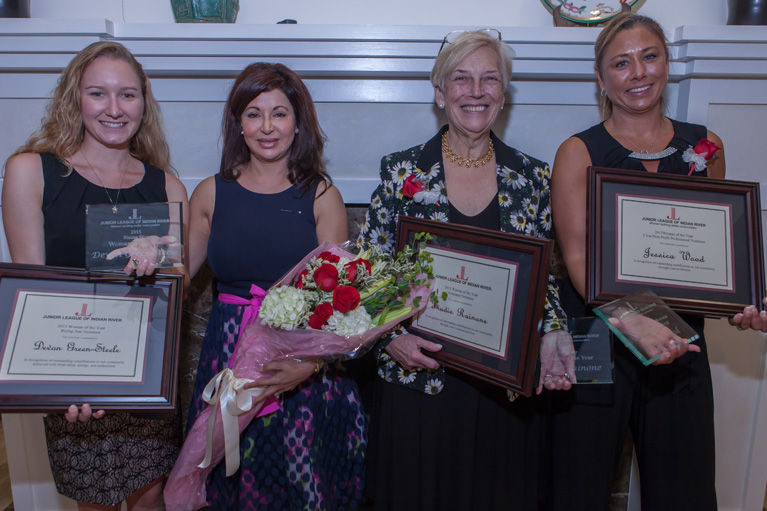 The third annual Woman of the Year Luncheon hosted by Junior League of Indian River was, in a word, impressive – from the 33 remarkable nominees to the committee of volunteers, who synchronized the occasion with the precision of a Swiss watch. Dr. Deepti Sadhwani was named 2015 Woman of the Year and, in accepting the award, said, "I am standing on the shoulders of many, many women."
The sold-out crowd of 300 guests at last Wednesday's inspiring event at Oak Harbor Club came to celebrate the contributions and accomplishments of finalists in four categories: Business Professional, Civic Professional, Rising Star and Volunteer.
"Women of all ages, interests, experiences, backgrounds and personal missions are making a difference in Indian River County," said Elizabeth Swann, JLIR president. "Their initiative, enthusiasm and leadership is not only changing lives today, but will affect our community for generations to come. Their collective impact is truly immeasurable."
This year marks the local chapter's 25th anniversary, serving the area through individual community impact projects and initiatives that spin off as lasting programs, such as the Youth Volunteer Corps, Sneaker Exchange and Valued Visits. Its current initiative is Whole Child Indian River, a free, confidential, web-based program connecting families to services and providers.
Sadhwani, physician/owner of Quality Health Care and Wellness, had also been presented with the first award of the day, the Business Professional category. She created the H.O.P.E. (Helping Obesity Prevention through Education) Foundation to educate the community about the importance of a balanced diet and proper nutrition and the risks associated with obesity. Sadhwani has been a leader in the fight against unhealthy meals in elementary school cafeterias and has taken the same message to By the River, an affordable living community for seniors, where she is helping to promote a healthy lifestyle.
"I'm honored to represent 126 million and growing number of women entrepreneurs who made a decision to create a world where women break free from gender-specific roles and venture into the world of men," said Sadhwani. "Today, my hope is to be a humble role model and attract young women to follow their passion, dreams and desire to all that they create in life."
Jessica Wood, Guidance Director at Vero Beach High School, received the Civic Professional award. Overseeing nearly 2,900 students, Wood is dedicated to assisting students with academic, career and personal issues. Going the extra mile, she initiated a Food for the Holidays program and helps students find housing, jobs, and resources for basic necessities, including clean, well-fitting clothing and hygiene items.
"The struggles my students go through and their persistence to succeed inspires me every day. They are the reason I go to work each day," said Wood. "I feel that if my students know that someone believes in them, that maybe they can accomplish great things."
Devon Green-Steele, academic advisor at Indian River State College, received the Rising Star award. As a volunteer, she has raised roughly $250,000 for local non-profits, and in 2014 helped form the first Rotaract Club in IRC. She currently serves as Rotaract District Chair, liaising between Rotaract and Rotary Clubs from Titusville to Boca Raton. At IRSC, Green-Steele provides students with assistance in career planning, course work success, class scheduling, and degree completion.
"There's a saying – 'a single snowflake on the road doesn't have much of an impact, but when you put a bunch of them together, they stop traffic,'" she said. "I encourage all of you to continue coming from a good heart, and together we'll continue to stop traffic."
The epitome of volunteerism, Trudie Rainone was selected in the Volunteer category for her hands-on and philanthropic support of local charities. As vice-chair of the annual Quail Valley Charities Charity Cup, she helped grow it into a weeklong event which this year raised $500,000 to benefit 33 children's programs. She helped create the Happy Feet Program to fund the Education Foundation Sneaker Exchange, has assisted in a wide variety of leadership roles at the Boys and Girls Clubs and Childcare Resources, and recently joined the board of the Alzheimer and Parkinson Association.
"I tell everyone – have passion. If you have passion, you can do anything," said Rainone, adding, "And guess what? It's all good."
Other nominees included – Business Professional: Helen Crockett, Rebecca Emmons, Kimberly Hardin-Thorpe, Lori McCormick, Cindy O'Dare, Kim Prado; Civic Professional: Angela Astrup, Sarah Mondano, Elizabeth Woody; Rising Star: Emily Arsenault, Deanna Bowman, Cassidy Layton, Mackenzie Moore, Madeline Partow, Delaney Polk, Lily Shelton, Amanda Vorce, Natalie Zatz; Volunteer: Eleanor Bengyak, Tracy Carroll, Sherri Davis, Michele Falls, Sara Hill-Labellarte, Carol Kanarek, Liz Mayo, Doris Plym, Jessica Schmitt, Marlynn Scully, Hope Woodhouse.
The WOTY committee was led by Chrissy Stephens, assisted by Ann Bixel, Anna Gibbs, Crystal Golightly, Erin Grall, Nicki Maslin, Liz McDonald, Danielle Miner, Erin Rains, Allison Strazzulla, Elizabeth Swann, Jennifer Weaver, Kelley Williams and Marjorie Williams. The Presenting Sponsor was Dale Sorensen Real Estate.