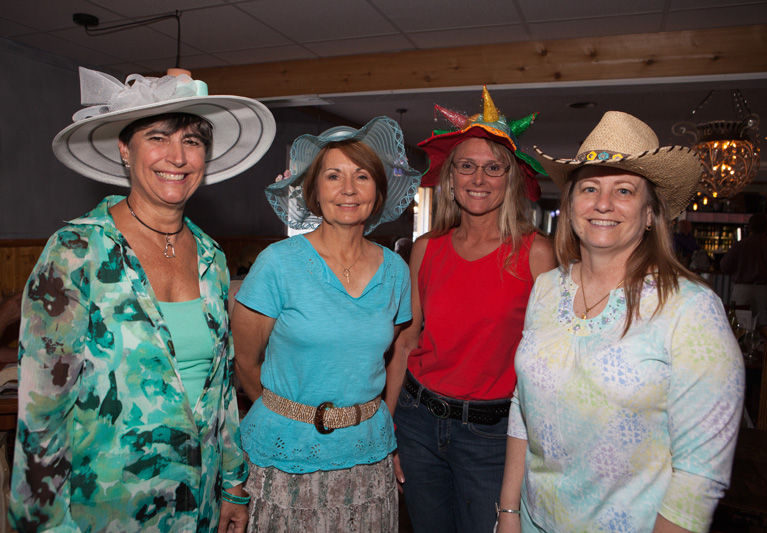 The crowd at the Derby Day party at the Blue Star Bourbon Bar and Southern Kitchen might have been smaller than the record-breaking 170,513 attendees at the official Kentucky Derby Race, but the attendees were no less enthusiastic, knowing that owner Kitty Wagner had chosen to bring celebrants together to benefit Special Equestrians of the Treasure Coast.
Elaborate hats were de rigueur, especially among the dozen ladies, and one man, who were cheered on by other guests as they vied for bragging rights and prizes in the Best Looking Hat contest. Then, fortified by traditional Kentucky bourbon mint juleps and other cocktails, everyone was eager to cheer on his or her favorite horse.
"When the horses walk onto the track they sing Old Kentucky Home but you could not really hear it in here with this crowd. In Kentucky they would shoot you for talking while that was going on," said Kentucky native Robin Lloyd, adding that tradition at Churchill Downs has women crying and men standing in solemn reverence.
When asked what had made the Kentucky Derby such a world-renowned event, he laughed and said it was a "long and tough story but it goes with Kentucky, women and bourbon!"
Although American Pharaoh took home the garland of roses, this Derby party's winner was Special Equestrians of the Treasure Coast.
"My interest has been with equestrians for many years," said SETC president Vinnie Parentela, wearing his trademark cowboy hat as he thanked guests for attending and told them how much their support meant to the organization. "I wanted to give back to the local community and special-needs children are very close to my heart, so it was a good fit to work with Special Equestrians of the Treasure Coast."
Special Equestrian's two biggest annual fundraisers are Pony-Up, held this year at the BG Vero Beach Polo Club, and the fall Harvest Festival, held at the SETC barn. They also count on smaller events such as Blue Star's Derby party for much-needed dollars.
"Kitty actually approached us about getting involved," said SETC vice president Angie Jones. "She was nice enough to give us the proceeds from the sales at her Kentucky Derby party.
Board member Sue Large was helping raise funds by enticing attendees to purchase 50/50 chances, where half the money would benefit Special Equestrians and the other half the ticket holder. Guests could also purchase chances on the winning horse through a random drawing.
Proceeds will help with expenses to take care of the seven horses and the classes and activities provided for special-needs students. SETC provides therapeutic horseback riding for children and adults with physical, developmental or emotional disabilities. Programs are geared toward improving physical attributes such as posture, balance, motor skills and muscle tone, as well as social skills including verbalization and communication.